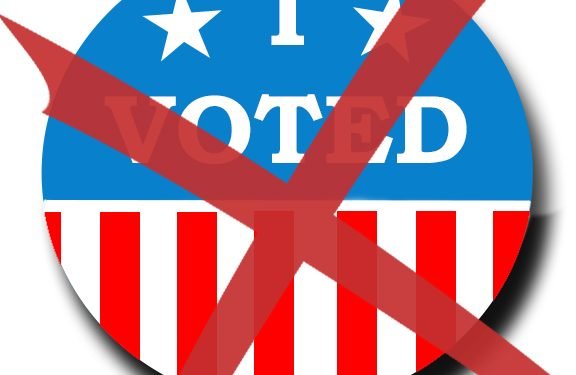 Today, we drove to the Ohio License Bureau in Defiance to renew the plates for our SUV. When we arrived, the place was crowded. We watched others come to the counter to do their business with the state as we waited our turn. During our time at the bureau, four young adults heard their number called and came to the counter to get their driver's license or plates. Each of them was asked, "are you registered to vote?" and all said no. When asked if they would like to register to vote, these young adults said no. I saw in these young people the future of America. The oldest was twenty-nine, the youngest eighteen. Yet, they had already checked out of the political process. Why is that?
We know that young Americans are generally more liberal, more tolerant, and less religious than their parents and grandparents. They are the key to defeating Trumpism and fascism in this country. Yet, many of them have no interest in participating in the political process. Polly and I have six children. Mom and Dad have voted in every election since they were eighteen (1976 and 1975). We modeled to our children the importance of voting. Yet, two of our children have never voted. This distresses me to no end, especially when they bitch, moan, and complain when politicians do things they don't like. Both of them tell me that they think the system is broken; that there's no difference between the two parties; that nothing changes.
While it would be easy to rebuke these young adults for not doing their civic duty, perhaps we should spend our time listening to their reasons for not voting. Perhaps the system IS broken. Perhaps both parties ARE the same. It's easy and convenient to look at the Republican Party — the party of fascism and Trump — and self-righteously list all the ways the Democratic Party is different from the Republicans. Different how? Both parties are in bed with corporate America. Both parties are warmongers. Both parties are out of touch with working-class people and people of color. I am not suggesting that the two parties are equivalent, but I refuse to buy the notion that the Democrats are the party of the people.
Joe Biden was elected for one reason: he wasn't Donald Trump. He wasn't my first choice, my second choice, nor was he my third choice. When I hear that Biden plans to run in 2024, I say, ARE YOU FUCKING KIDDING ME? Biden and the Democrats have bungled their way through the first two years of his term. Most galling are the unforced errors such as Biden's indifference towards the effect of inflation, rising gasoline prices, and higher rent on working-class and poor people. Brittney Griner, a women's professional basketball player, is being held in Russia. She was supposed to have a phone call recently with her spouse, a call that never happened. The state department fucked up this call, so it had to be rescheduled. Last week, the Biden administration threatened public schools with withholding money for school lunch programs if they didn't comply with its interpretation of Title IX guidelines for LGBTQ students. Nice look. Submit or we will take away funding for providing free and reduced lunches. From the border problems in the south, to its mishandling of refugees, to the withdrawal from Afghanistan, to the war in Ukraine, all I see is incompetence. We liberals and progressives like to hang on to the morsels the Democratic Party throws our way, ignoring the decay, dysfunction, and rot.
Granted, there are structural issues that are strangling the life out of our Republic: the filibuster, the conservative Supreme Court, the military-industrial complex, global warming, and laissez-faire capitalism. Maybe these young adults see what we lifelong voters can't or won't see. We keep thinking the next vote will change things; that the next president and next congress will usher in a better tomorrow. And when that doesn't happen, we repeat the same worn-out process over and over again. Maybe it is time for us to get off the merry-go-round.
Bruce Gerencser, 66, lives in rural Northwest Ohio with his wife of 45 years. He and his wife have six grown children and thirteen grandchildren. Bruce pastored Evangelical churches for twenty-five years in Ohio, Texas, and Michigan. Bruce left the ministry in 2005, and in 2008 he left Christianity. Bruce is now a humanist and an atheist.
Connect with me on social media:
Your comments are welcome and appreciated. All first-time comments are moderated. Please read the commenting rules before commenting.
You can email Bruce via the Contact Form.