In the summer of 1975, I moved from Sierra Vista, Arizona to live with my mom in Bryan, Ohio, wanting to get as far away as I could from Arizona. I moved to my mom's first-floor apartment on the corner of Center Street and Beech Street, two blocks away from the First Baptist Church, which I attended at the time. I lived with Mom until I left for college in August 1976.
I spent the year attending church, working a full-time job as dairy manager at Foodland, and running around with my friends. I rarely spent any time at home. I bought a 1970 Nova SS — a 350 CID, 375 HP muscle car — for $600. When I wasn't at church or at work, I was in my car going somewhere with my friends or whoever I happened to be dating that week.
My Nova was a gas hog, requiring high test gasoline to run properly. I could go through a tank of gas on a Saturday cruising around the William's County Courthouse square and racing from light to light. Fun times, to be sure. I have nothing but fond memories of this happy, busy year of my life.
In front of my mom's apartment was a small gas station with a single repair bay. I befriended the man running the station (he could have been the owner), seeking his advice on repairing my car. Every day at closing, this man would shut off the power to the gas pumps. One night, he forgot to turn the pumps off.
As I was walking out the front door of my mom's apartment to begin another night of cruising and goofing off, I noticed that the power was still on for the pumps. I quickly determined that this was a golden opportunity for me and my buddies to get free gas. I made a few calls, and soon my friends were lining up to fill their tanks. After everyone filled up, I did the same for my car. Being the good Christian I was at the time, I called the gas station manager and told him he left the pumps on.
The next day, as I was leaving for work, the station manager stopped me and thanked me for calling him about the pumps. Then he said, "I sticked (the long wooden stick used to mention tank levels) the tanks today, and I noticed that some gas was missing. Do you know anything about that?" Of course, knowing that I had committed a crime, I said "no." The manager said nothing, but I have no doubt that he knew that my friends and I had ripped him off.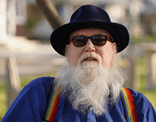 Bruce Gerencser, 65, lives in rural Northwest Ohio with his wife of 44 years. He and his wife have six grown children and thirteen grandchildren. Bruce pastored Evangelical churches for twenty-five years in Ohio, Texas, and Michigan. Bruce left the ministry in 2005, and in 2008 he left Christianity. Bruce is now a humanist and an atheist.
Connect with me on social media:
You can email Bruce via the Contact Form.
Your comments are welcome and appreciated. All first-time comments are moderated. Please read the commenting rules before commenting.