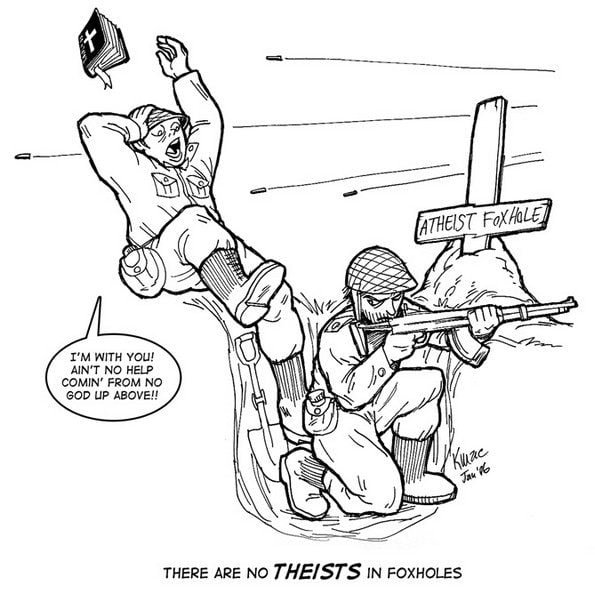 Imagine, for a moment, that every time someone told me they were a Christian I told them that they weren't really a Christian because there is no such thing as a Christian. It says right here in the Book of Bruce Almighty® that everyone knows that Bruce Almighty exists and that anyone who says they are a Christian is suppressing their knowledge of the existence of Bruce. The Christian would likely say that they know they are a Christian because Jesus saved them and they believe the teaching found in the Bible. Imagine if I REFUSED to allow the Christian to authentically tell their own story.  Can you imagine how outraged Christians would be if I refused to accept their story at face value?
Yet, this is EXACTLY what fundamentalist Christians like Dr. Jason Lisle do. Last week, Jessa Duggar and her husband Ben Seewald Duggar visited the  "Institute for Creation Research in Texas, where they spoke to members of the self-described leader in scientific research within the context of biblical creation."  When Seewald asked Institute scientist Dr. Jason Lisle if he could prove the existence of God, Lisle replied:
"The evidence of God is ubiquitous. It is everywhere. In fact, Roman 1 tells us that God has revealed himself to everyone, and what that means is, there is really no such thing as an atheist."
According to Lisle, humans are hardwired to believe in God and God reveals himself to everyone, so there is no such thing as an atheist. Lisle went on to say:
"So I don't really have to give new evidence to a professing atheist. All I have to do is expose his suppressed knowledge of God."
Lisle is a perfect example of an educated idiot. No matter how much scientific knowledge Lisle has, the words of the Bible are the final arbiter of truth. For example, in a game I have often played with people like Lisle, I willingly accept the premise that creation reveals to us that there is a God. I then ask them to give me evidence from creation that the God creation gives testimony to is the Christian God. Discussion over, because the fundamentalist is forced to retreat to the safety of THE BIBLE SAYS! You see, it's not creation that reveals that the Christian God exists, it's the Bible. At best, creation reveals that a deity, a divine being, or an advanced species created the earth and its inhabitants. If it is abundantly clear just from creation that the Christian God of the Christian Bible is God, why do other cultures and religions claim that the creator God is a different deity? Humans, over their long history, have worshiped a plethora of Gods. If creation makes it clear that the Christian God created everything, why do billions of people worship other Gods? Perhaps God has a marketing problem and should hire Don Draper to write a God advertising line that every human will know and understand. As soon as anyone hears it, they will say, Oh, that's the Christian God jingle.
Ben Seewald, showing his deep understanding of science said:
"I know there is also a lot of scientific evidence, we are here at the Institute for Creation Research, and there is a lot of — really, all science points to the validation of the Genesis account,"
It's true…you can't argue with stupid.
One more quote that I am sure my fellow atheists will love. Lisle said:
The atheist is like a little child sitting on his father's lap, slapping his father and spitting on him, and insulting him, and so on. He are only able to do it because his father is supporting them. And the atheists are like that. Their using God's laws of logic, their using a sense of morality that God gave them in order to argue against the very God who makes such things impossible.
To which, Ben Seewald said, WOW, that's really amazing!
Yeah, my thought e-x-a-c-t-l-y.
Here's the video of Ben Seewald's "discussion" with Dr. Jason Lisle.