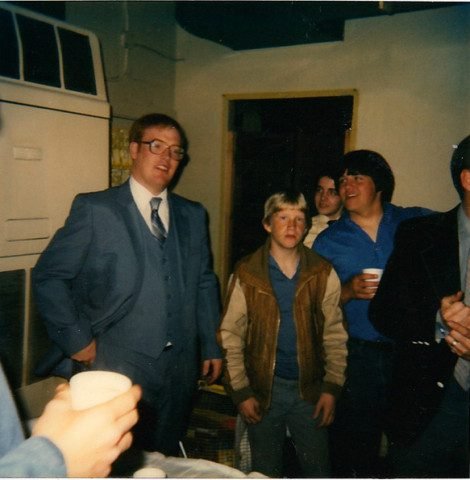 I was raised in the Evangelical church. My parents were saved in the early 1960s at Scott Memorial Baptist Church (now Shadow Mountain Community Church) in El Cajon, California, pastored at the time by Tim LaHaye. From that time forward, the Gerencser family attended Evangelical churches — mostly Bible, Southern Baptist, or Independent Fundamentalist Baptist (IFB) congregations.
In the spring of 1972, my parents divorced after 15 years of marriage. Both of my parents remarried several months later. While my parents and their new spouses, along with my brother and sister, immediately stopped attending church, I continued to attend Trinity Baptist Church in Findlay, Ohio. In the fall of 1972, a high-powered IFB evangelist named Al Lacy came to Trinity to hold a week-long revival meeting. One night, as I sat in the meeting with my friends, I felt deep conviction over my sins while the evangelist preached. I tried to push aside the Holy Spirit's work in my heart, but when the evangelist gave the invitation, I knew that I needed to go forward. I knew that I was a wretched sinner in need of salvation. (Romans 3) I knew that I was headed for Hell and that Jesus, the resurrected son of God, was the only person who could save me from my sin. I knelt at the altar and asked Jesus to forgive me of my sin and save me. I put my faith and trust in Jesus; that he alone was my Lord and Savior. (That if thou shalt confess with thy mouth the Lord Jesus, and shalt believe in thine heart that God hath raised him from the dead, thou shalt be saved. For with the heart man believeth unto righteousness; and with the mouth confession is made unto salvation. For the scripture saith, Whosoever believeth on him shall not be ashamed. Romans 10:9-11)
I got up from the altar a changed person. I had no doubt that I was a new creation, old things had passed away, and all things had become new. (Therefore if any man be in Christ, he is a new creature: old things are passed away; behold, all things are become new. (2 Corinthians 5:17)
The next Sunday, I was baptized, and several weeks later I stood before the church and declared that I believed God was calling me to preach. For the next thirty-five years, I lived a life committed to following Jesus and the teachings of the Bible.
After confessing to the church that God was calling me to preach, my youth director, Bruce Turner, took me aside and told me it was time for me to get busy preaching the Bible. Bruce took me under his wing and helped me craft my first sermon; one that I would deliver to the junior high youth department. My chosen text was 2 Corinthians 5:19-20:
To wit, that God was in Christ, reconciling the world unto himself, not imputing their trespasses unto them; and hath committed unto us the word of reconciliation. Now then we are ambassadors for Christ, as though God did beseech you by us: we pray you in Christ's stead, be ye reconciled to God.
My sermon was short, sweet, and to the point:
We are Christ's ambassadors
He has committed unto us the word of reconciliation
We are to implore people to be reconciled to God
Over the next four years, I would preach occasionally at youth events and Word of Life preaching contests. I didn't begin preaching in earnest until I left to train for the ministry at age nineteen at Midwestern Baptist College in Pontiac, Michigan. My father-in-law, a Midwestern grad, had been holding Sunday afternoon services at the SHAR (Self Help and Rehabilitation) House in Detroit. After his graduation, Dad asked if I would be interested in taking over his ministry at the drug rehab facility. I told him sure, so for the next two school years, I regularly preached at SHAR House. This gave me a lot of preaching experience by the time I left Midwestern in 1979.
I preached my last sermon in April 2005 at Hedgesville Baptist Church — a Southern Baptist congregation — in Hedgesville, West Virginia. All told, I preached 4,000 sermons — preaching three to six sermons a week, plus revivals, special meetings, Bible conferences, youth rallies, and nursing homes.
Bruce Gerencser, 66, lives in rural Northwest Ohio with his wife of 45 years. He and his wife have six grown children and thirteen grandchildren. Bruce pastored Evangelical churches for twenty-five years in Ohio, Texas, and Michigan. Bruce left the ministry in 2005, and in 2008 he left Christianity. Bruce is now a humanist and an atheist.
Connect with me on social media:
Your comments are welcome and appreciated. All first-time comments are moderated. Please read the commenting rules before commenting.
You can email Bruce via the Contact Form.