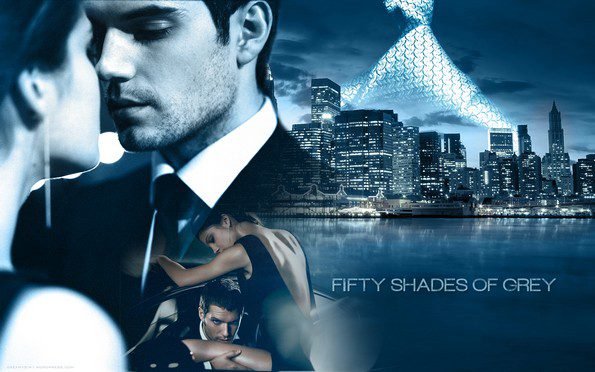 According to Paula Hendricks, reading or looking at erotica like Fifty Shades of Grey harms women, especially single women. Hendricks writes:
So you don't have the love (and sex!) you want.

Does that mean that erotica is a good outlet for your sexual frustration? Before I answer that, let me tell you how I define erotica.

Erotica is art, literature, or movies intended to arouse sexual desire. It doesn't have to be a harlequin romance novel or an X-rated movie to count.

I can hear you protesting, But when I read a book or watch a movie, I'm not actually having sex myself. So isn't that the lesser of two evils?

This Valentine's Day, the world offers you a solution: You don't have to have sex yourself; you can watch someone else have sex, or you can read all the steamy details through erotica like Fifty Shades of Grey.

While that might initially sound better than having sex yourself, don't believe for a minute that erotica has any place in a genuinely born-again believer's life…

…Here's why Dannah Gresh shares that erotica is not the solution for your sexual desires:

While erotica might originally heighten sexual feelings, over the long haul it erodes something much more important—intimacy. Whether you are married or single, you are longing for more than sex. Your body, your mind, and your spirit were created to crave intimacy.

The Old Testament [word] for sex [is] yada—to know, to be known, to be deeply respected. Transcending the physical act, God's language speaks of the deep emotional knowing you ultimately long to experience.

The physical aspect of sex is just one part of the equation, but our culture tends to hyperfocus on it with no attention to the ultimately more fulfilling aspect of yada—emotional intimacy. Sexual activity by itself is an empty substitute for true intimacy, and will never be enough. Erotica places undue emphasis on the physical and disables your ability to connect emotionally.

f you're still skeptical, take it from a girl who's been there. Dannah and Juli share this girl's story in Pulling Back the Shades: Erotica, Intimacy, and the Longings of a Woman's Heart,

I am single and erotica has ruined my life. I have been addicted for ten years, and I am only twenty-five. No one knows that I have lived an isolated life because I have found more solace in fantasies aroused in my mind by erotica than in real relationships.

Erotica seems harmless because it's just words on a page but it brands your mind, creates false expectations for future relationships. I can't even maintain real relationships because I feel like a shallow pretender hiding one of the biggest parts of my life.

Erotica perpetuated my "need" for meeting people online because I didn't know how to develop or maintain relationships with people outside of the screen. Eventually, I decided to take my online relationships into reality. Many of the stories I read portrayed rape or power-struggle situations as exciting. A no didn't always mean no because, in the end, the girl always seemed to end up just fine.

So when I met one of my first guys offline, I was thrust ever too quickly into a scenario I had read about but, unlike the stories, I didn't end up fine. My no didn't mean no, and I was sexually abused by a man who did the same things to me that I had read about in those erotic stories. But in my story, there wasn't a happy ending.

Ever since then, I have carried the weight of shame and guilt from putting myself into that situation six years ago. Erotica makes it seem normal for us to be used and abused, but it's not normal.

Dear single, erotica is not the answer to your longings for intimacy. Christ is.

He's also provided community so you can experience emotional intimacy right now. And if and when He provides you with a godly spouse, the physical intimacy of sex will just be the icing on the cake of the friendship and emotional intimacy you already share together…
The Evangelical community is all hot and bothered over the book and movie, Fifty Shades of Grey. Evangelical  preachers, bloggers, and websites are fearful that Christian women will be drawn into the dark world of eroticism and BDSM if they read the book or go see the movie. Instead of reading a trashy, filthy, sinful book like Fifty Shades of Gray, women are encouraged to read wholesome, uplifting Christian literature/romance novels, novels that rarely have any resemblance to real life.
Why is it that Evangelical churches and preachers are having such a hard time keeping church women in line? Instead of blaming erotica, how about taking a hard look at the root cause of the guilt and fear motivited sexual dysfunction in the Evangelical church? Literature and movies aren't the problem. The constant harping on sexual sin, fornication, adultery, homosexuality, petting, and pornography leads not only to sexual frustration but to sexual acting out.
Why do we see sexual acting out in Evangelical churches? Humans are drawn to that which is forbidden. Don't look don't touch, don't taste, don't hear is what is heard from Evangelical pulpits. Sexually aware Evangelicals say to themselves, but I want to look, touch, taste, and hear. Result? Bizarre sexual acting out. Wouldn't it be better to teach people sexual responsibility? Wouldn't it be better to see looking at pornography or erotica as normal, perhaps a passing fad, and nothing that will harm a person?
Thanks to generations of Puritanical, sexually repressive preaching, Evangelical churches are filled with sexually frustrated people, people who have wants, needs, and desires that their pastor says is a sin. Even something as normal and healthy as masturbation is considered a sin.
On the extreme right fringe of Evangelicalism you will find preachers and churches that forbid any physical contact before marriage. No kissing, hand holding, no physical intimacy of any sort. Just today, I read a Jack Hyles sermon where Hyles bragged about his daughter Cindy not kissing her fiance until  their wedding day Hyles was quite proud of his daughter and son-in-law for waiting until they were married. I wonder what his thought would be now that his son-in-law is in federal prison for committing a sex crime and his daughter is divorced.
Here's what people like Paula Hendricks don't or won't understand; Evangelical church members, like everyone else, have normal, healthy sexual desires. No matter what is preached from the pulpit, they are going to find ways to act on these desires. They may have to do it in secret, beyond the prying eyes of the church, but they will act on their desires. The sex drive is too primal and strong to be stilted forever. All the preaching and Bible quoting in the world won't change this fact.
According to a 2013 Barna Group study:
A new study has revealed there is no difference between the percentage of Christians who have read Fifty Shades of Grey and the percentage of all Americans who have read the book, which has at times been described as "mommy porn."

According to Barna Group researchers, nine percent of practicing Christians have read E.L. James' erotic novel, and the same percentage of all American adults have done the same. Sixteen percent of women have read the bestseller, which was more popular among older readers – one out of ten of both Busters (ages 29-47) and Boomers (ages 48-66) say they have read the book. Among those adults who read Fifty Shades, one-in-five (19 percent) were practicing Christians.
I have no idea if Fifty Shades of Grey is good or bad literature. I haven't read it and my wife hasn't either. Since she is a fiction fan, I suspect she will some day read it. If she does, I have no fear of my wife turning into a slutty woman who loves bondage. It is just a book. I might be inclined to read it if has lots of pictures.
Note
Here's a Catholic take on Fifty Shades of Grey: (link no longer active)
Why isn't it okay to read books like this?

Because sex is more than use. Sex – and all the things that physically, emotionally, and mentally lead to sex – was created by God to be shared between a married man and woman. Sex is an expression of love that reflects the Divine Love of God – a Love that is free, total, fruitful, and faithful. Pornography and erotica are a mockery of the intimacy and beauty of Sacramental love. It reduces the mystery of sex to mere use, turning something sacred and Godly into something profane and dark. As Blessed John Paul II said, 'The opposite of love is not hate, the opposite of love is use.' The lust that these books infect us with is all about self-gratification – it's all about use.

Because the Church teaches us it's not okay. Pope Benedict addressed the issue of pornography and erotic literature saying, "A relationship that does not take into account the fact that a man and a woman have the same dignity represents a serious lack of humanity . . . The moment has come to energetically halt the widespread distribution of material with an erotic and pornographic content, including through the internet in particular."

Because lustful thoughts lead to lustful actions. Pope Benedict and Blessed John Paul II both understood that erotic words and images (like in Fifty Shades of Grey) create lustful thoughts in us. Those lustful thoughts don't just end there; they cause in us physical reactions which end in lustful actions. Even St. Augustine struggled with this disordered and vicious pattern in his own life. After his conversion he wrote about his struggles with lust saying, 'Lust indulged became habit, and habit unresisted became necessity.'

If you want to live a virtuous life, you have to be vigilant about it. Evil only needs to find a tiny little chink in your armor of holiness to begin to work. Don't let these books crack open your virtue and start you down the vicious cycle of self-gratification and lust. Avoid these books, this author, and authors like her (V.C. Andrews comes to mind).
A woman by the name of Selena Sarnes has written a Biblical response to Fifty Shades of Grey
Fifty Shades of Grey is a 2011 erotic romance novel by British author E. L. James. It is the first installment in the Fifty Shades trilogy that traces the deepening relationship between a college graduate, Anastasia Steele, and a young business magnate, Christian Grey. It is notable for its explicitly erotic scenes featuring elements of sexual practices involving bondage/discipline, dominance/submission, and sadism/masochism (BDSM). Originally self-published as an ebook and a print-on-demand,publishing rights were acquired by Vintage Books in March 2012.

The second and third volumes, Fifty Shades Darker and Fifty Shades Freed, were published in 2012. Fifty Shades of Grey has topped best-seller lists around the world, including those of the United Kingdom and the United States. The series has sold over 100 million copies worldwide and been translated into 52 languages, and set a record in the United Kingdom as the fastest-selling paperback of all time.