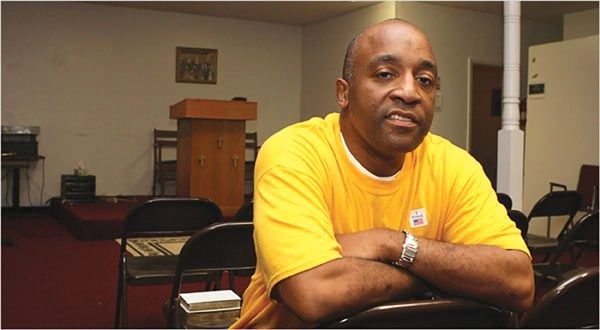 The Black Collar Crime Series relies on public news stories and publicly available information for its content. If any incorrect information is found, please contact Bruce Gerencser. Nothing in this post should be construed as an accusation of guilt. Those accused of crimes are innocent until proven guilty.
Kenneth "Kenny" Glasgow, a well-known preacher in the Dothan, Alabama area, stands accused of capital murder.
A well-known community activist has been arrested and charged with capital murder in connection with a fatal shooting Sunday night on Allen Road.

Dothan Police Chief Steve Parrish said police believe the Rev. Kenneth Glasgow, 52, was the driver of a vehicle involved in the shooting of 23-year-old Breunia Jennings of Dothan. Also charged is 26-year-old Jamie Townes of Dothan, whom police believe to be the trigger man.

Police believe Townes was angry at Jennings because he believed she stole his car. The two men are being held at the Houston County Jail without bail.

Under Alabama law, a person believed to have aided or abetted a criminal act is equally liable for the underlying act.

"Patrol units were responding to a suspicious vehicle call near Stringer Street AME Church," Parrish said during a press conference Monday at the Dothan Police Department. "When the units approached the area, they noticed a situation that appeared to be an automobile accident. However, when officers approached the area they knew the scene was a homicide."

Parrish stated the investigation is ongoing and additional arrests may occur since additional passengers are believed to have been in the vehicle police say was driven by Glasgow.
….

Glasgow has been involved in several community movements since being released from prison. He was convicted on drug charges in the late 1980s. Upon his release, he founded The Ordinary People Society, a community and homeless ministry in Dothan. He has advocated for the restoration of voting rights for ex-felons and helped start Moma Tina's Mission House in Dothan, along with his mother.

Glasgow has referred to himself as Kenny Sharpton Glasgow on several occasions and is believed to be the half brother of the Rev. Al Sharpton, founder of the National Action Network.

Under Alabama law, murder committed by or through the use of a deadly weapon while the victim is in a vehicle is considered a capital crime. A person convicted of a capital crime is eligible for life in prison without parole or death.

….