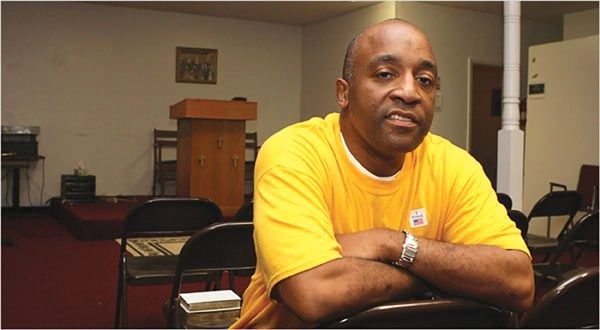 The Black Collar Crime Series relies on public news stories and publicly available information for its content. If any incorrect information is found, please contact Bruce Gerencser. Nothing in this post should be construed as an accusation of guilt. Those accused of crimes are innocent until proven guilty.
In 2018, Kenneth "Kenny" Glasgow, a well-known preacher in the Dothan, Alabama area and the half-brother of Al Sharpton, was accused of capital murder.
The Dothan Eagle reported at the time:
A well-known community activist has been arrested and charged with capital murder in connection with a fatal shooting Sunday night on Allen Road.

Dothan Police Chief Steve Parrish said police believe the Rev. Kenneth Glasgow, 52, was the driver of a vehicle involved in the shooting of 23-year-old Breunia Jennings of Dothan. Also charged is 26-year-old Jamie Townes of Dothan, whom police believe to be the trigger man.

Police believe Townes was angry at Jennings because he believed she stole his car. The two men are being held at the Houston County Jail without bail.

Under Alabama law, a person believed to have aided or abetted a criminal act is equally liable for the underlying act.

"Patrol units were responding to a suspicious vehicle call near Stringer Street AME Church," Parrish said during a press conference Monday at the Dothan Police Department. "When the units approached the area, they noticed a situation that appeared to be an automobile accident. However, when officers approached the area they knew the scene was a homicide."

Parrish stated the investigation is ongoing and additional arrests may occur since additional passengers are believed to have been in the vehicle police say was driven by Glasgow.
….

Glasgow has been involved in several community movements since being released from prison. He was convicted on drug charges in the late 1980s. Upon his release, he founded The Ordinary People Society, a community and homeless ministry in Dothan. He has advocated for the restoration of voting rights for ex-felons and helped start Moma Tina's Mission House in Dothan, along with his mother.

Glasgow has referred to himself as Kenny Sharpton Glasgow on several occasions and is believed to be the half brother of the Rev. Al Sharpton, founder of the National Action Network.

Under Alabama law, murder committed by or through the use of a deadly weapon while the victim is in a vehicle is considered a capital crime. A person convicted of a capital crime is eligible for life in prison without parole or death.
In February 2021, the Houston County Grand Jury dropped the murder charge against Glasgow.
The Houston County Grand Jury has dropped capital murder charges against Kenneth Glasgow stemming from his March 2018 arrest for the involvement in the shooting of 23 year old, Breunia Jennings.

The Grand Jury ruled there is insufficient evidence to establish enough probable cause to take Reverend Kenneth Glasgow to trial for the capital murder charge.

Dothan Police Department told WDHN three years ago that the murder victim, Breunia Jennings, was found dead in a stolen car belonging to Jamie Townes, the assailant who allegedly shot and killed Jennings.

Townes then rode around Dothan with human rights activist, Rev. Kenneth Glasgow looking for his stolen car. Police determined that multiple rounds had been fired into the stolen car Jennings body was later found in.

In the state of Alabama, when a person fires shots into an occupied vehicle it becomes a capital murder case.

Although Glasgow no longer has a capital murder charge, he still currently has pending charges; drug possession, assault on a police officer, and tampering with physical evidence that he is awaiting trial on.
Earlier this year, Glasgow pleaded guilty to tax evasion, mail fraud, and drug conspiracy charges.
Dothan pastor Kenneth Glasgow, 57, pleaded guilty to tax evasion, mail fraud, and drug conspiracy charges on Friday, according to United States Attorney Sandra J. Stewart.

Glasgow founded The Ordinary Peoples Society (TOPS) and the Prodigal Child Project, nonprofit organizations.

He claimed that nearly half a million dollars he took would be used for charitable purposes.

Instead, Glasgow admitted during the 2018 calendar year alone, he withdrew $407,450.00 in cash from the bank that was used for personal benefit.

He failed to report those funds as income on his tax return, not even filing a report for that year.

As a part of the plea agreement, Glasgow agreed to pay the IRS $376,720.00 in restitution for tax years 2016 through 2019.

He also pleaded guilty to mailing falsified forms in order to collect Social Security disability benefits.

To collect those payments, Glasgow told the Social Security Administration that he struggled with mobility, dressing himself, and preparing meals. But he failed to answer questions about his ability to handle money.

In his plea agreement, Glasgow admitted that he also rented a car using funds from one of his nonprofits and listed himself as the sole authorized driver.

Glasgow also pleaded guilty to previous drug charges.

"Kenny's plea today is what he felt was in his best interest. He's happy to finally get this matter behind him," defense attorney Derek Yarbrough told News4.

A sentencing hearing will be scheduled in the coming months.

At that hearing, Glasgow will face a maximum sentence of 20 years in prison, along with substantial fines and restitution.
Yesterday, Glasgow was sentenced to 30 months in prison for drug conspiracy, social security and mail fraud.
Kenneth Glasgow, pastor and founder of The Ordinary People's Society and Prodigal Child Project, was sentenced to 30 months in prison for drug conspiracy, social security and mail fraud, according to his attorney Derek Yorbrough.

According to documents filed by the Department of Justice, Glasgow was accused of stealing $407,450 from one of his tax-exempt organizations and sending false information to the Social Security Administration to obtain disability payments and related health benefits under the Medicare and Medicaid programs.

Glasgow reported in 2019 that he worked at The Ordinary People's Society (TOPS) for 60 hours a week with no income and at his other charity, Prodigal Child Project (PCP), for 50 hours a week. They also claim Glasgow used the money to rent a vehicle each month from a dealership, even though he said others drove him around, according to past reports.

From 2016 to 2019, Glasgow withdrew a total of $1,300,848.54 in cash from TOPS and PCP, never accounting for that money on the nonprofits' IRS forms or on any tax returns of his own, according to documents.

In 2020, he was accused of distributing cocaine to an unnamed suspect and was indicted by a grand jury. He pled not guilty in 2021, per past WDHN reports. The indictment alleged Glasgow distributed drugs over a period of time, though it did not say how long.

Glasgow's sentence includes charges for conspiring with codefendant Willie Frank Peterson, 50, of Dothan, to possess cocaine with intent to distribute. Documents show that Peterson pleaded guilty to his involvement in the drug conspiracy on March 14, and in his plea stated that Glasgow agreed to purchase cocaine from Peterson in 2018 and 2019.

In addition, reports show Glasgow received traffic citations relating to 27 different traffic stops between February 5, 2015, and August 11, 2020. All citations indicated that Glasgow was the driver of the vehicle.

Glasgow changed his plea four different times until eventually pleading guilty to all charges on February 24, 2023. The judge also ordered that Glasgow serve three years of supervised release following his prison term and pay the IRS $376,720.00 in restitution, according to the DOJ.
Bruce Gerencser, 66, lives in rural Northwest Ohio with his wife of 45 years. He and his wife have six grown children and thirteen grandchildren. Bruce pastored Evangelical churches for twenty-five years in Ohio, Texas, and Michigan. Bruce left the ministry in 2005, and in 2008 he left Christianity. Bruce is now a humanist and an atheist.
Connect with me on social media:
Your comments are welcome and appreciated. All first-time comments are moderated. Please read the commenting rules before commenting.
You can email Bruce via the Contact Form.