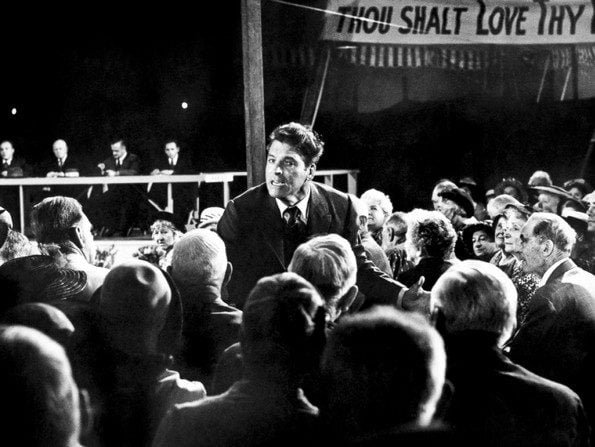 Cable and satellite TV subscribers are "blessed" to have numerous explicit Evangelical channels to watch. These channels are dominated by Charismatic faith healers, many of whom are fabulously rich. Con artists, the lot of them, their goal is fleece the flock while pretending to heal them of everything from cancer to cavities. As the Coronavirus pandemic sweeps the world, infecting and killing people of every race, religion, and social status, I have noticed that these faith healers seem impotent, unable to heal anyone of the virus. Bill Johnson, pastor of Bethel Church in Redding, California, a renowned fake healer, revealed his powerlessness over COVID-19 by cancelling all in-person worship services at his church. Johnson even shut down the church's Healing Rooms, going to online healing instead. Why is that?
All across the world, Evangelical faith healers are powerless over COVID-19. Oh, they keep praying, anointing people with oil, and performing magic tricks, but their marks still get sick, and in some instances die. Their helplessness exposes for all the world to see the bankruptcy of faith healing. Rational, skeptical people have always known this, but I suspect that true-blue Charismatic believers are beginning to wonder if these so-called men of God are little more than modern Elmer Gantrys and Sister Sharon Falconers.
The Coronavirus pandemic also exposes Jesus himself as a fraud. Again, rational, skeptical people have always known that the miracle-working Son of God was a fraud; that the miracles recorded in the Bible are works of fiction. Yet, 2,000 years later, Charismatic (and Pentecostal) Christians still believe that Jesus, through the hands and prayers of Holy Ghost-filled preachers, can and does heal them. After all, Jesus did say to his disciples:
And as ye go, preach, saying, The kingdom of heaven is at hand. Heal the sick, cleanse the lepers, raise the dead, cast out devils: freely ye have received, freely give. (Matthew 10:7-8)
Just before allegedly ascending to Heaven, Jesus said to his followers:
And he said unto them, Go ye into all the world, and preach the gospel to every creature. He that believeth and is baptized shall be saved; but he that believeth not shall be damned. And these signs shall follow them that believe; In my name shall they cast out devils; they shall speak with new tongues; They shall take up serpents; and if they drink any deadly thing, it shall not hurt them; they shall lay hands on the sick, and they shall recover. (Mark 16:15-18)
Jesus' brother James had this to say:
Is any among you afflicted? let him pray. Is any merry? let him sing psalms. Is any sick among you? let him call for the elders of the church; and let them pray over him, anointing him with oil in the name of the Lord: And the prayer of faith shall save the sick, and the Lord shall raise him up; and if he have committed sins, they shall be forgiven him. (James 5:13-15)
These Bible verses seem clear to me: preachers, evangelists, missionaries, and even common, every day Christians are empowered by God to heal the sick. Why, then, are they powerless when it comes to healing people of COVID-19?
It is obvious, at least to me anyway, that faith healers are frauds; that for all their supposed supernatural power and faith, they are unable to heal anyone from COVID-19. Will the Coronavirus pandemic be the seismic event that finally exposes these preachers for who and what they are: money-grubbing frauds? Will devoted Charismatic and Pentecostal Christians finally pull back the curtain and see that the divine wizard is but a man? Will they put their checkbooks away and let these so-called anointed prophets starve? I want to think that this is finally the proverbial straw that breaks the camel's back. I really, really, really want to believe that Charismatic and Pentecostal believers will be drawn to the light of reason and science. However, the Coronavirus pandemic will eventually fade into the fabric of human history, and when it does, faith healers will come up with a new shtick to rob Christians of their money. Perhaps if God would infect Kenneth Copeland, Jim Bakker, Bill Johnson, TD Jakes, Todd Bentley, Benny Hinn, Rodney Howard-Browne, Paula White, Pat Robertson, and others like them with COVID-19 and let them die horrible deaths while hooked up to respirators, maybe then believers would see the light.
I don't wish COVID-19 on anyone, but a bit of karmic justice might put an end to the control faith healers have over so many people. Did you attend a Charismatic or Pentecostal church? Did you really believe faith healers could deliver you from your afflictions? If yes, what caused you to change your mind? Please leave your heavenly thoughts in the comment section.
Bruce Gerencser, 66, lives in rural Northwest Ohio with his wife of 45 years. He and his wife have six grown children and thirteen grandchildren. Bruce pastored Evangelical churches for twenty-five years in Ohio, Texas, and Michigan. Bruce left the ministry in 2005, and in 2008 he left Christianity. Bruce is now a humanist and an atheist.
Connect with me on social media:
Your comments are welcome and appreciated. All first-time comments are moderated. Please read the commenting rules before commenting.
You can email Bruce via the Contact Form.