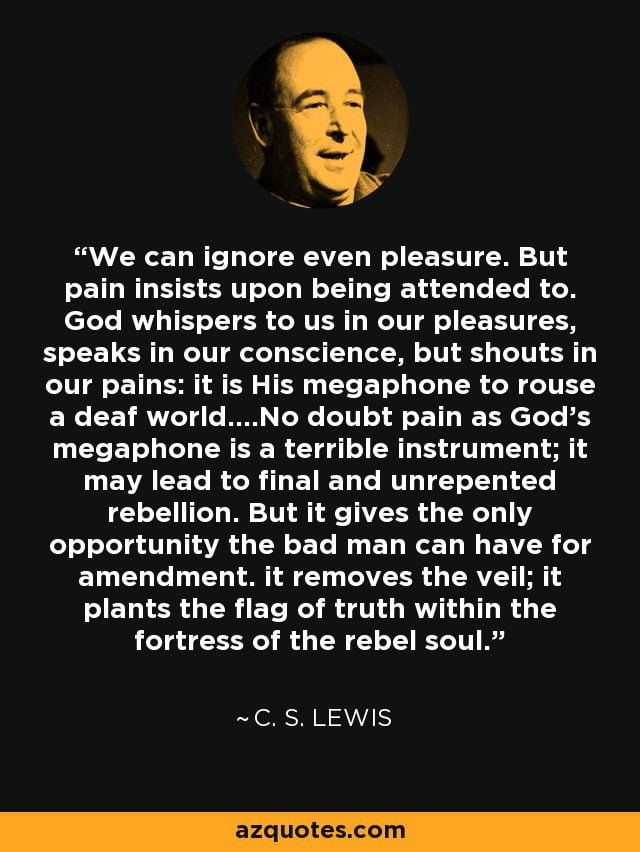 Guest post by Neil Robinson who blogs at Rejecting Jesus
Does the Christian God use pain to draw people to himself? Assuming for a moment that such a God exists, does he use human suffering to make followers for himself?
There is no evidence in the Bible to suggest he does. To be sure, the Bible has a fair amount to say about pain. It claims that suffering is a means by which God either chastens Christians (Hebrews 12.7) or strengthens them (Romans 5.3-5), but this is exclusively for people who already believe. The Bible does not say non-believers are afflicted as a means of drawing them closer to God; the idea is unbiblical.
Let's assume then that while this notion finds no support in the bible, Christians have learnt over the centuries, perhaps though extra-biblical revelation, that God does use pain in this way. What does this tell us about God? That he's a being whose principal way of making human beings pay attention to him is by causing (or allowing) them to suffer frequently unbearable pain and anguish.
What sort of God is this? Not one who loves the world and cares for humans far more than he does mere sparrows (Matthew 6.26). He's more an unpleasant, sadistic bully: the jock who backs you up against the wall, grips your balls and squeezes hard.
Maybe that's how it is. The God who created the universe is just such a being; a moral monster, as Richard Dawkins described him. It's easy to see how he might be: human beings suffer, yet there's (supposedly) a God who loves them; therefore, pain and suffering must at the very least be sanctioned by God, or, more likely, delivered by him. This, after all, is the story of the Old Testament. The God so arrived at, though, is a thoroughly human creation, a means of minimising cognitive dissonance by reconciling human suffering and a God who supposedly cares.
One more assumption is needed. Let's assume this time that despite the odds, this character really exists. Does his strategy work? Does inflicting pain and anguish on people make them, as Lewis suggests, cry out to the One doing (or allowing) the inflicting and compel them to love him? It seems unlikely; I can't find any evidence online of anyone claiming that pain or anguish brought them to God. From a personal perspective, I can honestly say that in times of distress or suffering I have never, post-deconversion, called out to God or any supernatural entity for help. I've never interpreted my suffering as his calling me closer and have never, since escaping Christianity, succumbed to his malicious charms. (What I did do occasionally, following my deconversion, was to convince myself that my suffering was a punishment from God – for leaving him behind, being gay or something I'd done. These feelings disappeared when I embraced fully the fact that the Christian God isn't real.)
Where does this leave the Christian with, as Lewis puts it, 'the problem of pain'? How do they reconcile a loving God who allows or even causes human beings to suffer? They can't. Instead, they spout empty platitudes that they think let their indifferent, imaginary God off the hook. Just look at the meaningless theo-babble religious leaders came up with in 2004 after a tsunami hit Indonesia, killing 227,898 people.
Leave God out of the equation, however, and there are far better explanations for why humans suffer. 'Shit happens' is far more convincing than anything the religious have to offer. Physical pain is the body's reaction to damage. It is an imperfect system that frequently overreacts or fires up even after damage is repaired (I know this, having fibromyalgia). That's what it is to have, to be, a physical body. Anguish comes from random acts of nature, the violence and cruelty we inflict on each other and the death of loved ones, much of which is beyond human control. 'Thoughts and prayers' are useless in ameliorating this kind of suffering. Measures to restrict people's access to weapons undoubtedly helps, as it has in countries with politicians with sufficient strength and intelligence to enact gun-control legislation. Without it, as in Uvalde recently, more children will die, more parents will experience terrible anguish and another massacre is inevitable. God won't stop it.
Suffering is not symbolic of something else; it is not 'God's megaphone' or an opportunity for others to point those afflicted to Christ's light (or any other bullshit that involves the supernatural.) Pain simply is. It is our lot as physical bodies to endure or alleviate it as best we can.
Bruce Gerencser, 66, lives in rural Northwest Ohio with his wife of 45 years. He and his wife have six grown children and thirteen grandchildren. Bruce pastored Evangelical churches for twenty-five years in Ohio, Texas, and Michigan. Bruce left the ministry in 2005, and in 2008 he left Christianity. Bruce is now a humanist and an atheist.
Connect with me on social media:
Your comments are welcome and appreciated. All first-time comments are moderated. Please read the commenting rules before commenting.
You can email Bruce via the Contact Form.