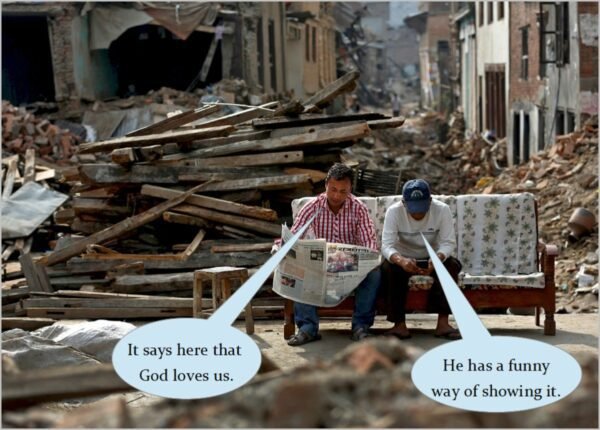 "As for evidence, you might be aware of Israel. That nation has been in the news much of late. So, without being flippant at all, I present Israel as evidence. Think about it. They are living the script written thousands of years ago. Not by chance."
— Don, A Christian Apologist
Israel as evidence for the existence of God. I'm thinking about it as Don suggests.
Where did it all begin, this bizarre notion that one tribe in the Middle East was chosen by God to be his special people? According to the Genesis myth, it was when YHWH promised Abraham he'd be his best buddy forever and ever, so long as he mutilated his body and those of his sons in perpetuity. They would also have to keep every one of this bullying god's 365 rules and regulations, including the petty and piffling ones. So far so good, apart from the fact it was all very one-sided, and the mutilation of course. You'd think this would've been a sign that things weren't quite kosher, but no; Abraham and his descendants buy into it and almost straight away, YHWH begins to let them down.
God's Chosen Ones soon find themselves slaves in Egypt. A second mythical character is needed – up pops Moses – to get them out of this scrape. Unfortunately, after Moses has finished chatting with YHWH, who identifies as a burning bush on the top of a mountain, the sulky deity feels slighted by something the Israelites are doing. As is his way, he has many of them slaughtered and the rest he forces to troop around the same small plot of land for 40 years. This is how best buddies treat each other!
Later, the Jews find themselves defeated by the Babylonians and are carted off into exile. This exile, which YHWH does nothing to prevent, lasts 70 years. Still, it leads to a pleasant song made famous by Boney M in 1978 so I suppose it was worth it.
For the next few hundred years, Israel fell under the rule of other nations more powerful than itself. Not to worry though, YHWH is still 'looking after them', particularly those who are slaughtered in the rebellions that ensue. As Robert Conner says in a recent comment on Debunking Christianity, 'If Yahweh ever threatens to bless you and your children, just kill yourself and get it over with.'
Fast forward to the Roman occupation of Israel. YHWH, having undergone a makeover, reneges on his promise to take care of his Chosen Nation forever and ever and comes up with a different plan to save people from his own cussedness. Now, if they want to continue as his friend, they have to believe a supernatural being has returned from the dead.
Abandoned by God, as he now wants to be called, Jews who haven't defected to the new faith see their sacred, eternal temple destroyed by the Romans in AD70. Thousands of them are massacred and the Jewish nation ceases to exist.
This sets the pattern for the next two millennia in which God's new friends organise pogroms, massacres, and vicious persecution of Jews. This culminates in the Final Solution of the Third Reich which seeks to eliminate the Jewish people entirely. While awaiting extermination in a concentration camp, Andrew Eames scrawls on the wall of his prison: 'If there is a God, He will have to beg for my forgiveness.' God allows six million of his Chosen People to die at the hands of the Nazis.
Following the Second World War, Israel took possession of the area surrounding Jerusalem, then occupied by Palestinian Muslims who are themselves descended from earlier immigrants. Thousands on both sides are slaughtered in the conflict that follows. In 1948, after almost 2,000 years, Israel became a nation once again; not through any miracle of God but as a result of human endeavour and bloodshed.
Tension and further skirmishes followed, leading to the present day when Israel finds itself under attack by Hamas terrorists. Thousands of innocents – women, children, and babies – have been slaughtered without mercy. Israel is, as I write, retaliating and intends to enact further vengeance. And where is God in all this? You guessed it: nowhere to be seen.
According to some – including the naive writer at the top of this post – all of this serves as evidence of God's existence. That Israel has persevered for so long, despite opposition, persecution and the holocaust is not, however, evidence of God, any more than the great cathedrals of the world are. It is instead testimony to the resilience, resolve, and sheer bloody-mindedness of the people themselves. Perhaps their belief in YHWH (they don't, of course, recognise his Christian counterpart) has fuelled their persistence, as it has their territorial claims.
Jewish beliefs and history are not evidence that YHWH exists. If anything, his apparent abandonment* during their many trials and tribulations is evidence to the contrary.
*Of course a non-existent entity can't actually abandon anything, any more than it can lend its support or favour one group of people over another.
Bruce Gerencser, 66, lives in rural Northwest Ohio with his wife of 45 years. He and his wife have six grown children and thirteen grandchildren. Bruce pastored Evangelical churches for twenty-five years in Ohio, Texas, and Michigan. Bruce left the ministry in 2005, and in 2008 he left Christianity. Bruce is now a humanist and an atheist.
Connect with me on social media:
Your comments are welcome and appreciated. All first-time comments are moderated. Please read the commenting rules before commenting.
You can email Bruce via the Contact Form.