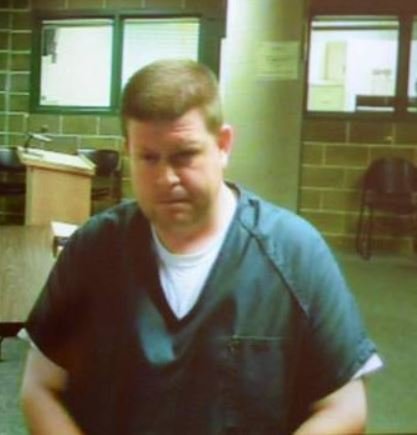 Last month, Christopher Trent, youth pastor at Bellingham Baptist Church in Bellingham, Washington, was convicted of sexually abusing a church girl.  Bellingham Baptist is an Independent Fundamentalist Baptist (IFB) church.
Caleb Hutton, a reporter for The Bellingham Times had this to say about Trent's crimes:
The ex-youth pastor of a Bellingham church grimaced, wept, and struggled to breathe in court Wednesday, as he listened to a teenage girl – standing feet away – describe the lasting harm he caused when he raped her countless times.

Christopher Lee Trent was sentenced to 5 years in prison for sexually abusing the girl, who went to Bellingham Baptist Church on Orleans Street when she was under the age of 16.

Court records describe how he kept the abuse a secret for about 2 years.

Trent, 37, graduatedfrom Heartland Baptist Bible College in Oklahoma, where he met Josh Carter, the future pastor of the Bellingham church.Trent moved across the country with his wife and seven children in June 2013, after Carter asked if he'd be interested in a youth pastor job.

Over the next three years, Trent supervised children at church activities, preached in front of the main congregation at times, and led classes about how adults can prevent child abuse in the church.

Meanwhile, he started driving the girl home from church. She visited his home often, and she came to think of him as a kind of father figure. Over time he started showing affection by giving her "side hugs," and later hugging her chest-to-chest. In text messages he told the girl he loved her and wanted to kiss her. Eventually he promised to marry her at a gazebo on a beach when she turned 18.

The girl later estimated that over months, he sexually abused her over 100 times – so often she lost count. Months before the abuse came to light, the girl's mother noticed her phone bill showed hundreds of texts from Trent's number, sent at 1 or 2 a.m., where he talked about holding and loving the girl. According to a letter the mother wrote to police, she confronted Trent, but he laughed and denied anything inappropriate had happened. She warned him to not touch her daughter, and blocked Trent's number, but did not contact police.

Trent and the girl switched to texting over private apps on their phones.

Trent's wife found explicit pictures of the girl on his phone, too, but he convinced her the girl must have sent them by accident and to the wrong person, according to reports summarized in a Department of Corrections investigation.

The head pastor confronted Trent in 2016, because others had noticed he had an oddly close relationship with the girl. Then a member of the church found a letter that fell out of Trent's Bible, where the girl talked about Trent holding her close. Both Trent and the girl denied that anything sexual had happened between them, when Carter spoke with them.

Trent was fired. His family was given a month to move out of a church parsonage. No report was made to police until a couple of weeks later, on July 11, 2016, when another church member told police Trent was fired for an inappropriate relationship with a girl. As detectives started to investigate, the girl revealed Trent had been sexually abusing her, at the church, in the car behind the church, and in their homes.

Much later the girl told authorities the abuse was even worse than she had first reported: Trent called her his "sex slave," and forced her to endure sex acts that left her bleeding and in pain for days. He would monitor her conversations with boys and, at times, told her not to eat. She feared he would kill her, if it would keep his secret from getting out.

….

Trent pleaded guilty in March to four counts of third-degree child rape. He had no prior criminal record. No other charges of sexual abuse emerged. He told authorities that, a decade before his arrest, he worked with special needs kids in Franklin Township on the outskirts of Indianapolis, in his home state of Indiana.

….

[Judge] Montoya-Lewis said she found it extraordinarily frustrating that, in her reading of the law, she could not hand down more prison time [five years]. She reiterated to the girl and her family that the crime was not their fault: It was Trent's alone. She turned to Trent, and told him his behavior had been "insidious and terrifying."

"You cannot hide behind the concept of sin, as you have represented to the court. These were poor choices," Montoya-Lewis said. "They were your choices, over years. You had every opportunity, every day, to stop what you were doing to this child, and you chose to continue.

"It is not in the court's authority or ability to hand out forgiveness," Montoya-Lewis continued. "But I listened to what happened to (the girl), and I read about her experiences, and your response to that. And it is unforgivable."
Yesterday, Bellingham Baptist music director Paul Bane was sentenced to five years in prison for sexually molesting a church girl.
Hutton reports:
A former music director at Bellingham Baptist Church must serve time in prison for molesting a girl for years, a Superior Court judge has ruled.

Judge Raquel Montoya-Lewis sentenced Paul Michael Bane to 5 years in prison, the same amount of time she handed the church's youth pastor, Christopher Trent, a month ago in a separate case of long-term sex abuse of a different girl.

Bane, 57, arrived at the Bellingham police station one morning in October 2015 to confess he had been sexually touching a girl for about 8 years, according to court records. At that point police had not spoken with the girl, who was living in the Midwest, but Bane told police the girl's story, whatever it might be, could be trusted.

According to his report, Bane became a kind of father figure to the girl when she was younger. The sexual abuse began around the time the victim turned 12 years old. Bane would kiss her, sexually touch her, and later, started tying her with a clothesline during sex acts.

When she went to college years later, she revealed the abuse to a counselor, who encouraged the girl to report the matter to police. For about 1 ½ months, she told Bane she had been considering coming forward. Bane confessed to his pastor, Josh Carter, who told Bane he needed to turn himself in. He did and told police he'd thought of moving across the country to be near the victim.

Police called her at her Bible college. She was, at first, reluctant to help in the case. The young woman had other things going on in her life, and she still cared about Bane, she reported. About a month later, she decided to go to police, because she did not want the same thing to happen to another girl. In an interview with a detective in a Oklahoma, she described in graphic detail how Bane abused her as often as twice a week, or daily, through her teenage years.

An investigator with the Department of Corrections noted that in the police interview the young woman didn't know basic sexual terms, or basic things about female anatomy. She seemed sheltered, and appeared Bane had groomed her for sexual abuse. He treated her with affection he did not show other children. He would buy her gifts, candy, or food. After Bane abused her, he would apologize.

In the victim's version, the abuse mostly stopped after 4 ½ years, though there were two more instances of sexual contact when she was a young adult.

Police booked Bane into jail in December 2015. He was released without being required to post bond. He remained out of jail until May, when he pleaded guilty to second-degree child molestation and two counts of third-degree child molestation.

….

A public defender, Darrin Hall, described Bane as "somebody who does not connect with adults," but for whatever reason, he found he connected with the girl. Bane's actions look and feel predatory, but in reality, Hall said, they seem to be rooted in his immaturity. Bane will undergo sex offender treatment while serving time in prison.

…

[Judge] Montoya-Lewis admonished Bane for statements he made during the investigation, when he claimed his "relationship" with the victim was consensual, and when he brushed aside criticism from people who were concerned about how he acted around her.

"It is inconceivable to me," Montoya-Lewis said, her voice halting, "that you could suggest to this victim that her compliance was something that God wanted."