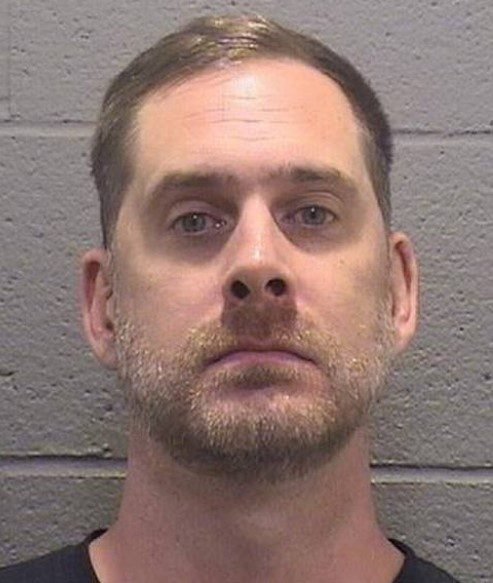 The Black Collar Crime Series relies on public news stories and publicly available information for its content. If any incorrect information is found, please contact Bruce Gerencser. Nothing in this post should be construed as an accusation of guilt. Those accused of crimes are innocent until proven guilty.
Last Friday, Phillip Stallings, a Fundamentalist Calvinist and the founder of the Biblical Flat Earth Society, was arrested and charged with 56 counts of sexual exploitation of a minor. ABC-11 reports:
A Durham man faces 56 counts of sexual exploitation of a minor after officials found him in possession of child pornography.

During a joint investigation by the Durham County Sheriff's Office and U.S. Department of Homeland Security, officials found 40-year-old Phillip Stephen Stallings downloaded media that involved minors engaging in sexual activities.

He was arrested on Wednesday and charged with 28 counts of second-degree sexual exploitation of a minor and 28 counts of third-degree sexual exploitation of a minor.

He was also served with outstanding warrants for financial card theft and cyberstalking.

Stallings was booked into the Durham County Detention Center.

On Thursday, the judge raised his secured bond to $500,000.
Stallings was arrested at his home Wednesday morning by Durham County deputies as part of a U.S. Department of Homeland Security investigation.

"[It's] part of an investigation across the nation right now for possession of child pornography and creation of child pornography," Durham County Assistant District Attorney Kendra Montgomery-Blinn said during a brief court hearing Thursday morning. "They had information that Mr. Stallings was sharing his materials on a social media platform."

Authorities searched his computer and found sexually explicit images, Montgomery-Blinn said. The search is ongoing, and more charges could be filed, she added.

….

A judge raised Stallings' bond from $341,000 to $500,000 because of the number of charges against him and the nature of the charges. If Stallings posts bond, he is prohibited from any contact with children and from using any computers or other devices that would allow him to collect any photos or videos.

Stallings was convicted of several offenses between 1996 and 2008, including assault on a female, false imprisonment, credit card fraud, theft, assault on an officer and impaired driving, according to state Department of Public Safety records.
According to Stallings' personal website, he is a "reformed Christian Apologist, Theonomist, Kinist and a former seminary student." In a March 2016 post, Stallings cryptically wrote:
I have sinned. Even more, I have sinned online regarding my actions towards others in private messages. I have never denied my sin in acting disgracefully online. The sinful and wicked actions I committed are without question a horrible blight upon the name of Christ, the Church, and were harmful to the families and those that are my brothers and sisters in the Lord.

One thing became clear to me when I was not able to reach the ones I had offended and twas to make a public statement regarding this. This is now offered to those that were hurt and offended by my sinful actions and should serve as a public statement that I have openly acknowledged my sin. I openly confess that my actions were sinful and sincerely would ask for those that were offended by me for their forgiveness. Ultimately, I have sinned against God and I am ashamed of how I have acted towards Him.

While there is little I can do today regarding my past wickedness outside of this public apology, I can admit it was wrong and sincerely ask for forgiveness. I have repented and I need your prayers for me going forward. My life is not over and I wish to only do that which is right now. That is all I can do and hope that for those that have been offended by me, you will read this, forgive me, and seek to pray for me.

….
Stallings doesn't mention what it was that he was sorry for. I will leave it to readers to make their own conclusions about Stallings' "sins."