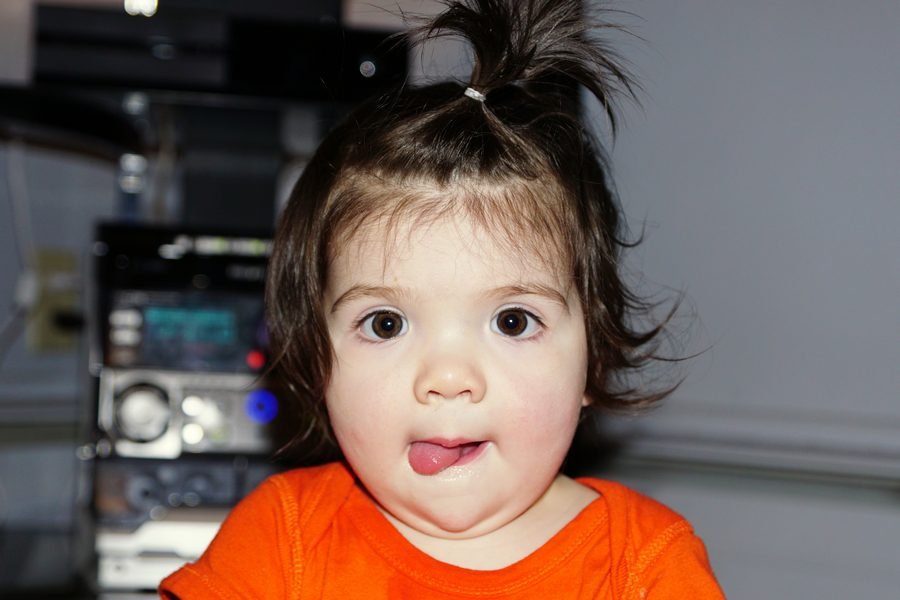 What follows is a perfect illustration of what happens when Fundamentalism so permeates your mind that you see "sin" in the smallest of behaviors; even natural ones such as farting and belching. Of all the things Lori Alexander could write about, she decides to tackle the evil of sticking out your tongue. What's next, the evil of nose picking, butt scratching, or pulling up your underwear?

As many of you know, I have two new granddaughters. One was born in July and the other in August. They are beautiful and fun to watch. We laugh when their little tongues come continually out of their mouths. When they toot, we think it's funny. When they burp, we all laugh and are happy they got their air out so it won't cause a tummy ache. All of their noises are so sweet to all of us. However, when grown women are doing these things, they aren't funny or cute anymore. It is disgusting and they are not being discreet.
Sticking out your tongue for pictures and having tooting and burping contests are common among women today. I hear it directly from them. They think it's funny. The Bible tells us otherwise: When I was a child, I spake as a child, I understood as a child, I thought as a child: but when I became a man, I put away childish things. (1 Corinthians 13:11) Even as our children grew older, they never stuck their tongues out or looked like the girl in the picture. We would never have allowed this. They didn't burp or toot on purpose in front of us either. (I actually never heard them burp since they had healthy gallbladders.) We taught them from a young age to have manners.
Godly women are called to be discreet and not do anything to draw attention to themselves. They are not children anymore and should not do childish things. It's amazing that I even have to teach younger women this today. When I was growing up, we never did such things. We would have been mortified! If we had to pass gas, we held it until we were alone. (If you have a lot of gas, you need to find out to heal your digestive system and I am sure less sugar and more real foods with probiotics will help.)
I don't ever remember having a problem with burping….I would have never stuck out my tongue for pictures, ever. When I see women do this, it looks disgusting. Tongues are meant to help us talk and eat to enjoy our food, not show off to other people, especially when they are coated with a thick white film which usually means they eat too much dairy and other unhealthy foods…
Be a godly feminine woman. Show discretion in all that you do and don't try to gain attention by doing something that is ugly….
— Lori Alexander, Always Learning, Taking Pictures With Tongues Out, September 29, 2016