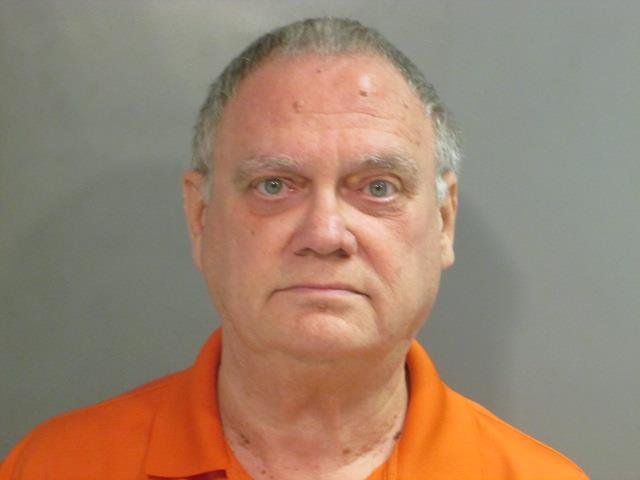 The Black Collar Crime Series relies on public news stories and publicly available information for its content. If any incorrect information is found, please contact Bruce Gerencser. Nothing in this post should be construed as an accusation of guilt. Those accused of crimes are innocent until proven guilty.
Timothy Reddin, pastor of Turner Street Baptist Church in Springdale, Arkansas, was arrested after he attempted to solicit an undercover agent posing as a 14-year-old boy for sex. Previously, Reddin was convicted on child pornography charges and spent twenty-seven months in prison for his crimes.
A former longtime Southern Baptist preacher whose ministry stalled 18 years ago when he went to prison for possessing child pornography is back in jail, this time for allegedly trying to meet a 14-year-old boy for sex.

Timothy Lee Reddin, 67, was arrested Aug. 3 on a federal warrant for attempted coercion and enticement of a minor. According to arrest documents, Reddin messaged an undercover Homeland Security Investigations agent posing online as an underage male to arrange a meeting for sex.

….

In the past Reddin served Southern Baptist churches in Arkansas and Texas for three decades before pleading guilty in 2000 to possessing at least 10 illegal images, including one depiction of a child under 12.

Two years earlier he reportedly resigned as director of missions for Central Baptist Association in Benton, Arkansas, after two people found child pornography on a computer he used and confronted him over it.

Reddin went to prison for 27 months, after admitting to the sentencing judge that he had a weakness for child pornography but insisting would never actually molest a child. He blamed his porn addiction on sexual abuse he said he suffered at age 10 at the hands of an older boy.

Character witnesses including a fellow pastor argued for leniency, saying they believed Reddin felt remorse and was sincere about wanting to reform.
Fox-24 adds:
The undercover officer said he was on a website on July 27 in an unrelated undercover capacity when he received an unprovoked message from a website user with the profile name "Lee," according to the affidavit

"Lee" described himself in his profile as a 62-year-old white male, 6'1″, 215 pounds and married. The profile description said, "I just wanna have fun…I like younger guys. But hell, at my age that's just about everybody! Discreet, intelligent, witty, professional guy. Love to meet new friends. Especially naked ones," according to the affidavit.

The undercover officer began interacting with Lee after receiving the initial message from him.

Lee began the conversation by saying "I like your hashtag! I'm no fan of our lying Pres." He then complimented the undercover officer, saying "You are wise beyond your years. :)"

As the conversation went on, Lee said, "Yeah, a good looking 18 yr old will get hit on a lot." The undercover officer said he wasn't 18 and that he was on the website while his parents were out of town.

Lee asked the undercover officer for his age. The undercover officer said he was going to turn 15 in November and wanted to be around like-minded guys, to which Lee asked, "Gay I suppose?"

As the conversation continued, Lee asked the undercover officer if he had sex other than masturbation. He then went on to tell the undercover officer that many men on the website will want to have oral sex with him.

Lee later asked the undercover officer what kind of sexual activity he is looking for and what he is ready for. Lee suggested starting with oral sex and to then move onto other types of sex. He also recommended taking it a step at a time, saying "Gay pron will be your friend for a while. :)"

The undercover officer then tells Lee that he's looking for someone he can trust to be his first. Lee responds, "If I weren't such an old fart I'd volunteer! Lol."

After the undercover officer said he doesn't care about age, Lee said, "I could meet you. No pressure to do anything you decide not to." (sic)

Lee then said "Here's what I have to offer" and sent graphic images of male genitalia.

Lee offered to meet the undercover officer the next day for a burger and then go somewhere private so he can "coach" him on oral sex.

The undercover officer told Lee that he felt he could trust him then jokingly asked if he is going to kidnap or kill him.

"Actually, I'm an axe murderer…," Lee said. He then added, "I'm a gentle guy really. I'm a college teacher and a businessman."

The undercover officer told Lee he couldn't meet the next day. He and Lee discussed meeting another time, and Lee gave the undercover officer his phone number after the officer asked how to find Lee on the website at a late time. Lee says, "Text, don't call. My name's Lee."

The undercover officer said Lee contacted him another time and offered to give him pointers on having sex for the first time and offered to assist him with his first sexual experience. Lee then said, "I'll never tell! I could go to jail!"
Sure sounds like Reddin "reformed," eh? How about he went right back to his predatory ways,because that's what sexual predators do. Jesus can't fix pedophiles, so it is up to the state to make sure the Reddins of the world do NOT have access to children. A mitigating factor was the fact that Reddin was molested as a teen. Sadly, all to often, those preyed upon become predators themselves.
Today, Reddin pleaded guilty to one count of attempted online enticement of a minor. The good pastor faces a minimum of ten years in prison.