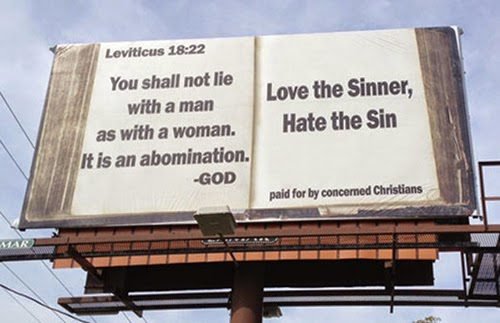 Snark Ahead. You've Been Warned!
Anne Reed is a staff writer for the American Family Association (AFA). AFA is a fundamentalist Christian ministry started in 1977 by Methodist minister Don Wildmon. Wildmon's son Tim now runs the operation. In order to write accurate, timely articles, I must monitor the ruminations of the religious-right. I don't like doing so, but it is a necessary part of my job. Every day, I must wade through hundreds of articles that I consider racist, bigoted, conspiratorial, or bat-shit crazy. Thus, I subscribe to AFA's newsletter, The Stand.
Anne Reed thinks the government should regulate homosexuality because Michelle Obama is concerned about childhood obesity and has used the power of government to change how children eat at a school. In her mind, gay sex should be regulated just like school lunches. I can see your face now. Huh, there is no connection between these two things? Remember Reed is a fundamentalist. Reason and logic are not her strong suit.
Here's what she had to say:
…CDCP has also reported a wealth of reliable and disturbing facts about the effects of homosexual behaviors, particularly among males. Gay and bisexual men represent only about two percent of the U.S. population but accounted for three-fourths of all estimated new HIV infections annually from 2008 to 2010. Wow! That is an extreme and unmistakable health risk associated with homosexual behavior.

In 2010, the same year the Let's Move campaign kicked off, African American men accounted for more than double the number of estimated new infections in other ethnic groups. And young African American gay and bisexual males ages 13 to 24 are especially affected by HIV. But where's the compassion for these young men? Where's the determination to bring about necessary lifestyle changes?

And somehow President Obama expresses no concern for those who wish to change that extremely risky behavior. Rather, he wants to model decisions made in California, New Jersey, and DC banning licensed professionals from offering and providing conversion therapy for minors who seek to change their same-sex attractions and behavior.

While gluttony, laziness, and ignorance can certainly lead to a life of disease and early death, so can misguided sexual desires. This is clear. If the Obamas really understand and care about the importance of teaching a child correct behaviors at an early age when it comes to nutrition and exercise, why is the concept inapplicable when it concerns damaging sexual cravings and behaviors?

Have you ever watched a movie scene where one actor withheld a helping hand from another whose grip was slipping from the edge of a tower or building? It goes against everything we know to be right and good. We don't just let somebody fall into a pit of destruction when it's within our power to help.

First, let me say that Anne Reed is being disingenuous. As a Christian fundamentalist and a political right-winger, Reed doesn't want the government regulating anything. Well, execpt the "sins" listed in the Bible, then she wants the government to be a terror to evil and an executor of wrath on those who do evil.
Second, being gay is not a choice. Evidently, Reed thinks a person chooses to be gay just like she chooses a bag of potato chips at the local store.
Third, the students eating lunch are CHILDREN and parents, school boards, and government has a vested interest in making sure children eat a nutritious lunch. How a gay has sex is determined by attraction, preference, and desire. Surely Reed knows that heterosexuals have anal and oral sex too? Those engaging in gay sex are consenting teenagers and adults. They are mature enough to make rational sexual choices. Children, with immature minds, would choose to have a lunch of candy bars, Captain Crunch, and ice cream. For a beverage Pepsi wins over milk every time. Since we know many children aren't ready to make responsible eating choices, adults make the choice for them. Gays do not need help choosing who to have sex with.
Fourth, yes HIV does affect the gay population far more than it does the heterosexual population, But, it DOES affect the heterosexual population, so using Reed's illogical logic, should heterosexual sex be regulated or forbidden? After all, it would keep heterosexuals from getting HIV.
According to the CDC, there are about 50,000 new HIV infections each year. One out of every 300 Americans is infected with HIV. Compare this to one out of ten Americans having diabetes. It seems to me that Reed should be writing about the diabetes epidemic that is ravaging the Christian church. Perhaps the government should step in and ban church potlucks and ban churches with bus ministries from giving out candy to riders. Think of the children, Anne!!
Fifth, the overwhelming majority of sexually transmitted diseases are contracted by white, Christian heterosexuals. Again, using Reed's illogical logic, shouldn't Christianity and heterosexual sex be strictly regulated or forbidden? We know that Evangelical and conservative Christian churches often given the sexually active horrible advice about sex and birth control. Perhaps Baptist youth groups should be banned because of their promotion of "just say no." Doesn't "just say no" encourage sexual irresponsibility, resulting in a loss of virginity, STD's, and unplanned pregnancies?
It took me all of a few hundred words to strip Anne Reed naked and expose the bigotry and hate that lies behind her beliefs. It's not about public policy or what is best for children. Reed's God, in an inspired, inerrant, infallible work of fiction, has decreed that homosexuality and same-sex marriage is an abomination. This same God, in the same book, said that homosexuals should be executed. Of course, he also thought adulterers and fornicators should be executed too. Man, that sure would drastically reduce church attendance numbers, wouldn't it? Imagine God killing every adulterous, fornicating Baptist. Why, I know some IFB churches that would have to close their doors. Their pulpits would certainly be empty if God got all righteous and killed adulterers and fornicators.
Let me end this post with three comments left on Reed's article by loving, concerned Christians:
"Thanks Anne Reed for a brave attempt at juxtaposing M. Obama's "Let's Move" program with the proliferating spread of HIV among, of all things, gay and bisexual men. Hmm…this data from the CDC obviously cannot be examined critically by anyone in the Obama administration because that would be tantamount to exposing the skeletons in homosexuals' closets. This administration makes the rules, changes the rules as necessary to reap the greatest amount of political gain, and then shushes anyone who challenges the rules." (Bruce has one comment: So HIV infections started when the Kenyan-born Muslim atheist socialist Obama took office)
"There is also alarming stats that have recently been released on the "transgendered" community with articles such as this: "High HIV burden identified in transgender women," Baral S. Lancet Infect Dis. 2013;13:214-222; Correlates of HIV Infection Among Transfemales, San Francisco, 2010: Results From a Respondent-Driven Sampling Study, American Journal of Public Health, August 2013. There are also mental health issues that can be associated with this lifestyle: Anxiety and Depression in Transgender Individuals: The Roles of Transition Status, Loss, Social Support, and Coping, Journal of Consulting & Clinical Psychology, June 2013." (Bruce has one comment: Transgender individuals have anxiety and depression? Shock. I wonder why? Looking at you AFA)
"God says that He gives the Homosexual who in the heart and mind reject what is good for what is evil over time giving them over to a reprobate mind to not know the difference since they do not care ! And God gives them a just recompense in the flesh ! Perhaps a memo to their flesh to not mind what is bad nor differentiate that which is bad from what is good as they desired mentally they receive physically as well – Auto – Immune Dificiency Syndrome?" (Bruce has one comment: Sounds to me like HIV and homosexuality is God's fault. After all, isn't he the one giving them over to a reprobate mind?)