I am someone who is committed to social and economic progress for all Americans. I oppose racism, bigotry, misogyny, and xenophobia wherever they are found, including in the groups and political parties I support. Recent events in Charlottesville, Virginia have left me increasingly feeling as if I am a stranger in this blessed land of ours. Nazis, KKK members, and white supremacists — some of whom were armed with assault rifles — marched in the streets as if we still lived in the 1950s. Counter-protesters pushed back at this vile and ugly display of Donald Trump/Steve Bannon-inspired white nationalism, but I was dismayed to see photographs of people who supposedly have much in common Martin Luther King, Jr. carrying firearms and resorting to violence to get their message across.  During President Obama's eight years in office, great strides were made in areas such as gays serving in the military and same-sex marriage. As a liberal, I thought, better days lie ahead. Thanks to Bernie Sanders and others who hold Democratic Socialist values, the plight of American workers will be improved, health care will be reformed and expanded, and the economic stranglehold the rich and corporations have on the working class will be broken. I naïvely thought that the influence of lobbyists and corporate donations on our political process would finally be ended. Instead, white and Evangelical America rose up and voted Donald Trump into office — the most inept, unqualified man to ever be elected president. Overnight, President Trump has rolled back decades of social progress, dumped billions of dollars of new money into the military-industrial complex, attacked minorities, and used the power of the Federal government to persecute and deport people who are in the United States illegally. Worse yet, President Trump has increased troop levels in the Middle East, threatened to attack Iran and Venezuela, and has us on the cusp of nuclear war with North Korea. And now it is increasingly likely that the President and/or people closely associated with him colluded with Russia to subvert our democratic process.
I find the current state of affairs to be quite depressing, so I try to do things that distract my mind from Trumpmania. Last Saturday, Polly and I, along with our oldest daughter, drove to Napoleon, Ohio to attend the Henry County Fair. We met our two oldest sons and their families at the fair. My sons love tractor pulls, and since Polly and I had never attended such an event, I thought attending the NTPA — (National Tractor Pullers Association) sanctioned tractor pull would be a delightful distraction. Little did I know that Christian nationalism would be front and center at the pull.
It comes as no surprise that the crowd was white. During the four-plus hours I sat in the stands, I saw all of one black person. An Asian family sat in back of us for a short while, but after having their fill of high-horsepowered machines, they got up and left. Prior to the start of the event, I expected the announcer would ask everyone to stand, remove their hats, place their right hands over their hearts, and face the flag as someone screeched out the Star Spangled Banner. While I personally despise the singing of the National Anthem (and God Bless America) at sporting events — a tradition dating back to the World Wars —  I acquiesce, removing my hat and placing it over my heart. Unfortunately, minutes — long, painful minutes — before the singing of the National Anthem, the announcer launched into a diatribe better suited for the brown shirts In Charlottesville who were, at the same time, showing their support for nationalism, militarism, and Christianity.
First, the announcer had everyone stand, remove their hats, and place their right hands over their hearts, not for the singing of the National Anthem, but for the saying of a sectarian prayer to the Christian God. He demanded everyone conform, and then launched into a full-blown — are we at an Evangelical church? — masturbatory prayer to Jesus. The prayer was completed with the announcer saying, and all God's people said AMEN. The stands reverberated with an orgasmic AMEN! with virtually everyone around me lending their vocal approval. No shock here. This is rural Northwest Ohio, the land of Christian God, guns, American militarism, and overt displays of nationalism.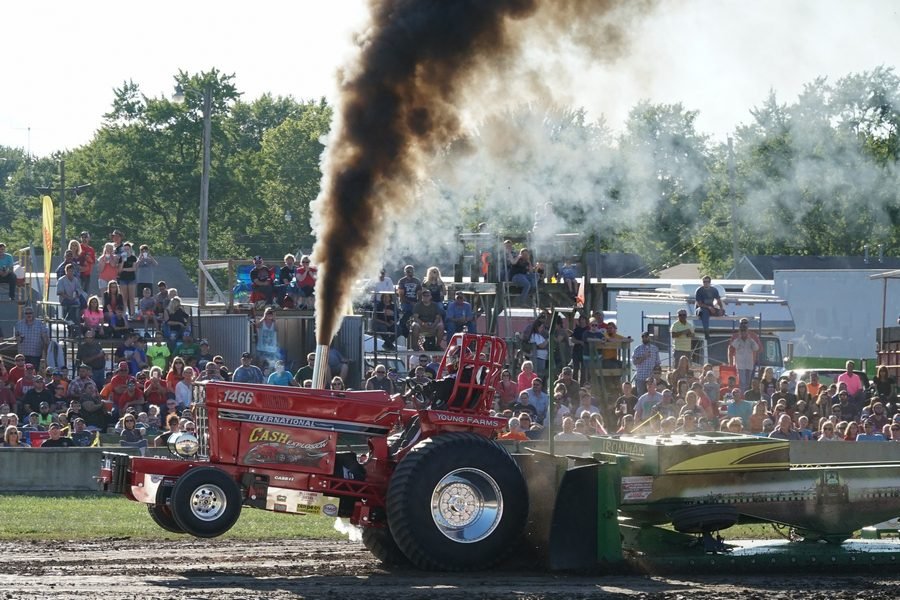 Having attended countless sporting events over the years, I have had to listen to innumerable inane, stupid — and at times hilarious — Christian prayers. I was not, however, ready for what happened next. Once the prayer was finished, the announcer asked everyone to remain standing for the next ritual, the saying of the Pledge of Allegiance. Before leading the crowd in a profession of fealty to the United States and to the Christian God, the announcer went on a several minute-long harangue about how great America was, how awesome our military was, and how parents need to teach their children the importance of blind, nationalistic patriotism.
Once the Pledge of Allegiance was duly uttered, it was time for the singing of the National Anthem. I thought, finally escape looms near. Unfortunately, everyone in attendance was forced to listen to part three of the announcer's Ain't 'merica Great sermon first, and then the appointed singer sang the National Anthem. Thinking my hell on earth was finally over, I started to sit down, only to find out that the announcer wasn't done. Since there were Canadians in attendance at the tractor pull, it was deemed appropriate to play the Canadian National Anthem. Thankfully, no one was called on to sing O Canada.
As I always do when attending sporting events, I refused to remove my hat for the praying of the prayer to the Christian God. This God is not my God, and I find such displays of sectarianism at events open to the public offensive. As far as I could see in front of me and to the left and right, I was the only man who refused to uncover his head. The saying of the Pledge of Allegiance elicited the same response from me. I refuse to pledge my allegiance to America, its flag, or the Christian God. I know the saying of the Pledge has its roots in the anti-communist McCarthyism of the 1950s. As a Christian, I refused to say the pledge because my only allegiance was to Jesus. These days, I refuse because of the connection of the Pledge to nationalism and militarism.
I am sure some readers might wonder how, constitutionally, the announcer could get by with the sectarian prayer and sermonizing. Ohio county fairs are actually private events. Agricultural boards rent the fairgrounds from their respective counties and are free to do whatever they want. I learned this years ago when I got into a skirmish in Southeast Ohio with the Perry County sheriff and county fair officials. I had gone, along with a group of people from the church I pastored at the time, to the fairgrounds to hand out tracts and preach. The local sheriff, with whom I had a running battle, threatened to arrest me if I didn't immediately stop what I was doing and leave the fairgrounds. I refused, threatening both him and the fair board with a lawsuit for violating my first amendment rights. They backed down, but a few weeks later I received a letter from the Ohio Attorney General informing me the Ohio fairs were private events and as such I could be arrested for trespassing if I continued to hand out tracts and preach. Ironically, Child Evangelism Fellowship (CEF) was permitted to have on fair property a train caboose-like vehicle they used to trap children into watching movies or other forms of entertainment so they then could be evangelized. (At the Henry County Fair, there was a man preaching and handing out tracts. He was allowed to do so unmolested.)
The tractor pull itself was quite entertaining, and both Polly and I enjoyed watching the loud, thunderous machines pull a weighted sled down the track. My sons informed me that this Saturday's NTPA national event at the Wood County fairgrounds in Bowling Green, Ohio will even be worse when it comes to worship of the Christian God and the promotion of American exceptionalism and nationalism. Not only will there be a prayer and a pledge, there will also be the playing of numerous patriotic country songs. The songs of flag-wavers such as Toby Keith and Lee Greenwood will blare across the pull grounds, as men and women who proudly wear the redneck label thank God for horsepower and the smell of racing fuel. I'll pass, thank you.