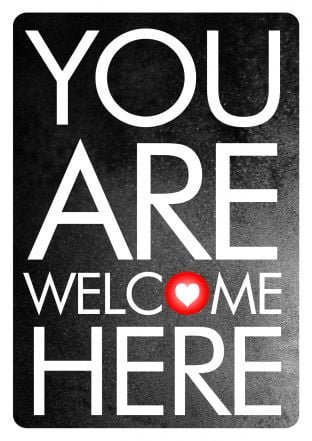 Several questions were raised about what I wrote in the post, You Are Welcome Here, so I thought I would take a stab at answering them and better explaining how I view Christian churches.
Churches can best be described as membership clubs. As clubs, each church has its own beliefs, rules, and practices. The club alone determines who can be a member. Members are expected to embrace the beliefs and practices of the club. No one should expect to be a club member without adhering to the beliefs and practices of said club.
Countless Philadelphia Eagles fans delusionally think that their team can beat the New England Patriots on Super Bowl Sunday. I am a diehard Cincinnati Reds fan. Every spring I say to myself, this is the year. The Reds are going to make it to the World Series. And by August the Reds will be out of the pennant race, just as in virtually every other year. Yet, I continue to cheer and root for the Redlegs. So it is with Christians. Their systems of beliefs have no rational foundation. Based on an ancient religious text, Christian beliefs find their foundation in the myths and hysteria of a pre-enlightenment world. Such beliefs, to put it simply, make no sense to me. (Please read The Michael Mock Rule: It Just Doesn't Make Sense.) And they don't need to. The particular beliefs and practices of a church (or other social club) are immaterial to me, and it matters not that I think Christian beliefs are fantastical myths. Thanks to the U.S. Constitution and federal/state law, people are free to believe whatever they want. It's 2018, and countless Americans believe the earth is flat, evolution is a myth, the Moon landing was faked, the Holocaust didn't happen, and 9/11 was an inside job. Still others believe that Donald Trump is the greatest president ever to sit in the oval office. I have long since stopped arguing with the supporters of the Orange-Haired Toddler. No amount of rational discussion will change their minds about Trump. That most of the President's supporters also happen to be Evangelicals is telling — a double-dose of delusion.
When I struggle to understand how such-and-such a person could be a Fundamentalist Christian, I remind myself of the fact that people join churches for all sorts of reasons: family, social connection, absolution of sin, certainty of moral beliefs and worldview. I find it helpful to view Christianity from an economic perspective; particularly from a cost-benefit point of view. Yes, joining a Christian club costs the member. Club members are expected to give money to the club. They are also expected to submit to the club's leaders and obey their teachings. If the club believes certain human behaviors are verboten, new members are expected to willingly and happily not do these things. At the same time, the club is expected to benefit its members. Club members expect to be welcomed and respected. They expect to have meaningful relationships and social connections. As long as the benefits outweigh the costs, most members will remain in the club. For those of us who are Evangelicals-turned-atheists, one of the reasons we left Christianity is that the costs outweighed the benefits.
Many Christians believe that people such as myself should respect their beliefs. How dare you criticize my God/beliefs/church, Christians say. They wrongly think that religious beliefs are special and should never be critiqued, criticized, or, if warranted, mocked. I completely reject such a notion. I don't expect anyone to respect my beliefs. I expect my beliefs to be tested and tried in the public square. I do, however, respect Christians as individuals, as fellow citizens on Planet Earth. This respect of person I grant to others means I won't criticize or condemn their club memberships. Want to join a Christian club? Want to join a Satanist club?  Want to belong to the Moose, Elks, or the Masonic Lodge? I don't care one whit about which, if any, clubs people join. Each to his own.
What I do expect is that Christian clubs be honest in advertising what it is they believe and practice. I expect clubs to be clear about their membership requirements. And therein lies the problem, and the reason I wrote the first post. Evangelical churches love to advertise that everyone is welcome, when, in fact, this is not true. Inquiring prospective members deserve to be told the truth about what will be expected of them if they become a part of the church. Saying that LGBTQ people are WELCOME sounds wonderful, but Evangelical churches are being dishonest when they don't disclose the fact that to be members, non-heterosexuals will be forced to deny their sexuality and embrace heterosexuality. In some Evangelical churches, new members will be expected to dress a certain way, abstain from certain foods/beverages, and only attend club-approved entertainment events. More than a few people have gotten saved at the "friendliest church in town," only to find out that once they were baptized and became members, club leaders expected them to change their behavior.
Evangelicals love to say that they leave it up to the Holy Spirit to change people's lives, but rarely is this actually practiced. Using sermons, Bible studies, and other means of coercive indoctrination, Evangelical churches expect newly minted believers to change, and if they don't, they are branded as sinful, rebellious, backslidden, and out of the will of God. In some instances, misbehaving members are cast out of the club, returned to the world from whence they came. Such actions are fine as long as there was full disclosure of expectations. It is dishonest for churches to say to people that their assemblies are open to everyone and they let the Holy Spirit change people, when in fact they are only open to people who believe the "right" beliefs and live their lives a certain way.
What I am saying here is that Evangelical pastors and churches need to be honest and tell the truth to prospective members. Surely, if Christian beliefs and practices are as honorable and wonderful as Christians say they are, full disclosure should cause no harm. I suspect, though, that more than a few Evangelical pastors know that if they told the truth, the whole truth, and nothing but the truth, their club memberships would be much smaller. Some Evangelical colleges refuse to give new students the conduct handbook until after they are on campus. Why do they do this? College administrators know that if they tell the truth before students are on campus, it is likely that more than a few of them will choose not to enroll. Students come to the college looking forward to freedom and fun, only to find out that the college is actually a prison work camp. It is scandalous that colleges such as Pensacola Christian College do not fully disclose to new students their draconian (and silly) rules. Yet, these same colleges expect students to be truthful in all things.
Cable and satellite TV companies hide taxes/fees/equipment costs from prospective customers so it seems that the service is cheaper than it actually is. (Case in point, my Vonage service plan costs $9.99 a month, yet my bill is $18.) So it is with many Evangelical churches. It's the hidden beliefs and practices that I object to. Churches wait until new members have signed on the dotted line to tell them, as Paul Harvey used to say, the rest of the story. If Evangelical churches are upfront about everything and someone decides to join their respective club, fine. Lying, however, about expectations is always wrong, whether through omission or commission, and Evangelical pastors and churches shouldn't be upset when this practice is exposed to the light of day. Just tell the truth, Evangelicals, and you will not hear a peep from me.
About Bruce Gerencser
Bruce Gerencser, 60, lives in rural Northwest Ohio with his wife of 39 years. He and his wife have six grown children and eleven grandchildren. Bruce pastored Evangelical churches for twenty-five years in Ohio, Texas, and Michigan. Bruce left the ministry in 2005, and in 2008 he left Christianity. Bruce is now a humanist and an atheist. For more information about Bruce, please read the About page.
Bruce is a local photography business owner, operating Defiance County Photo out of his home. If you live in Northwest Ohio and would like to hire Bruce, please email him.
Thank you for reading this post. Please share your thoughts in the comment section. If you are a first-time commenter, please read the commenting policy before wowing readers with your words. All first-time comments are moderated. If you would like to contact Bruce directly, please use the contact form to do so.
Donations are always appreciated. Donations on a monthly basis can be made through Patreon. One-time donations can be made through PayPal.