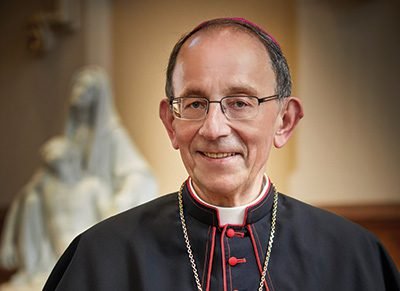 The Black Collar Crime Series relies on public news stories and publicly available information for its content. If any incorrect information is found, please contact Bruce Gerencser. Nothing in this post should be construed as an accusation of guilt. Those accused of crimes are innocent until proven guilty.
Today, the Catholic Diocese of Erie released a list of fifty-one priests and laypeople who have been credibly accused of sex crimes.
GoErie.com reports:
Bishop Lawrence Persico likened the event to ending a kind of darkness.

In a stunning break from years of Catholic Diocese of Erie policy, Persico on Friday released the names of priests and laypeople credibly accused of sexually abusing minors or engaging in improper behavior with minors since 1944. (scroll down for the list of names.)

"When everything is shrouded in cloud, everybody becomes suspicious," Persico said. "Now that we have turned on the light it should be somewhat of a relief."

He apologized to the victims on behalf of the diocese and said the release of the list is meant to help victims by letting them know "they are not alone." He encouraged more victims to come forward.

"We are willing to listen to them and accompany them as we search for the truth," Persico said.

The cases on the list span from 1944 to the present and the list is made up of a total of 51 people — 34 priests, 21 of whom are dead, and 17 laypeople, two of whom are dead. Persico said the statute of limitations had expired in all the cases except three more recent cases in which criminal investigations are active.

Those on the list include the late Erie Catholic Bishop Alfred M. Watson, who died at 80 in 1990 and who the diocese said had been credibly accused of failing to stop abuse that was "credibly reported to him." Persico said someone was abused because Watson, who served as bishop from 1969 to 1982, failed to act on the abuse allegation.

Also on the list is William P. Garvey, the former president of then-Mercyhurst College, who died at 81 in August. The diocese said its investigation showed Garvey had been credibly accused of abusing minors when he was a youth basketball coach at St. John the Baptist School in the 1960s and 1970s. The Erie Times-News first reported the allegations against Garvey in 2004, but Garvey called them "patently untrue" and Mercyhurst disputed them, citing "a lack of solid evidence."

Persico's release of the 51 names is unusual for Roman Catholic dioceses in the United States, most of which have kept such names secret. And the release of the names is unusual because the list includes laypeople and not just clergy.

"If we're going to protect children, it is not just priests, but it is laypeople, too," Persico said. "Why would I just put (in) priests if we know people who have not protected children?"

He said the release of the names, which he announced during a news conference at St. Mark Catholic Center, is also meant to help the community and the church, accused of covering up for abusive priests since the clergy sex-abuse scandal exploded nationwide in 2002. The Erie diocese on March 21 said it intended to release the names of accused priests soon. The diocese released that statement a day after the Catholic Diocese of Buffalo released the names of 42 accused priests, 24 of whom are dead.

The Erie diocese's disclosures also come as a statewide investigative grand jury is in the final stages of its review of how the Erie diocese and five other Catholic dioceses statewide handled allegations of clerical sexual abuse. The Pennsylvania Attorney General's Office is running the probes, which started in 2016.

The grand jury's term is expected to end by April 30, with its report to be finished soon after. The report will be public and is expected to name abusive priests, based on previous grand jury reports on other Catholic dioceses in Pennsylvania. A year ago, the attorney general's office released a highly critical 147-page grand jury report on the Diocese of Altoona-Johnstown.

Persico said he "probably" would have released the names of the accused priests and laypeople if the grand jury had not been meeting. [bullshit] He said he expects the grand jury report will include the names of more victims. The Erie diocese has cooperated with the investigation, which has included a review of diocesan records.

"We were going to do this regardless of what the report said," Persico also said. "This is something I felt has to be done. We have to do all we can to protect children and minors across the diocese."

"I know people stand firmly on both sides of whether or not releasing the names of these individuals is the right decision," Persico said. "Some will say that it has taken far too long to publish these names. Others think we shouldn't do it at all. They say we are not showing mercy.

"As Catholics, we believe the Lord has infinite mercy and absolution for those who are contrite and sincerely seek forgiveness. But that does not mean they are free from the ramifications of their behavior."

He also said, "there will be some who will say this is not enough."

One of those people is James Faluszczak, 48. He is a former Roman Catholic priest in the Erie diocese who in March said he was abused as a teenager in Erie in the late 1980s by Monsignor Daniel J. Martin, a former pastor of St. George Church in Millcreek Township who died at 88 in 2006. Faluszczak said the abuse occurred between when he was 16 to 19 years old. Martin's name is on the list released Friday.

Faluszczak said he is grateful that Persico released the list, but he said he would have liked the bishop to also disclose where the accused priests and laypeople had been at the time of the abuse to help victims get a better idea of the scope of the problem.

"It is a start, but even the bishop acknowledged that more names will be coming," Faluszczak said. "I think it would have been best to provide a list of where all these priests have served."

….
You can read the entire story here.