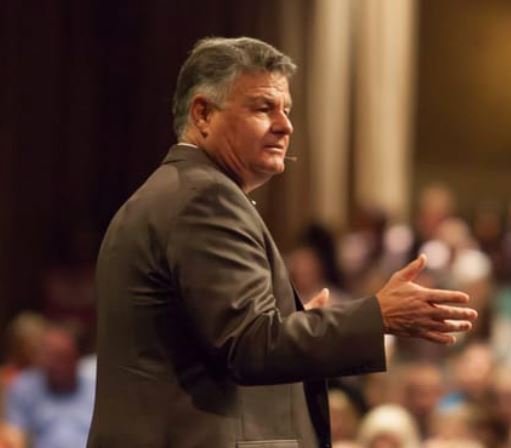 The Black Collar Crime Series relies on public news stories and publicly available information for its content. If any incorrect information is found, please contact Bruce Gerencser. Nothing in this post should be construed as an accusation of guilt. Those accused of crimes are innocent until proven guilty.
Les Hughey, pastor of Highlands Church in Scottsdale, Arizona, resigned Wednesday after being accused of sexually abusing church teenagers in the 1970s. The alleged abuse took place while Hughey was the youth pastor at First Baptist Church (now Crosspoint Community Church) in Modesto, California.
Prior to his resignation, Hughey released the following statement:
Over 40 years ago, as a church intern in California, I sinned and harmed the most important relationships in my life. I was unfaithful to my God, my wife, and the ministry, and was rightly removed from that church.

I engaged in consensual relations with fellow college-aged staff. With God's help, my wife's forgiveness, and discipline and counseling from church authority, I sincerely repented and we put our lives back in order. Unfortunately, it's impossible to undo what happened, so I instead accept and live with the consequences, even now so many years later.

My family and the authority over me at my church are aware of this history. I thank God for his forgiveness and grace.

Pastor Les Hughey
Of course, Hughey –forty years later — can't be honest about his past sexual misconduct. The "consensual relations with fellow college-aged staff" was actually with church teenagers. One of the girls was only sixteen.
Carey Fuller was shocked to see the news about Hughey. For decades, she thought she had been the only one to receive one of what Fuller called his "famous full-body massages." That massage crossed the line when he groped her genitals, she told The Republic.

Hughey, then a youth group leader at Scottsdale Bible Church, was attractive and charismatic, Fuller recounted. He was married and in his late 20s at the time, she said.

"Everyone always wanted to be around him," she said. "It was always a gift to be around Les."

Fuller said she was honored to be selected as one of the few who were invited to hang out in the church van one night during a mission trip to Mexico when she was 18.

She happily accepted when Hughey offered her one of his "famous" massages, but she didn't know what to do when it suddenly went too far, Fuller said. Somehow, no one noticed in the van's dim light, so she figured it had must have been an accident.

"I wasn't a strong enough person and I didn't want to offend anyone there," Fuller said. "I didn't think to call him out, so I just laid there."

Fuller said she didn't realize that what had happened to her was sexual assault until she saw an article on azcentral.com Sunday.

Within hours, she learned at least five other women she had known during her time in the youth group said they had experienced the same thing, she said.

Her best friend, Juliet Buckner Pekaar, was one of them.

Hughey pulled the same "massage" ruse when they would travel together on band trips when she was 16, Buckner Pekaar said. The abuse continued until she married another youth pastor at the church when she was 19.

"His power was in making you think you were the only one," Buckner Pekaar said. "Nobody ever talked to each other, so there was just this shame and depression."

Neither of the women reported the incidents to police, they said.

Buckner Pekaar said she did attempt years ago to tell Scottsdale Bible Church staff members about Hughey's actions, but she said she stopped after their reaction made it clear they weren't interested.

…
Dare I ask the proverbial rhetorical question: can a leopard change its spots?