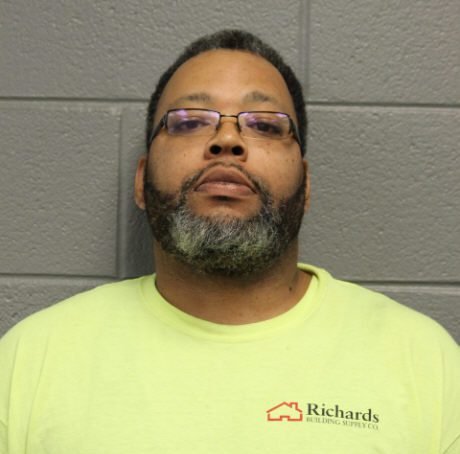 The Black Collar Crime Series relies on public news stories and publicly available information for its content. If any incorrect information is found, please contact Bruce Gerencser. Nothing in this post should be construed as an accusation of guilt. Those accused of crimes are innocent until proven guilty.
Alfonzo Carter preaches monthly at Greater First Baptist M.B. Church in Chicago, Illinois.  In April 2018, Carter started counseling the victim, hoping to help her deal with problems she was having at school. According to the Chicago Tribune, his "help" turned into emotional manipulation that later led to sexual intercourse.  The Tribune reports:
In mid-April, the girl was staying at her grandmother's. About 3 a.m. April 20, Carter drove to the house and picked up the teen in an alley a few houses down. He then parked and the girl lay down in the back seat, where he told her to take off her clothes. He then had intercourse with her, prosecutors said.

Carter then drove the teen back to the grandmother's house.

Carter continued to contact the teen via phone and Facebook. He asked her to perform sex acts on him as well as for nude photos, but the teen refused. He then told her to delete the messages and texts he had sent, prosecutors said.

Seven days later, Carter drove to the grandmother's house again about 3 a.m. and picked the girl up in the alley, and the two had intercourse again, prosecutors said.

Carter asked the girl if he could come over the grandmother's house on May 5 so the two could have sex, but this time he wanted to meet at 6 p.m. Once he arrived, the teen opened the back door, he went inside and upstairs. The grandma grew suspicious and went upstairs to check on the teen. When the grandmother turned on the lights, she found Carter hiding in a closet. The teen girl got scared and ran from the house while Carter tried to explain, prosecutors said.

The teen's mother came to the house, and both the mother and grandmother refused to accept his explanation, so he left, prosecutors said.

The teen was found later that evening and told her relatives about the relationship with the minister. The mother and pastor of the church met with Carter the next day and confronted him. Carter then apologized for getting too personal, prosecutors said.
He apologized for "getting too personal?" Is that what sexual assault is called these days?