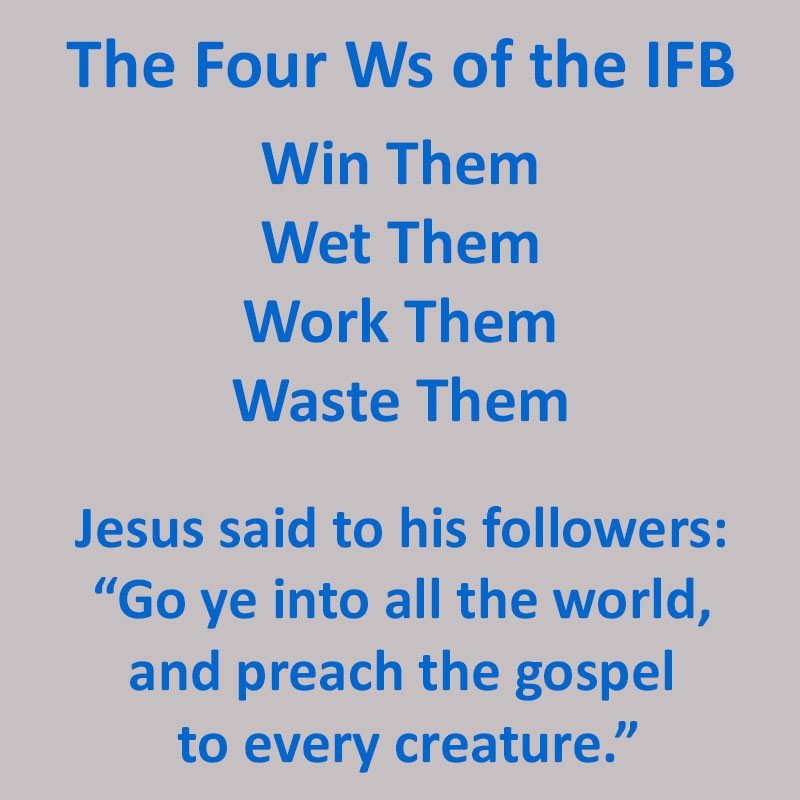 The Independent Fundamentalist Baptist (IFB) church movement began in the 1950s as a response to theological liberalism among American and Southern Baptists. Pastors pulled churches out of their respective denominations and declared themselves INDEPENDENT. In the 1960s and 1970s, many of the Top 100 churches in America attendance-wise were IFB churches. The largest church in the country was an IFB church — First Baptist Church in Hammond, Indiana, pastored by Jack Hyles. All across America, IFB big-shots held conferences to motivate and inspire preachers to do great exploits for God. A lot of emphasis was placed on church attendance. John R. Rice, an IFB evangelist and the editor of  The Sword of the Lord, is famous for saying, there's nothing wrong with pastoring a SMALL church — for a while. Rice, Hyles, and countless other big-name IFB preachers believed a sure sign of God's blessing on a church and a pastor's ministry was increase in attendance — especially a steady stream of unsaved visitors filling the pews.
IFB churches used poor children as a vehicle by which to drive up attendance. Bus ministries were all the craze in the 1960s-1980s. IFB megachurches ran hundreds of buses, bringing thousands of people — mostly poor children — to their services. Churches ran all sorts of promotions and gimmicks to attract bus riders — world's largest banana split, hamburger Sunday, and free bike giveaway, to name a few. Once at church, children were shuffled off to junior church programs. Teens and adults usually attended the main worship service. IFB churches often had programs to "reach" deaf people and the developmentally disabled (or "retard church," as it was called back in the day). The goal of all of these programs was to bring hordes of unwashed, uncircumcised Philistines to the church so they would hear the gospel and be saved.
I pastored the Somerset Baptist Church in Mt. Perry, Ohio for over eleven years. I started the church in 1983 with sixteen people. By the end of 1987, church attendance neared 200 — quite a feat in a poverty-stricken rural area. Somerset Baptist was the largest non-Catholic church in the county. At the height of the church's attendance growth, we operated four Sunday bus routes. Each week, buses brought in a hundred or so riders, mostly poor children from the surrounding four county area. We also ran a bus route on Sunday night for teenagers. For several years, Somerset Baptist Church was THE place to be. There was a buzz in the services as visitors got saved and baptized. All told, over 600 people put their faith and trust in Jesus Christ. And that was the primary goal. A good service was one during which multiple sinners came forward to be saved and repentant Christians lined the altar getting "right" with God.
During my IFB years, I attended numerous soulwinning conferences. These meetings were geared towards motivating pastors and churches to win souls for Christ. I attended Midwestern Baptist College in Pontiac, Michigan in the 1970s. One of the songs we sang in chapel went something like this:
Souls for Jesus is our battle cry
Souls for Jesus we'll fight until we die
We never will give in while souls are lost in sin
Souls for Jesus is our battle cry
Midwestern held annual soulwinning contests. The student bagging the most souls for Jesus received an award. Founded by Tom Malone, the pastor of nearby Emmanuel Baptist Church in the 1950s, Midwestern's goal was to turn out soulwinning church planters. Students were required to attend church at Emmanuel. This provided the church with hundreds of people to run their bus routes, Sunday school, and other ministries. During the 1970s, Emmanuel was one of the largest churches in the United States, with a high attendance of over 5,000. (Today, Emmanuel is defunct.) Everything about the church and college revolved around evangelizing the lost. Students were required to evangelize door-to-door, seeking out lost sinners needing salvation. My favorite story from my days pounding the pavement in Pontiac came one Saturday when a young couple decided to give the two young men banging on their door a surprise. You never knew how people might respond to you when you knocked on their doors, but this couple so shocked us that we literally had nothing to say. You see, they answered the door stark naked!
What follows is the Four Ws plan many (most) IFB churches followed – Win them, Wet them, Work them, Waste them.
Win Them
The goal was to evangelize unsaved people. "Unsaved" included Catholics, Lutherans, Methodists, Presbyterians, and countless other liberal or non-IFB sects.  My goal as a pastor was to go out into the community and knock on every door, hoping that I could share the gospel.
Wet Them
The first step of "obedience" we told new converts was to be baptized by immersion. New converts were encouraged to be baptized right away. Typically, IFB churches had/have a lot more new converts than they do new baptisms. There was a joke that went something like this: why do IFB churches baptize people the same Sunday they are saved? Because most of the new converts will never attend church again! IFB churches go through a tremendous amount of membership churn. It is not uncommon for churches to turn over their entire memberships every five or so years. I was taught not to worry about the churn. Just make sure more people were coming in the front door than were leaving the out the back door.
Work Them
Once people were saved and baptized, they were given a to-do list: pray every day, read the Bible every day, attend church every time the doors are open, tithe and give offerings, witness, and find a "ministry" to work in. Many IFB congregants were pilloried over not working hard enough for Jesus. Pew warmers were subjected to guilt-inducing sermons, reminders that Christians would want to be found busy working for Jesus when he comes again. No matter how much I tried to get congregants to join me in the work of the ministry, most of them showed up on Sundays, threw some money in the offering plate, listened to my sermons, and repeated the same things week after week. There was, however, a core group of people who drank the Kool-Aid, so to speak. Along with their pastor, they worked, worked, worked. The same group attended every service, gave most of the money, and staffed the church's ministries. They were, as I was, True Believers®.
Waste Them
Eventually, the work, work, work pace wore out even the best of people, myself included. I have no doubt my health problems began back in the days when I believed it was "better to burn out for Jesus than rust out." I worked night and day, as did the people who followed in my steps. Over time, preacher and parishioners alike ran out of steam. Ironically, the steam venting happened at Somerset Baptist around the time I embraced Calvinism. It was Calvinism, in many ways, that rescued me from the drive and grind of the IFB church movement. Over time, church attendance declined as we stopped running the buses and people moved on to other, more "exciting," churches. Instead of being focused on evangelization, I set my sights on teaching congregants the Bible through expository preaching. We still were evangelistic, but gone were the days when we were focused on numbers. It was Calvinism that allowed me to take a deep breath and relax a bit — that is, until I moved to Texas be the co-pastor of Community Baptist Church in Elmendorf. For the short time I was in Texas, it was Somerset Baptist all over again, with a Calvinistic twist. I hit the ground running, starting new ministries and churches. Seven months later, I crashed, moving back to Ohio to lick my wounds.
People aren't meant to be worked night and day. Eventually, they burn out. That's what happened to me. I truly thought Jesus wanted me to work non-stop for him. However, I learned way too late that we humans need rest and time away from the grind. Many of my pastor friends figured this out long before I did. I considered them lazy, indifferent to the lost in their communities (and some of them were). However, they understood the importance of maintaining their health and spending time with their families. While I eventually came to understand the importance of these things, I wasted the better years of my life.
Were you an IFB pastor or church member? Did your church follow the four Ws? Please share your thoughts in the comment section.
About Bruce Gerencser
Bruce Gerencser, 61, lives in rural Northwest Ohio with his wife of 40 years. He and his wife have six grown children and twelve grandchildren. Bruce pastored Evangelical churches for twenty-five years in Ohio, Texas, and Michigan. Bruce left the ministry in 2005, and in 2008 he left Christianity. Bruce is now a humanist and an atheist. For more information about Bruce, please read the About page.
Bruce is a local photography business owner, operating Defiance County Photo out of his home. If you live in Northwest Ohio and would like to hire Bruce, please email him.
Thank you for reading this post. Please share your thoughts in the comment section. If you are a first-time commenter, please read the commenting policy before wowing readers with your words. All first-time comments are moderated. If you would like to contact Bruce directly, please use the contact form to do so.
Donations are always appreciated. Donations on a monthly basis can be made through Patreon. One-time donations can be made through PayPal.