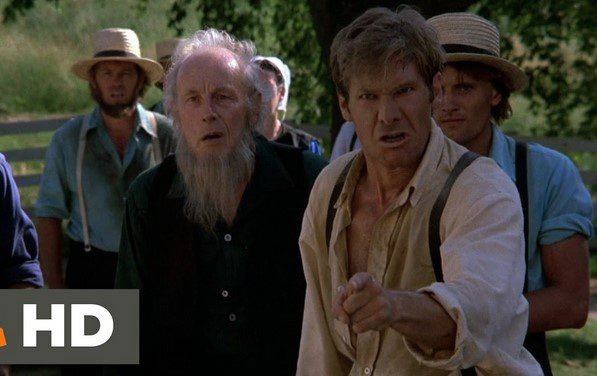 Guest post by MJ Lisbeth
Thirty-five years ago this month, Paramount Pictures released Witness.
It was tailor-made for the Reagan administration, and for the religious right, in that it depicts the hardworking, pious Amish as virtuous and anyone associated with The City (in this case, Philadelphia) as depraved and corrupt. That said, I will admit that I saw the movie twice and enjoyed it, mainly for some of the acting performances (which were charming or engaging, if not incisive) as well as individual scenes.
One scene that sticks out, in my mind, takes place in the 30th Street station, where Samuel Lapp, an 8-year-old Amish boy and Rachel Lapp, his recently-widowed mother, are transferring from one train to another. Moments before he witnesses a brutal murder, he sees an elderly man wearing a black coat and hat. The boy believes, for a moment, that he's met a member of his own community; the man's face quickly turns into a frown of rejection, which the boy mirrors. That man, it turned out, was a Chasidic Jew.
The scene was inserted mainly as a visual comic relief. Were the writing and direction of Witness more sensitive, or simply more conscious, that scene could have highlighted the "so close and yet so far" relationship between the two religious communities and cultures: While the Amish are farmers and most Chasidic Jews live in or near large cities, both reject modern secular society in nearly all of its manifestations, right down to the way people dress.
Oh, and there's another similarity between them. It came to light only recently, but I'd had an inkling of it for some time.
During my childhood, my family visited an Amish family every summer. Although I enjoyed seeing the countryside and animals, and learning about a different way of life, I was always glad to return home, even with the emotionally unsupportive family I had: I am a city girl at heart. (All right, I was living as a boy in those days.) But I don't think that I would have liked spending any more time than I did in that bucolic setting for another reason: Even though the people were friendly and generous, something I couldn't articulate troubled me.
Ironically, it became a bit clearer to me when I was teaching at an Orthodox yeshiva many years later. Of course, my relationship with the pupils was very different from my experience with the Amish children I met. My family's visits to the Amish farm were "fun" for the kids—and us—in the same way as time spent with cousins or other peers whose company you have, and enjoy, only on holidays and other occasions. While I had to be the literal and proverbial "adult in the room" for Jewish boys I taught, we didn't have to live with each other: Their expressions of vulnerability were momentary, and we went back to our lives afterward. Still, it was hard not to see that both the Jewish and Amish boys were more vulnerable and felt more like they were failing, in one way or another, than their parents and other adults in their lives might have realized.
I also couldn't help but notice that in both communities, the women and girls didn't seem happy. Rather, they seemed dutifully resigned to their fate. Perhaps some even found a way to "make peace" with it, or to find some sort of fulfillment in conforming to the roles their cultures and religions prescribed for them. Even the boys—who, like their counterparts almost everywhere else, enjoyed more freedom than their sisters, mothers, aunts or grandmothers—seemed to be living in a fear that ran deeper than that of simply displeasing, and incurring scorn from, their elders.
A year ago, I wrote about a yeshiva student of mine who was sexually exploited by a rabbi at his synagogue. Around that time, the media were reporting sexual abuse of children in ultra-Orthodox communities. Those revelations came not long after a wave of stories about clergy members and others in positions of authority who took advantage of altar boys and other children in various churches, including the Roman Catholic and Mormon, as well as evangelical sects. Around the same time, the "Me-Too" movement was spreading.
None of those developments surprised me, as I had just recently "come out," if you will, about my own experiences of sexual abuse by a priest. It was the first time I'd talked about them with anyone besides a therapist or a former partner of mine. Some might say I am "projecting," but any subsequent revelation of sexual abuse in a religious organization or community has not caught me by surprise. I include one of the most recent, namely, the horrors of sexual abuse recounted by people who grew up in Amish communities.
Although there is much I respect about the Amish way of life, in particular, their rejection of war, it is as rigidly hierarchical — specifically, patriarchal — as just about any other highly-organized orthodox religion. The perceived proximity of the elders, priests, rabbis, ministers — or, in some cases, even the family patriarchs — to God gives them power and authority that is rarely questioned. Challenging the position of such a leader can lead to the loss of a person's entire way of life, not to mention his or her family and friends. That, along with the suppression of knowledge about sexuality and people's (especially women's and girls') bodies and the insularity of such communities, all but ensures not only that the vulnerable will be victimized, but also that victims will not have the language to express their experiences or the means to escape from the aftermath of their trauma.
So, perhaps, the Amish and ultra-Orthodox communities have even more in common than Witness suggested, though it might not have been what the movie's makers had in mind.