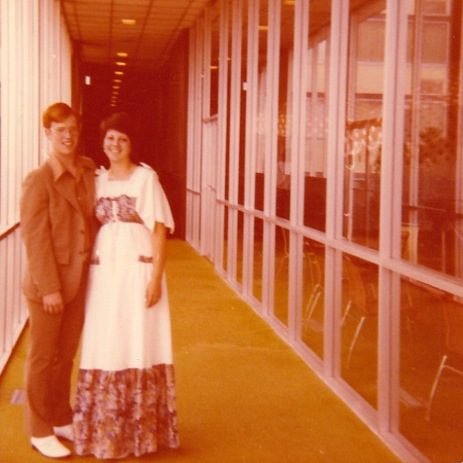 Repost from 2015. Edited, rewritten, and corrected.
It's late August in 1976 and I have just walked through the doors of the Midwestern Baptist College dormitory.
A few days later, a seventeen-year-old girl from Bay City, Michigan, a preacher's daughter,  walked through the same doors.
A few weeks later, we went out on our first date.
It wasn't long before we were in love; well, we thought it was love, anyway.
I knew she was the one.
I proposed, she said yes, her parents said no, we said we are going to get married anyway, and so we did on a hot July day in 1978 at the Newark Baptist Temple in Heath, Ohio.
Pontiac, Michigan, Bryan, Ohio (twice), Montpelier, Ohio, Newark, Ohio (twice), Buckeye Lake, Ohio, New Lexington, Ohio (twice), Glenford, Ohio, Somerset, Ohio, Junction City, Ohio, Mt. Perry, Ohio, Elmendorf, Texas, Frazeysburg, Ohio, Alvordton, Ohio (twice), Clare, Michigan, Stryker, Ohio, Yuma, Arizona, and Ney, Ohio . . . all the communities Polly and I have lived in over the past forty-one years.
Jason was born in Bryan, Nathan was born in Newark, Jaime was born in Zanesville, Bethany was born in Newark, and Laura and Josiah were born in Zanesville. Just yesterday, they were cute, cuddly newborns, and now they are 40, 38, 35, 30, 28, and 26.
Where did the time go? Polly and I ask ourselves.
Now we have thirteen grandchildren.
My Mom and Dad are long gone and Polly's parents are in their 80s, in failing health.
I am no longer in the ministry and Polly and I have left the faith.
Never would we have considered such a thing possible.
Yet, here we are.
For decades, Polly was a stay-at-home mom, but now the roles are reversed.
We started married life full of vim and vigor, strong in body. Now my body is broken and Polly faces serious, life-threatening health problems of her own.
Our children are all out on their own, own their own homes, and are productively employed. Just like that . . .there are the two of us . . .and Bethany. Dear, dear Bethany.
Our life has had one constant: change.
Time marches on and stops for no one. A cliche? Perhaps, but nonetheless true.
Most of life is now in the rear-view mirror.
We peer dimily into the future, knowing that death lurks in the shadows.
If I died today, I will die happy.
Happy that I have seen my children grow up into fine adults.
Happy that I have spent lots of time with thirteen wonderful grandchildren.
Happy that I own my home and that I have lived a gratifying life of love with Polly.
If I had to sum up my life I would say, it has been good.
I am often asked, if I had to do it all over again would I ____________________?
I can't answer this question.
Life is what it is, and playing the what-if game holds no value for me.
I know this one thing . . .
If I could marry one woman in the world . . .
it would be Polly.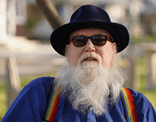 Bruce Gerencser, 65, lives in rural Northwest Ohio with his wife of 44 years. He and his wife have six grown children and thirteen grandchildren. Bruce pastored Evangelical churches for twenty-five years in Ohio, Texas, and Michigan. Bruce left the ministry in 2005, and in 2008 he left Christianity. Bruce is now a humanist and an atheist.
Connect with me on social media:
You can email Bruce via the Contact Form.
Your comments are welcome and appreciated. All first-time comments are moderated. Please read the commenting rules before commenting.