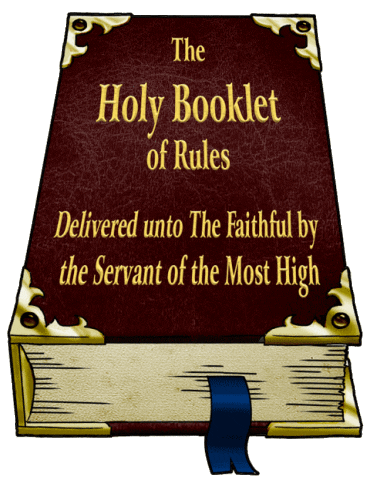 The Official Independent Baptist Rulebook, Known in Some Churches as Church Standards
Thou shalt obey the pastor at all times
Thou shalt obey all adults at all times if you are a child or teenager
Thou shalt obey your husband at all times is you are a woman
Thou shalt obey your parents at all times
Thou shalt obey the police and government unless the pastor says it is a sin against God to do so
Thou shalt tithe
Thou shalt give an offering
Thou shalt give a faith promise missionary offering
Thou give an offering any time the pastor says God is saying to collect a special offering
Thou shalt attend church every time the doors are open
Thou shalt read the Bible every day
Thou shalt pray every day
Thous shalt pray without ceasing
Thou shalt pray for every meal, but ice cream at Dairy Queen after church requires no prayer
Thou shalt only use the King James Bible — 1611 edition which is really the 1769 revision
Thou shalt only use the Scofield King James Bible
Thou shalt not have long hair (over your ears, collar) if you are a man
Thou shalt not have a block cut hairstyle is you are a man
Thou shalt not have facial hair if you are a man, but if you are a woman you can have facial hair
Thou shalt not have tattoos unless you have prison tats from your life before Christ
Thou shalt not take the hem out of your Levi jeans or alter your clothing in any way so that you look worldly
Thou shalt not wear pants (britches) if you are a woman
Thou shalt not wear shorts, but a woman can wear Baptist shorts — also known as culottes
Thou shalt not expose any flesh if you are a woman, especially your thighs, breasts, or back
Thou shalt only wear dresses with hemlines below the knees if you are a woman
Thou shalt not have any physical contact with the opposite sex if you are unmarried
Thou shalt not masturbate
Thou shalt not have more than one hole in each ear if you are a woman
Thou shalt not pierce any body part except your ear, and then only if you are a woman
Thou shalt not watch TV, but if you are a carnal Christian and must watch TV thou shalt only watch Little House on the Prairie or Bonanza
Thou shalt not go to the movie theater, but using streaming services is okay
Thou shalt always have tracts in your shirt pocket or purse, ready to evangelize at a moment's notice
Thou shalt drive a car with church advertising stickers, IFB cliches, or Bible verses attached to the bumper
Thou shalt park down the street when visiting the local strip club or whore house lest the pastor know you are there and stay away
Thou shalt not dance
Thou shalt not listen to secular music, especially rock music, which is from the pit of hell
Thou shalt not listen to contemporary Christian music (CCM)
Thou shalt not smoke tobacco
Thou shalt not drink fermented alcohol — after all, Jesus drank Welch's grape juice
Thou shalt not dip snuff
Thou shalt not chew tobacco
Thou shalt not cuss, but saying darn, shoot, crap, freaking, and fudge are okay
Thou shalt not date non-Independent Baptist girls or boys
Thou shalt not have any non-Independent Baptist friends
Thou shalt home school your children or send them to a Christian school
Thou shalt only read pastor-approved Christian books
Thou shalt never speak in tongues
Thou shalt only believe what the pastor says you are to believe
Thou shalt go soulwinning every week
Thou shalt say you have victory over sin, even if you are lying
Thou shalt adhere to the perception is reality rule
Thou shalt send your kids to the same Christian college the pastor went to
Thou shalt leave the church if you commit adultery, get a divorce, or get pregnant outside of marriage
Thou shalt believe everything the pastor says even when you are certain he is lying, speaking evangelistically, or embellishing his illustrations
Thou shalt wear a bra if you are a woman, and it can only be a white, underwire bra
Thou shalt not mix bathe (Baptist for swimming with the opposite sex)
Thou shalt not go to amusement parks unless the youth group is going
Thou shalt not go to the prom
Thou shalt not show emotion unless praising Jesus from 10:00 am to noon on Sunday or giving a testimony during Sunday evening service
Thou shalt say AMEN during at the appropriate time during the pastor's sermon, especially when he shouts, pounds the pulpit, or performs gymnastics
Thou shalt not be angry even though the pastor is allowed to be angry, but that's because his anger is righteous anger
Thou shalt be for what the pastor is for and against what the pastor is against, because if you don't, a bear might come out of the woods and eat you
Thou shalt never use your brain
Thou shalt ignore any science that contradicts the Bible
Thou shalt never try to fix your own problems because the pastor is the official fixer of all problems
Thou shalt takes notes on the sermon even if the rabbit wanders five miles off the trail or the sermon is incoherent
Thou shalt always tell the pastor what a wonderful sermon he preached, even when you have no idea what he was talking about
Thou shalt always tell Sister Bertha what a wonderful job she did with her off-key rendition of What a Friend we Have in Jesus
Thou shalt not use canned (taped) music for music specials
Thou shall not play the guitar or drums
Please be advised that this rulebook is subject to change at the whim of the pastor. He is the man of God who speaks for God. He alone is allowed to change his mind. This means that God changed his mind, yes?
Of course not.
This is the Christianity of millions of North Americans.
Is it any wonder that we are fucked up?
Feel free to add your own additions to the Independent Fundamentalist Baptist Rule Book.
Bruce Gerencser, 63, lives in rural Northwest Ohio with his wife of 42 years. He and his wife have six grown children and thirteen awesome grandchildren. Bruce pastored Evangelical churches for twenty-five years in Ohio, Texas, and Michigan. Bruce left the ministry in 2005, and in 2008 he left Christianity. Bruce is now a humanist and an atheist. For more information about Bruce, please read the About page.
Are you on Social Media?
Follow Bruce on Facebook and Twitter.
Thank you for reading this post. Please share your thoughts in the comment section. If you are a first-time commenter, please read the commenting policy before wowing readers with your words. All first-time comments are moderated. If you would like to contact Bruce directly, please use the contact form to do so. Donations are always appreciated. Donations on a monthly basis can be made through Patreon. One-time donations can be made through PayPal.