In the early 1960s, my dad packed up Mom and me, along with my younger brother and sister, and moved us to California. Dad was certain that California was a land of rainbows, and that a pot of gold awaited him in the Golden State. Three years later, as broke as when he arrived, Dad moved us back to Bryan, Ohio. In fact, Dad was so broke that he had to trade his pocket watch for a tank of gas in Illinois — just enough fuel to get us to Bryan.
We lived in several houses in California, one of which was a sprawling ranch house on a hill in Chula Vista. One day, my grandmother, Jeanette Rausch, and her daughter, Marijene, came to visit us. While Grandma and Mom were talking, my siblings and I went outside to play; "play" being climbing in the front seat of Grandma's car.
I was sitting on the driver's side of the car, and my sibling were next to me. I am sure both of them would say that it was no surprise that Butch (my family nickname) was in the driver's seat. I was ALWAYS in the driver's seat; the boss; the "man" in charge.
I had not yet shut the driver's side door when I decided — as ornery six-year-old boys are wont to do — to grab the column shifter and put the transmission in neutral. Much to my youthful surprise, the car began rolling down the hill. Instead of trying to put the car in park or hit the brake, I bailed out of the open driver's door, leaving Robin and Bobby in the car as it rolled down the hill.
The car picked up speed as it went down the hill, crashing through the neighbor's fence and mowing over his beautiful poinsettias. The car continued rolling through his yard, ending up in the middle of the road at the bottom of the hill.
Payday for my crime was swift in coming. Grandma was livid. I remember hearing her hollering as she spanked Robin and Bobby. I received no such whipping. I denied being in the car, despite the protestations of my siblings. Somebody had to pay. I was sure glad it was Robin and Bobby.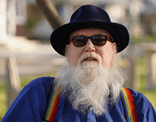 Bruce Gerencser, 64, lives in rural Northwest Ohio with his wife of 43 years. He and his wife have six grown children and thirteen grandchildren. Bruce pastored Evangelical churches for twenty-five years in Ohio, Texas, and Michigan. Bruce left the ministry in 2005, and in 2008 he left Christianity. Bruce is now a humanist and an atheist.
You can email Bruce via the Contact Form.
Your comments are welcome and appreciated. All first-time comments are moderated. Please read the commenting rules before commenting.