Repost from 2015-2016. Edited, updated, and corrected.
Several years ago, Southern Baptist Rick Warren, pastor of Saddleback Church, came out in opposition to California Senate Bill 128. If passed, the bill would have given terminally ill Californians the right to terminate their own lives. Warren, whose son committed suicide in 2013, thinks that none of us should have the right to determine when we die. According to the Purpose Driven pastor:
"I oppose this law as a theologian and as the father of a son who took his life after struggling with mental illness for 27 years."

"The prospect of dying can be frightening, but we belong to God, and death and life are in God's hands…We need to make a radical commitment to be there for those who are dying in our lives."
According to the Death with Dignity National Center:
SB 128 would allow patients who are mentally competent and have fewer than six months to live, as determined by two physicians, to obtain prescriptions for medication to end their lives in a humane and peaceful manner, while protecting the vulnerable with strict guidelines and procedures.
Warren's comments illustrate, once again, why there must be a strict separation between church and state. While Warren might find some vicarious purpose and meaning in suffering, many Americans do not. In Warren's world, the Christian God is sovereign over all, including life and death. Warren tries to frame his objection as "wanting to be there for those who are dying," but I suspect there are many Californians who have no need of Pastor Warren or any other pastor or priest "being there" for them during the last days of their life.
While the government certainly has an interest in protecting those who are vulnerable, mentally ill, or unable to make a rational decision, I see no compelling reason for government to forbid the terminally ill from ending their lives through drugs provided by their physician. Warren is free to suffer until the bitter end. He is certainly free to let cancer eat away at his organs or allow ALS to turn him into a vegetable. If that's what his God demands of him, far be it from me to deny him the right. However, millions of Californians do not worship Warren's God, nor do they have such a "Biblical" view of suffering, death, and pain.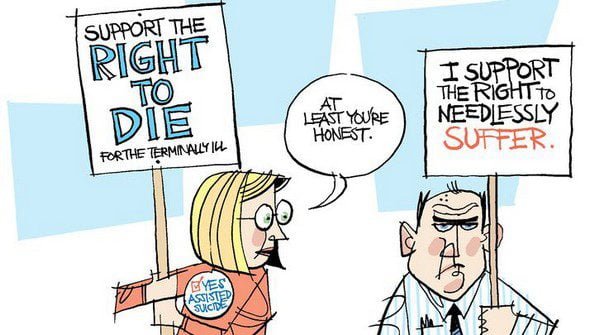 Chronic illness and pain are my "dark passengers," to quote Dexter, the serial killer. I fully expect that I will continue, health-wise, to decline. I see no cure on the horizon, and I highly doubt God is going to send Benny Hinn to fake heal me. There could come a day when I no longer desire to live in what Christians call this "house of clay." I am sound of mind — okay, mostly sound of mind. Since God is not my co-pilot and I have no desire to be a poster child for suffering, shouldn't I be allowed to determine, on my own terms, how and when I end my life?
Perhaps I will never reach the place where the reasons for living are no longer enough to keep me alive. There are days when my pain is unbearable and I ponder what death will be like. THE END. Lights out. I have the means of death at my disposal. I take medications that would surely do the trick, but maybe not. Perhaps they wouldn't quite send me and Toto to the other side. Then Polly would be left with a brain-dead vegetable of a husband. Wouldn't it better for a doctor to prescribe drugs that are sure to do the trick? If we can execute murderers (against their will), surely we can help the terminally ill die when they want to call it a night. Wouldn't this be the compassionate thing to do?
Many people are opposed to assisted suicide for religious or philosophical reasons. By all means, suffer to your heart's content, but you have no right to demand that others play by the rules of your religion or philosophy. I hope the California legislature will not allow Evangelicals and Catholics to pressure them into not giving the terminally ill a death with dignity option. The dying should have the right to determine when and where the show ends. (Please read Dying with Dignity.)
This post was originally written in 2015. The California legislature and then-governor Jerry Brown, after legal challenges by religious zealots, successfully enacted and put into effect the California End of Life Option Act. God loses again.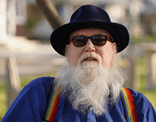 Bruce Gerencser, 65, lives in rural Northwest Ohio with his wife of 44 years. He and his wife have six grown children and thirteen grandchildren. Bruce pastored Evangelical churches for twenty-five years in Ohio, Texas, and Michigan. Bruce left the ministry in 2005, and in 2008 he left Christianity. Bruce is now a humanist and an atheist.
Connect with me on social media:
You can email Bruce via the Contact Form.
Your comments are welcome and appreciated. All first-time comments are moderated. Please read the commenting rules before commenting.