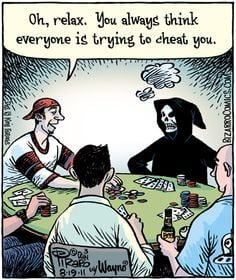 The King James Bible says in Psalms 90:12:
So teach us to number our days, that we may apply our hearts unto wisdom.
Good advice. If I live to be seventy-five, and I seriously doubt I will, I will have lived 27,375 days. The clock will have clicked to the next hour 657,000 times. We all hope to have a long, happy, and productive life. We know our days are numbered. We woke up today knowing that we are one day closer to death than we were yesterday. Regardless of our wealth, health, status, or fame, each of us will die someday.  We can not avoid death. No matter how many supplements we take or how much exercise we do, we will, at some moment beyond the next breath, die.
When I was young I rarely thought about death. Death was for old people or for people who got cancer or were hit by a truck. Every once in a while my sensibilities were startled by a young friend, family member, or acquaintance dying, but for the most part, death never entered my mind. My uncle Dave died at age 26 and several high school friends died shortly after graduating. My wife's uncle, my dad, and my mother all died in their late 40's and early 50's. When these deaths occurred I paused for a moment and considered my mortality, but in a short while, all thoughts of death disappeared. I was young and I had my whole life ahead of me.
Fast forward to today. I am almost sixty-five years old. I have a plethora of health problems — gastroparesis, fibromyalgia, osteoarthritis, diabetes, high blood pressure, four herniated discs in my back — older relatives are dying, and rarely does a week go by when someone I know isn't memorialized on the local newspaper's obituary page. These days I think of death often, pondering my own mortality. I consider the notion of nothingness, never drawing another breath.  Unrelenting chronic pain and debility have turned my life into an hour-by-hour, day-by-day struggle. I ponder in the still of the night going to sleep and never waking again. I have thoughts about how life will be for my wife and family once I am gone.
I don't fear death. I have no control over it. I know death is lurking in the shadows. Some days, I feel death's cold breath on my neck. I know that most of my life is now in the rearview mirror. I wonder, what awaits me in the days, months, and years ahead? The Psalmist also said, "Boast not thyself of tomorrow; for thou knowest not what a day may bring forth." Again, good advice. We don't know what tomorrow might bring. The best we can do is live for today, pursuing that which brings love, happiness, and satisfaction.
Older people like myself often speak of time flying by so quickly. Young people think their 16th, 18th, or 21st birthday will never come. For young people, most of their lives are yet ahead of them. Not so for us old folks. Time flies so quickly for us because we have so little of it left. If I live until I am 70, I have about 2,000 days left out of 25,550 days, less than 10% of my life. The meter is running and I am all out of change.
What do I want to do with the life I have left? This is a hard question for me to answer. To live my life well requires me to daily decide what really matters. To what or whom do I want to give my time and energy? I envy those who have life all figured out. I am a restless person, constantly being pulled this way and that. My passions burn and wane, and I often have a hard time fixing on those things I want my life to be defined by. When I was a Christian and an Evangelical pastor, all these questions were answered for me. I knew my calling and how God wanted me to live. The Bible was the roadmap for life. Some days, I wish I still had that sense of purpose and certainty. Now I know I must make my own way and find my own meaning and purpose. As a free man, free to do that which I wish to do, I ask myself, how do I want to spend what life I have left?
Two weeks ago, I sold all of my photography equipment, a gut-wrenching decision. I hadn't meaningfully taken photos in two years, so I knew it was time. Unable to hold a professional camera due to its weight and no longer able to hold a camera steady or keep from falling, it became clear to me that my equipment was just a depreciating asset, one that must be sold while it still had value. Doing so was hard. I wept as I boxed up the last of my equipment and shipped it off to KEH in Georgia.
For now, I am content to focus on family, writing, and crossing things off my bucket list. I know there will come a day when I will no longer be able to write, walk, or ride in a car (I no longer drive), so I continue to do these things while I can. I still hope to finish my Lionel O-gauge layout. I haven't touched it for six months, not steady enough to navigate the stairs to the room where the layout is located. I continue to drink in the love of my wife and family, knowing that when the day comes for me to die, they will be the ones that matter. We leave this life as we entered, surrounded by those who love us.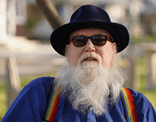 Bruce Gerencser, 65, lives in rural Northwest Ohio with his wife of 44 years. He and his wife have six grown children and thirteen grandchildren. Bruce pastored Evangelical churches for twenty-five years in Ohio, Texas, and Michigan. Bruce left the ministry in 2005, and in 2008 he left Christianity. Bruce is now a humanist and an atheist.
Connect with me on social media:
You can email Bruce via the Contact Form.
Your comments are welcome and appreciated. All first-time comments are moderated. Please read the commenting rules before commenting.