The Black Collar Crime Series relies on public news stories and publicly available information for its content. If any incorrect information is found, please contact Bruce Gerencser. Nothing in this post should be construed as an accusation of guilt. Those accused of crimes are innocent until proven guilty.
Reynaldo Crispen, pastor of New Horizon Christian Church in Las Vegas, Nevada, and a school teacher, pleaded guilty to lewdness with a child charges and was sentenced to six to fifteen years in prison.
Earlier this year, Channel 3 reported:
A man who was a Las Vegas schoolteacher and pastor is wanted on suspicion of multiple sex crimes, according to authorities.

A warrant has been issued for the arrest of Reynaldo Crespin, 59, on 10 counts involving sex assault against a child, lewdness with a child and open and gross lewdness, court records indicate.
Las Vegas Metro Police want you to be on the lookout for this man: 59-year-old Reynaldo Crespin.

There's a warrant for his arrest for nine felony charges, including lewdness with a child and sexual assault against a child.

….

Court documents say police went in there [the church] last Wednesday with a search warrant.

Sunday services have been canceled. And officials posted this letter that reads: "Crespin committed acts of domestic violence, stalking, or aggravated stalking against his wife and minors. Also, Crespin's daughter allegedly disclosed her father had been inappropriately touching her over the past several years."

When I went to the church this afternoon, Crespin wasn't there, but this lady who wouldn't identify herself was.

"The family would like respect. If you have any respect, we ask that you leave," said the unidentified woman.

"We didn't know this was the family's home. Is this not the church?" asked News 3 Reporter Kay Dimanche.

"It does not matter," said the unidentified woman before slamming the church door shut.

In addition to being a preacher, police say Crespin was a CCSD teacher.

Crespin was later located and arrested. In May 2022, Crispen pleaded guilty to attempted lewdness with a child. Last Monday, he was sentenced to six to fifteen years in prison. Astoundingly, Crispen's lawyer asked for probation.
The Midland Daily News reports:
A former Las Vegas elementary school teacher and church pastor has been sentenced to six to 15 years in prison and lifetime supervision as a sex offender after pleading guilty to a child sex crime.

Reynaldo Cruz Crespin, 59, apologized Monday before a Clark County District Court judge who rejected his lawyer's request for probation.

If there was a case that warranted punishment, I believe this is that case," Judge Kathleen Delaney said, the Las Vegas Review-Journal reported.

….

Crespin was arrested in February in Albuquerque, New Mexico, more than a week after he was named in a warrant in Las Vegas on multiple charges including sexual assault involving children.

All but one lesser charge were dismissed when Crespin avoided trial and pleaded guilty in May to attempted lewdness with a child under 14.

KLAS-TV in Las Vegas reported that Crespin taught second grade from 2016 until this year and was a pastor at New Horizon Christian Church in northeast Las Vegas. The television station said none of the charges related to his students.

The Review-Journal reported that Crespin and his wife founded the church in 2002. His wife sued in February to take custody of their children.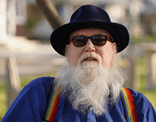 Bruce Gerencser, 65, lives in rural Northwest Ohio with his wife of 44 years. He and his wife have six grown children and thirteen grandchildren. Bruce pastored Evangelical churches for twenty-five years in Ohio, Texas, and Michigan. Bruce left the ministry in 2005, and in 2008 he left Christianity. Bruce is now a humanist and an atheist.
Connect with me on social media:
You can email Bruce via the Contact Form.
Your comments are welcome and appreciated. All first-time comments are moderated. Please read the commenting rules before commenting.