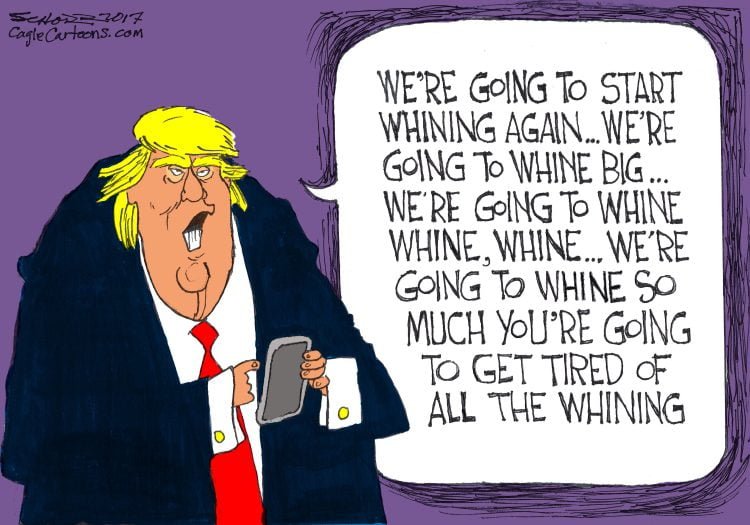 Did you hear wailing and gnashing of teeth emanating from Ohio today? Oh my, Republicans are stumbling all over themselves trying to explain how Ohio voters turned down Issue 1 by a 3-2 margin.
Susan B. Anthony Pro-Life America President Marjorie Dannenfelser tried to gaslight Ohioans by suggesting that others are to blame for the defeat of Issue 1:
Millions of dollars and liberal dark money flooded Ohio to ensure they have a path to buy their extreme policies in a pro-life state. Tragically, some sat on the sideline while outsider liberal groups poured millions into Ohio. A broad coalition of passionate pro-life Ohioans came together to fight parental rights opponents and try to take victory from the jaws of defeat. But the silence of the establishment and business community in Ohio left a vacuum too large to overcome.

Attacks on state constitutions are now the national playbook of the extreme pro-abortion Left. That is why everyone must take this threat seriously and recognize progressives will win if their opponents are scared into submission by the pro-abortion Left.

So long as the Republicans and their supporters take the ostrich strategy and bury their heads in the sand, they will lose again and again.
As you can see, Dannenfelser blames everyone but herself. Further, she outright lies when she says "Millions of dollars and liberal dark money flooded Ohio to ensure they have a path to buy their extreme policies in a pro-life state." True in the sense that millions of dollars of outside money supported the Vote No on Issue 1 cause. What she neglects to say is that Vote Yes on Issue 1 received even more outside money.
The Ohio Capital Journal reported:
Roughly $35 million has flowed to political groups aiming to influence Ohio's August special election. That includes money for campaigns for or against the ballot measure raising the threshold for constitutional amendments, as well as several closely aligned organizations.

On both sides — those opposing Issue 1, those supporting it, and those technically fighting November's reproductive rights amendment — the vast majority of funding came from out of state.

The campaigns

Issue 1's proponents have consistently argued a higher threshold for passing state constitutional amendments will act as a deterrent.

"This is about empowering the people of Ohio to protect their constitution from out of state special interests that want to try to buy their way into our state's founding document," Secretary of State Frank LaRose insisted in a televised statewide debate last week. "I'm here to say the Ohio constitution is not for sale."

Opponents have repeatedly argued back that nothing in the proposal actually limits out-of-state influence.

The yes campaign committee, Protect Our Constitution, raised a little more than $4.85 million according to its filing. Nearly all of it came from a single individual who lives out of state.

Illinois billionaire Richard Uihlein donated a total of $4 million to the committee. The right-wing megadonor owns the Uline shipping and office supply company, and his grandfather and great-grandfather ran Schlitz brewing.

The largest contributions aside from Uihlein were $100,000 each from a PAC solely funded by the Ohio Chamber of Commerce, and another connected with Ohio nursing homes. Other substantial contributions came in from Washington, D.C., Georgia and Tennessee. But less than $700,000, or just 14% of the total, came from Ohio donors.

Issue 1's opponents are fundraising through a committee called One Person One Vote. The campaign raised a total of $14.8 million, about 16% of it coming from Ohio donors.

The filing doesn't show anyone giving quite as much as Uihlein did in terms of dollar amount or percentage of the total. Still, the campaign did attract some pretty big fish. Karla Jurvetson, a Silicon Valley psychiatrist and philanthropist, cut checks totaling about $1.1 million.

One Person One Vote also got contributions of $1 million or more from liberal groups including the Sixteen Thirty Fund, among the largest left-leaning dark money groups, the Tides Foundation, Ohio Education Association and the National Education Association.

Alongside its filing, One Person One vote put out a statement describing their pride for "the enormous bipartisan coalition that has come together to defeat Issue 1."

The (not quite the campaign) campaigns

Although One Person One Vote outraised Protect Our Constitution more than three-to-one, the 'yes' campaign was never just one committee. In all, there are four "Protect" organizations including Protect Women Ohio, Protect Women Ohio Action and Protect Our Kids Ohio.

Taken together, they give the yes side of the campaign a financial advantage.

These organizations are chiefly concerned with defeating the reproductive rights amendment that will be on the ballot this November. But because Issue 1 will raise the threshold for that November vote, they're also deeply invested in its approval.

The first televised ads in favor of Issue 1? Those were paid for by Protect Women Ohio — not Protect our Constitution. Around the state, anti-abortion activists are making explicit appeals for Issue 1 based on undermining the reproductive rights amendment. Seth Drayer, the Vice President for Created Equal, recently warned the Delaware City Republican Club about a 2022 abortion amendment that passed in Michigan with 56% of the vote.

"If we move to 60% they're not going to win in Ohio," he said. "If we win August, we win November. It's really about that simple."

And like Protect Our Constitution, these allied groups are getting the vast majority of their funding from out of state.

Protect Women Ohio Action is actually a 501(c)(4) based in Virginia. Five million of its $5.2 million bankroll comes from The Concord Fund, a Washington D.C. based 501(c)(4) known publicly as the Judicial Crisis Network that spends heavily in favor of conservative judges. The other $200,000 comes from Susan B. Anthony Pro-Life America. The organization's president is Protect Women Ohio Action's sole board member.

Among Protect Women Ohio's contributions is a $2 million check from Protect Women Ohio Action reported the same day The Concord Fund made a $2 million donation to the latter.

Of the groups pushing for Issue 1, Protect Women Ohio has by far the biggest piggy bank. But more than $6 million of that $9.7 million total comes from Susan B. Anthony. The only other substantial donations came from the Catholic Church. The Columbus and Cleveland Dioceses gave $200,000 each and the Cincinnati Archdiocese gave $500,000. In all, Protect Women Ohio raised about 16.3% of contributions in-state. The three donations from the Catholic Church make up more than half of that.

The Ohio Capital Journal by Nick Evans
President Joe Biden had this to say about Issue 1:
Today, Ohio voters rejected an effort by Republican lawmakers and special interests to change the state's constitutional amendment process. This measure was a blatant attempt to weaken voters' voices and further erode the freedom of women to make their own healthcare decisions. Ohioans spoke loud and clear, and tonight democracy won.
Biden rightly understood that this was a power grab by Ohio Republicans. They don't want voters looking over their shoulders, daring to smack their hands when they overstep and ignore the will of everyday Ohioans. That's what happens when you have a super-majority and control every major state office. The defeat of Issue 1 was Ohio voters saying to legislators that "we the people" have the final say. Hopefully, Ohioans will take the next step and vote deaf and blind Republicans out of office. They have largely stopped listening or seeing the commoners among them, so the only thing that will get their attention is to send them packing.
Ohioans rightly understood that this August special election was all about November's vote on legalizing abortion. In 2022, eight percent of voters turned out for an August election. Afterward, Republicans did away with August elections, only to ignore this and hold a special election. Yesterday, forty percent of registered voters voted — a five-hundred percent increase in turnout. Take that Republicans, and come November's election, a record voter turnout will lead to the approval of the reproductive rights amendment. Further, it looks like marijuana legalization will be on the ballot too. I guarantee you, more than fifty percent of voters want cannabis legalized.
The November vote will likely be a day of woe for Ohio Republicans. Supposedly, they are the party of "freedom." Welp, this is what FREEDOM looks like. Don't want an abortion, don't get one. Don't want to smoke marijuana, don't take a toke. It's really that simple.
I predict that Republicans will turn to the courts to stop the November reproductive rights amendment. Hopefully, their challenges will be rebuffed and Ohioans will have the final say on abortion.
Bruce Gerencser, 66, lives in rural Northwest Ohio with his wife of 45 years. He and his wife have six grown children and thirteen grandchildren. Bruce pastored Evangelical churches for twenty-five years in Ohio, Texas, and Michigan. Bruce left the ministry in 2005, and in 2008 he left Christianity. Bruce is now a humanist and an atheist.
Connect with me on social media:
Your comments are welcome and appreciated. All first-time comments are moderated. Please read the commenting rules before commenting.
You can email Bruce via the Contact Form.