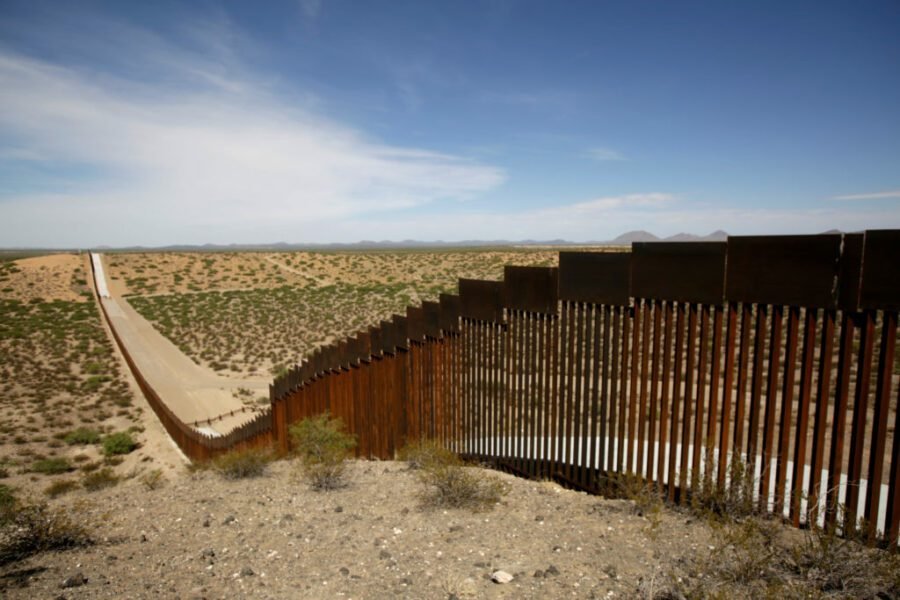 By Todd Miller, Tom Dispatch, The "Open Border" Farce
If you count all the contracts for private industry from U.S. Customs and Border Protection (CBP) and U.S. Immigration and Customs Enforcement (ICE) since Joe Biden took office — for, that is, 2021, 2022, and 2023 — the number comes to $23.5 billion. And though you'd never guess it, given what we normally hear, that already beats Donald Trump's total for his full four years in office, $20.9 billion. Or, to put the matter in a more historical perspective, private contracts for the Biden years already top the cumulative $22.5 billion spent in border and immigration enforcement budgets from 1975 to 1997. That's 22 years if you weren't counting.
In other words, it's essentially guaranteed that the Biden administration will break all records for paying border contractors. And, in truth, if it weren't for the "open borders" political mania of the moment, this wouldn't be a surprise at all. Remember, while running for president in 2020, Biden received three times more campaign contributions than Trump from members of the top companies in the border industry. (The Donald talked a good game, of course, and received his share of the industry pie over the years, but that same border-industrial complex was right if it thought Biden would all too literally pay off for them.)
And keep in mind as well that Department of Homeland Security Secretary Alejandro Mayorkas represented some of the top border companies like Leidos and Northrop Grumman at a private law firm (where he earned $3.31 million) before joining the Biden administration. While the president has certainly traded in the hostile rhetoric associated with the bombastic Trump for a far more sterile and bureaucratic language, while adding in a healthy dose of the "humane," budgets and private-sector contracts tell an all-too-familiar story in which the border-enforcement apparatus only continues to grow ever larger, regardless of who's president.
As 2023 nears its end, there have simply never been as many opportunities to make a killing (figuratively as well as literally) by surveilling, arresting, caging, and expelling people from this country. In 2023, there were 8,033 such opportunities — and I'm speaking here about contracts in play — or about 22 contracts a day.
Among this year's top border companies is Classic Air Charter, a former CIA contractor that is now getting $793 million to provide flights expelling people from the United States. Since Biden took office, deportation flights for Immigration and Customs Enforcement Air Operations have increased, as have the number of people detained, while private prison companies like CoreCivic and Geo Group continue to receive plenty of contracts to lock up migrants.
Among border contract stand-outs, Fisher Sand and Gravel was recently awarded $259.3 million for "border infrastructure," presumably the same sort of border wall construction it did in the Trump years (for which it received $2 billion in contracts). That company also got one from the scandal-ridden, Steve-Bannon-led "We Build the Wall," a private outfit that solicited donations to construct portions of Trump's wall. And, mind you, that September contract for border infrastructure came just before the Biden administration announced that it would waive 26 laws protecting people and the planet, including the Clean Water Act and the Endangered Species Act, to put up a new section of border wall in Starr County, Texas.
In other words, just a glance at 2023 border contracts suggests that more walls, detention centers, and expulsion flights are coming. And don't forget military monoliths like Lockheed Martin and Northrop Grumman that also command hefty contracts to maintain CBP's fixed-wing aircraft; or San Diego-based General Atomics that continues to make money off the Predator B unmanned drones it began selling to CBP in the early 2000s. No wonder some people think our borderlands are under military occupation.
In short (or long), that list of contracts speaks to anything but a "radical open-border policy." Funds are being handed out for "unaccompanied alien children and family units transportation," data centers, medical staffing services, infrastructure construction (lots of it), "soft-sided facilities" (meaning tent detention camps), surveillance system upgrades, software support, "travelers processing vetting software," a "low energy non-intrusive inspection system" (whatever that may mean), detention centers, radios, data and analytical support services, guard and transport services — the list only goes on and on and on. Reading through it, one gets the impression that the border and immigration enforcement regime is its own civilization, with its own infrastructure and ever more expensive rhyme and reason.
And that fortification process is only poised to become yet more intensive. In October, buried in an emergency supplemental funding request addressing "key national security priorities" (included military assistance to Ukraine and Israel), the Biden administration included a whopping $14 billion in supplemental funding for that border and immigration apparatus. Added to a 2024 budget, which, at $28.2 billion, represented a slight decrease from 2023, if passed by Congress, that addition will further "bolster our nation's border enforcement," paving the way for an even more profitable 2024 for those border companies and more suffering and death.
Bruce Gerencser, 66, lives in rural Northwest Ohio with his wife of 45 years. He and his wife have six grown children and thirteen grandchildren. Bruce pastored Evangelical churches for twenty-five years in Ohio, Texas, and Michigan. Bruce left the ministry in 2005, and in 2008 he left Christianity. Bruce is now a humanist and an atheist.
Connect with me on social media:
Your comments are welcome and appreciated. All first-time comments are moderated. Please read the commenting rules before commenting.
You can email Bruce via the Contact Form.