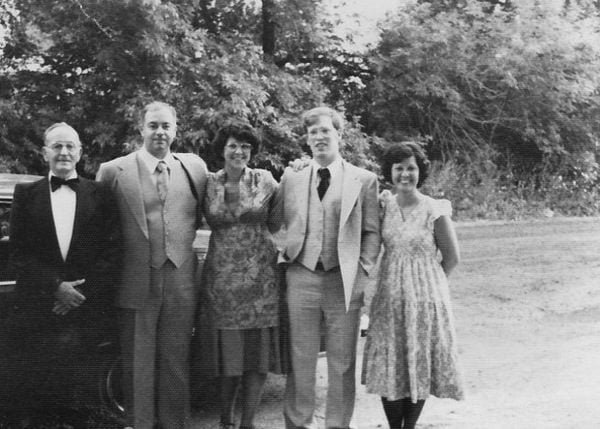 Millions of atheists, agnostics, pagans, and non-Christians have wonderful relationships with their Christian families. Unfortunately, this is not the case for unbelievers who have Evangelical families, especially those affiliated with churches on the extreme right of the Evangelical spectrum. The Independent Fundamentalist Baptist (IFB) church movement — the religion of choice for my wife and I for many years — is one such extremist sect. Why do so many former IFB Christians have so many problems with their IFB parents, siblings, and extended families?
The IFB church movement — a broad collection of thousands of independent churches — is by nature separatist, exclusionary, and anti-cultural. (This thinking can be found in the Southern Baptist Convention and other Evangelical sects too.) IFB preachers tell their congregants that it is "us against the world." Everything is neatly put in two categories: saved or lost, Heaven or Hell, godly or ungodly, worldly or wicked. Either you are part of the "in" group, or you are not. Their relationship with you depends on what group you are in.
IFB Christians are Bible literalists. In their minds, the Bible is not only inspired (breathed out by God), but it is also inerrant (without error) and infallible (true in all that it says). This thinking cannot be rationally and intellectually sustained, but millions of Fundamentalist Christians believe otherwise. Thus, when IFB believers read the Bible — and they do, far more than most Christians — they believe every word, including the words "thee" and "and" are true, straight from the mouth of God. Granted, IFB Christians don't always practice what they preach, but when confronting sinful, wicked, evil, worldly non-Christian family members, they will expect them to submit to and obey the Bible's inerrant, infallible edicts.
IFB Christians live in a black-and-white world without shades of gray or nuance. In their minds, there is only one way to see things: God's divine plan as revealed in the Bible. All other worldviews and philosophies are false, even Satanic. That's why IFB believers are at the forefront of the culture wars. They used to withdraw from the world, but thanks to successes in the political realm, Trumpism, and theocratic tendencies, IFB believers are quite militaristic in the public square.
While there is some theological and social diversity within the IFB bubble, generally people are expected to all believe and practice the same things. The IFB church movement is a monoculture where unapproved beliefs, practices, books, and interactions with the "world" are roundly condemned. Church members who can't or won't follow the yellow brick road are considered backslidden or carnal (worldly) Christians. Typically, such people will, over time, move on to other churches that are more accepting of theological and social diversity.
IFB Christians are encouraged by their pastors to treat their churches as their families. In fact, many pastors tell their congregants that their church "family" is their real family. Most IFB churches are hives of activity, often having services, ministries, and programs five days a week. These things, of course, are meant to reinforce the notion that the church is just one big, happy family. Families are encouraged to fellowship with fellow church families outside of the church. Friendships with unsaved people are frowned upon, if not outright condemned.
Many IFB parents either send their children to a private Christian school (often operated by their church) or homeschool them. After graduation, IFB children are expected to either get married or attend a Christian college. Many of these institutions are unaccredited, often providing inferior education. I recently perused the website of an IFB college that a family member is attending so she can be a school teacher. The college requires all students to earn a minimum of sixty hours in Bible. That means my family member, who is training to be a teacher, will only have sixty-eight hours of teaching-related training (the equivalent of an associate arts (AA) degree). Of course, upon graduation, she will only be able to work for unaccredited IFB schools. In other words, her degree will be worthless outside of the IFB bubble (though she will likely graduate with a preacher boy on her arm and have a baby two years later).
As long as everyone believes and practices the same things, all is well. Fellowship: a bunch of fellows in a boat all rowing in the same direction. This perfectly describes the IFB church movement. What mucks family relationships up is when a family member either jumps out of the boat or starts rowing in a different direction. This causes immediate conflict, often leading to hostilities and estrangement.
My wife, Polly, and I were raised in IFB churches. In the fall of 1976, we both enrolled in classes at Midwestern Baptist College in Pontiac, Michigan — a militant IFB institution. Polly's father and uncle were IFB preachers, both graduates of Midwestern. Her grandfather was a lay Fundamentalist preacher with the United Baptists. Everything described in this post fits her family to a T. While my family was also IFB in my younger years, by the time I was 15, my parents had divorced and remarried and stopped attending church. I continued alone in the IFB church, seeing the church as my "real" family.
After Polly and I Ieft Midwestern in February 1979, I started working for and pastoring IFB churches. I spent the next decade pastoring IFB churches in Montpelier, Buckeye Lake, and Somerset (all in Ohio). By the late 1980s, thanks to the Jack Hyles/David Hyles scandal and changing soteriological and eschatological beliefs, I stopped self-identifying as IFB. That said, my theological beliefs were still quite conservative and many of the social strictures from my IFB years remained. We remained in fellowship with Polly's IFB family until we left the ministry in 2005 and left Christianity altogether in 2008. For a few years, we maintained a strained relationship with Polly's IFB family. We were able to maintain cordial relationships at family holiday gatherings. Then everything fell apart.
In 2020, I wrote:
With my parents being dead, we spent Christmas Eve and Christmas Day with Polly's parents. This abruptly changed in 2010. I left the ministry in 2005 and we abandoned Christianity in November 2008. In early 2009, I sent out my family-shattering letter, Dear Family Friends, and Former Parishioners. This letter fundamentally changed our relationship with Polly's IFB family.

Christmas of 2009 was best remembered by a huge elephant in the middle of the room; that elephant being Polly and me and the letter I sent the family. No one said anything, but the tension was quite noticeable.

2010 found us, just like every year since 1978, at Polly's parent's home for Christmas Eve. This would be the last Christmas we would spend with Polly's parents and her extended family. We decided to blend into the background, and besides short pleasantries, no one talked to us. Not that they didn't want to. We found out later from one of our children that Polly's uncle wanted to confront me about our defection from Christianity. Polly Mom's put a kibosh on that, telling her brother-in-law that she had already lost one daughter and she was not going to lose another. (Polly's sister was killed in a motorcycle accident in 2005. Please see If One Soul Gets Saved It's Worth It All.)

I appreciate Polly's mom being willing to stand up to the man who is generally viewed as the spiritual head of the family (and a bully). I am glad she put family first. If Polly's uncle had confronted me there surely would have been an ugly fight. Whatever our differences may be, I deeply respect Polly's parents. They are kind, loving people, and I couldn't ask for better in-laws.

Christmas of 2010 was two years after President Obama was elected to his first term. Polly's family didn't vote for him, and throughout the night they made known their hatred for the man, Democrats and liberals in general. Polly and I, along with many of our children, voted for Obama, so the anti-Obama talk and the subtle racism behind it made for an uncomfortable evening.

Most years, a gag gift is given to someone. This particular year, the gag gift, given to Polly's uncle, was an Obama commemorative plate one of our nephews had bought on the cheap at Big Lots. One of Polly's uncle's grandchildren asked him what the plate was for. He replied, "to go poo-poo on" — poo-poo being the Fundamentalist word for shit. This was the last straw for us. (Please see The Family Patriarch is Dead: My Life with James Dennis.)

On our way home the next day, I told Polly that I couldn't do it anymore and she said neither could she. We decided to stop going to Polly's parent's home for Christmas Eve. We do try to see her parents during the holiday season, but we no longer attend the family gathering on Christmas Eve. Making this decision saddened us, but we knew we had to make it. (By the way, our children still attend the Christmas Eve gathering.)
It has been over a decade since we attended a family gathering. We do travel to Newark the week of Christmas and spend the day with Polly's mom (her father is dead). While in Newark, we may see several of our nephews while at Polly's mom's home. Outside of that, we have no contact with our IFB family. We are Facebook friends with one of Polly's cousins and nephews, but the rest of the family either refuses to respond to friend requests or has no interest in talking to us. We are godless outsiders, not part of the "in" group.
IFB Christians have little capacity to bend or compromise. That's certainly the case for Polly's family. As long as we remain atheists, humanists, and Democrats, we will be ostracized and shunned. Oh, they talk (gossip) about us and pray for us and use us as sermon illustrations, but love us for who and what we are? Never. As a result, many of our great-nephews, great-nieces, and second cousins have no idea who we are. One of our great-nieces got upset over something I had written about a family member on Facebook. "HOW DARE YOU! I DON'T KNOW YOU! YOU ARE A STRANGER!" I replied, "Actually, I am married to your dad's first cousin. Your dad was in our wedding." You see, we have been written out of the family's storyline. The only way these children will ever know anything about us is if they do a Google search.
Polly and I would love to have meaningful relationships with our IFB family. Unfortunately, Fundamentalist religious beliefs and practices make that impossible. We lament these lost relationships, but time is too short for us to spend much time trying to have relationships with people who cannot or will not love us as we are. Polly and I can and will compartmentalize our religious, political, and social beliefs so we can have relationships with IFB family members. We spent six hours earlier this week with Polly's IFB mother and family. (Please see "I Don't Know What You Are," My IFB Mother-in-Law Says.) I (we) didn't say shit, fuck, or goddammit one time. 🙂 Yet, Polly's mom had to stop all of us from eating our pizza so a prayer could be offered up to Jesus. No compromise for Polly and Bruce. And that's fine. We tend to follow the rule, "when in Rome, do as the Romans do." We stopped eating so our food could be Jesus-blessed. Jesus didn't make or cook the pizza, nor did he earn the money to pay for it. But, IFB Christians are duty-bound to thank Jesus for everything (except ice cream at Dairy Queen). When Polly's parents came to our home for Thanksgiving, I would have Dad pray a prayer before we ate — the only prayer ever uttered in our home except when Polly screams out "Oh God!" 🙂 Why do I do this? I wanted Mom and Dad to feel at home. Unfortunately, that's a one-way street. When at that their home, we are expected to behave and conform. That's the essence of IFB Christianity: obedience and conformity.
Mom is dying. When is unknown, but based on how she looks, we expect her death will be sooner, and not later. We will greatly miss her. However, we won't miss her IFB beliefs and practices. We won't miss being "othered." We won't miss being treated as outsiders, or worse yet, as complete strangers. We won't miss being judged for how we talk, dress, or act.
One thing is for certain: Religious Fundamentalism kills everything it touches. For Polly and me, IFB Christianity killed the relationships we would love to have with our family. And once dead, there's no way to resuscitate them.
Bruce Gerencser, 66, lives in rural Northwest Ohio with his wife of 45 years. He and his wife have six grown children and thirteen grandchildren. Bruce pastored Evangelical churches for twenty-five years in Ohio, Texas, and Michigan. Bruce left the ministry in 2005, and in 2008 he left Christianity. Bruce is now a humanist and an atheist.
Connect with me on social media:
Your comments are welcome and appreciated. All first-time comments are moderated. Please read the commenting rules before commenting.
You can email Bruce via the Contact Form.