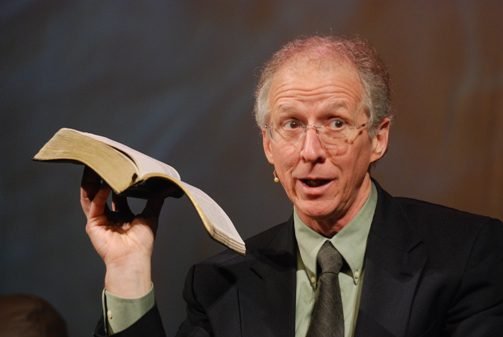 John Piper, chancellor of Bethlehem College & Seminary, former pastor of Bethlehem Baptist Church, and the father of Christian hedonism, had this to say at the 2015 Desiring God Conference for Pastors:
"Look around in your life, in your church. How many Christians do you see bent with all their powers to know God more and more — more truly, more clearly, more sweetly? Or, rather, do you see thousands fighting graduate school sins with a grammar school knowledge of God?"

Some of you might say, 'Wait, there are as many PhDs in theology who commit adultery as less-educated people.' To which I would say, 'Probably more.' Why is it that people with PhDs in theology commit adultery? They don't know God."

"You can read theology 10 hours a day for 40 years and not know God as beautiful and all-satisfying — as the highest treasure of your life. Who cares about knowing God the way the devil knows God? He hates everybody. His knowledge of God helps him hate people."

"We're talking about knowing God here in 1 Thessalonians. They don't know God. They don't know God for who He is — infinitely valuable, infinitely beautiful, infinitely satisfying — why your soul was made. There are more pleasures at His right hand, more eternal joys in His presence, than you could have in 10,000 sexual trysts.

"The question is, do you know that? If you know that, sin will have lost its dominion in your life,"
No commentary from me. The headline is what came to my mind as I read the news story about Piper's sermon. I know . . . so depraved.
Bruce Gerencser, 63, lives in rural Northwest Ohio with his wife of 42 years. He and his wife have six grown children and thirteen awesome grandchildren. Bruce pastored Evangelical churches for twenty-five years in Ohio, Texas, and Michigan. Bruce left the ministry in 2005, and in 2008 he left Christianity. Bruce is now a humanist and an atheist. For more information about Bruce, please read the About page.
Are you on Social Media?
Follow Bruce on Facebook and Twitter.
Thank you for reading this post. Please share your thoughts in the comment section. If you are a first-time commenter, please read the commenting policy before wowing readers with your words. All first-time comments are moderated. If you would like to contact Bruce directly, please use the contact form to do so. Donations are always appreciated. Donations on a monthly basis can be made through Patreon. One-time donations can be made through PayPal.