My wife and I are avid watchers of the HBO hit drama, Game of Thrones (GOT). In the most recent episode, Ramsay Bolton, a psychopath of epic proportions, was eaten alive by his dogs — a just reward for such a vile man. Every GOT episode has moments of violence and sex, as does virtually every TV drama. Viewers watch dramas such as GOT because of its edgy and provocative story lines.
This fact has posed a big problem for Evangelicals who see themselves as the judges and arbiters of what is good TV and what is moral or immoral. This problem arises for these keepers of national morality when their followers ignore their warnings and admonitions and tune in to shows such as GOT. Millions of God-fearing Christians watch each episode of GOT. Evangelical preachers, irritated by the failure of church members to pay attention to them, increase their GOT rhetoric, hoping to finally get through to Christians who love the violence and sex, not only on GOT, but also on numerous other pay-TV dramas.
In recent weeks, I have noticed that several Christian websites have labeled GOT pornographic. Ben Kayser, a writer for CHARISMA , had this to say about Game of Thrones:
The HBO series Game of Thrones has been quite comfortable with controversy for the six years its [sic] been airing. Beyond the graphic sex scenes frequently included in the show, the series also includes many storylines that include incest, extreme bloody violence and multiple graphic depictions of rape that are clearly gratuitous, even from the perspective of mainstream and liberal critics.

However, somehow the creators manage to convince viewers that what they're watching isn't pornography, meant to titillate and shock, but is instead "art." Even many Christian viewers find ways to excuse the show so they can enjoy some entertainment they find compelling and exciting. That said, recent data from the X-rated site Pornhub, as reported in The Daily Mail, reveals that Game of Thrones not only is linked to pornography usage, but scenes from the show are being used as porn directly.

HBO is in a legal battle with the porn website over the sites use of sexually explicit clips from Game of Thrones, which HBO states breaches their copyright of the content. Additionally, Pornhub revealed that internet porn usage decreased when HBO was airing a new episode of Game of Thrones and only increased back to the average number of users four hours after a new episode had aired. According to The Daily Mail, the data "also found searches for Game of Thrones-related videos and pictures of characters also rocketed by nearly 370 percent on the day of the [episode] premiere."

….
HBO is a premium subscription channel. Only those who subscribe to the channel can watch its programming. As with all pay TV channels, easily offended Christians are free to NOT subscribe. Don't like a channel's content? Don't watch it. Personally, I am sick and tired of Christians whining and complaining about what's on TV. Currently, there are a dozen Christian TV channels on DIRECTV. DISH, along with other pay TV providers, also have numerous Christian channels. If offended believers want to watch saved, sanctified programming, why not tune into one of these channels? I am sure there are plenty of Little House on the Prairie reruns for Christians to watch. Why spit and fume over what heathens are watching on channels such as HBO and Showtime?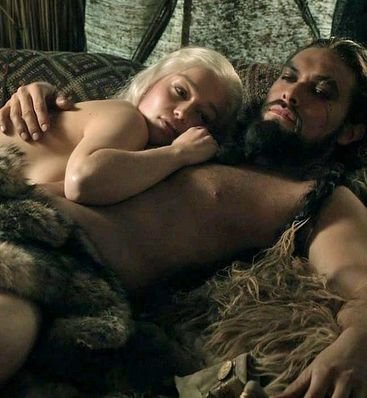 Here's the dirty little secret Christian moralizers don't want you to know. MOST Christians don't watch religious channels. That's right, most Christians know the God-oriented channels have very little good programming. This is why they tune into shows such as GOT. Whatever one might think about GOT violence and sex, it is a superbly written, directed, and acted TV drama. I am of the opinion that we have entered a golden era of TV programming. There are so many good dramas on TV now that it is hard to decide which ones to watch. Channels such as AMC, FX, USA, Syfy, TNT, TBS, and BBC have, in recent years, produced numerous top-notch dramas. Even third tier channels are getting in on the act. This means that TV viewers have a plethora of programs to choose from. Christians and non-Christians alike have dozens of programs they can watch. There's no need to bitch, moan, and complain about supposedly offensive programs. Viewers are free to change the channel until they find one that meets their personal preferences.
Is GOT pornographic? Of course not. Kayser and his fellow Puritans should spend some time on PORNHUB if they want to see what REAL pornography looks like. Better yet, since most Evangelical pastors have personally viewed porn, why not just ask them if GOT is pornographic. Even better, survey church members and ask them, compared to YOUPORN, REDTUBE, and other porn sites, if GOT is pornographic. If we-never-lie Christians are honest, they will say no, GOT is not pornographic.
Kayser  bases the premise of his post on Sunday PORNHUB viewer data. The Daily Mail reports:
Last month it was revealed online viewing of porn dropped by around four per cent – equating to millions of people – while the first episode of the new series aired.

Data from Pornhub showed the number of active users in the U.S. started decreasing in the hour before the show started and did not return back to average levels until four hours later.

It also found searches for Game of Thrones-related videos and pictures of characters also rocketed by nearly 370 per cent on the day of the premiere.

Emilia Clarke, who plays blonde princess Daenerys Targaryen and who regularly appears naked in the show, was the top search.

She was followed by Natalie Dormer, as Margaery Tyrell, and Sibel Kekilli, who plays Shae.
….
Kayser thinks this data proves that GOT is pornographic. Does it? Of course not. First, GOT is not pornographic, so there is no correlation between GOT viewership and PORNHUB use. Kayser wants readers to think that there is connection between porn use and GOT. In Kayser's mind, prior to tuning into GOT, viewers are watching internet porn. Once GOT comes on viewers switch from one porn source to another.
Second, there are other explanations for reduced PORNHUB traffic. The biggest reason for the reduced traffic numbers is the number of prime time dramas that are now scheduled for Sunday nights. As every avid TV watcher knows, there are numerous programs to choose from. Currently, Games of Thrones, Outlander, Hell on Wheels, Preacher, Ray Donovan, Roadies, Murder in the First, and Silicon Valley are scheduled for the 8:00 PM to 11:00 PM Sunday slot. In the Fall, broadcast networks will add eight or ten more programs to the Sunday night mix. And come September, Sunday Night Football will broadcast 17 weeks of NFL games. It seems to me, then, that PORNHUB traffic numbers drop, not because of GOT, but because viewers are switching to their favorite Sunday evening programs.
Kayser went looking for "proof" that GOT is pornographic and he found it in PORNHUB's raw traffic data. Kayser finds correlations where there are none. Until a proper study is conducted, it is impossible to conclude that PORNHUB's traffic drop is due to people switching to GOT. At this point, it is just as likely that the traffic reduction is due to Evangelicals attending Sunday evening church services, fellowships, and activities. Scandalous? Perhaps, but then so is the notion that GOT is pornographic.
Instead of blaming the Evangelicals who regularly watch GOT, the Keysers of the world blame programmers, casting them as tools of Satan used to bring down Christian America. These Fundamentalists refuse to understand that most Americans — including some of their fellow Christians —  reject "Biblically" based codes of morality and conduct. Keyser and others like him are free to NOT watch GOT. What others watch is none of their business. If viewers want to watch violence and sex scenes, they should be free to do so. Evangelicals tend to be capitalistic promoters of free markets, yet when it comes to TV programming, Christians demand the government step in and regulate what subscribers can watch.
Christians are free to produce programming that meets their moral standards. That they don't reveals that Evangelicals are not interested in such programming. Like it or not, many Christians love Game of Thrones. And like it or not, many Christians are going to view pornography. Program viewing is quite personal. Each of us has programs we love and hate. And that's the beauty of the free market system. We are free to watch whatever we want. Don't like a program? Consider a program offensive? Change the channel. All Evangelicals have to do to avoid what they deem "pornographic" is to change the channel or not subscribe to HBO.