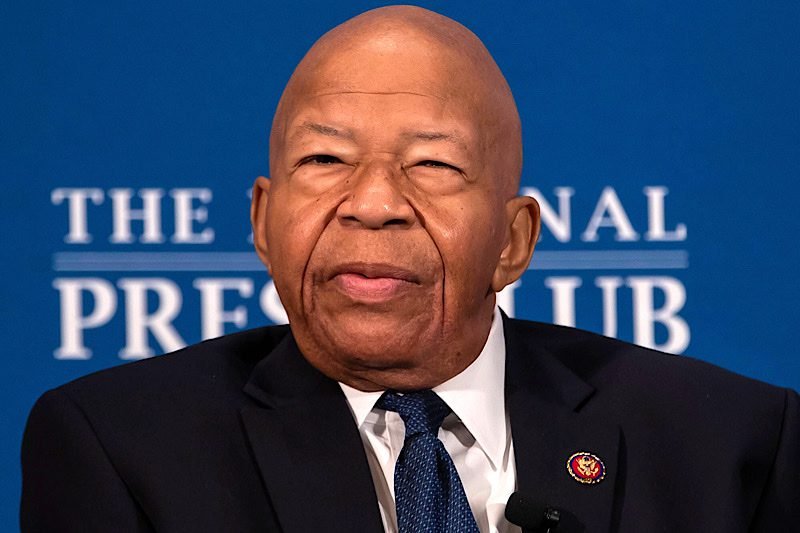 We know the Bible. You've got a leader [Cummings] that has been in office for over 30 years, that opened the door on unfettered abortion in this country.
His civil rights icon status was a joke because he did nothing to bring rights to his people; all he did was divide, all he did was play the race card. He was one of the most extreme, crooked, deceptive, demonic attempt.
He used his power as a member of the Judiciary Committee – he would always twist the law. He would defend corruption. Everything that he's done has been nothing but trying to take this president out.
I don't say this with any disrespect [yes you do, asshole] to Cummings' family, but I believe that God had had enough and God moved. [And how, exactly, does McDonald know this? Did God send him an email?]
— Christopher McDonald, Right Wing Watch, God Had Had Enough': Chris McDonald Says God Killed Rep. Elijah Cummings for Opposing Trump, October 17, 2019
(Video Taken down by Christopher McDonald. Evidently, he doesn't like all the attention he is getting from outside of his merry band of troglodytes.)
Independent Fundamentalist Baptist (IFB) pastor Stacey Shiflett was McDonald's guest on the program. Shiflett agreed with everything McDonald said and added his own attacks on the person and memory of Elijah Cummings. My God, the man's corpse isn't even cold yet.
Previously, I praised Shiflett for standing up for sexual assault victims in IFB churches. Unfortunately, Shiflett's true nature came out during McDonald's show. He may stand up for victims of abuse, but he is also an asshole for Jesus.
Shiflett is the pastor of Calvary Baptist Church in Dundalk, Maryland.