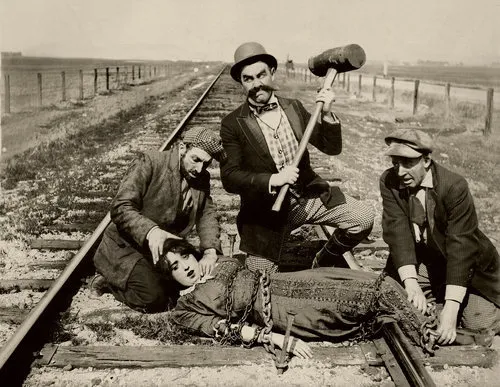 Over the weekend, Adam Stockford, the mayor of Hillsdale Michigan, posted to his personal Facebook account and his official campaign account the post I had written about him last month. Titled MAGA Mayor Adam Stockford Says Hillsdale, Michigan is a "Traditional Values" Community, I wrote about Stockford's use of the phrase "traditional values." As expected, Stockford re-posting my article led to his acolytes coming after me personally. I detailed their "love" yesterday in a post titled Did You Know I am a Traitor, Communist, Marxist, a Danger to America, and an Awful Writer Too? One Hillsdale man named Ronald Cook has made it his personal mission to attack me, both publicly and privately. Cook spent twenty years in the military, achieving the rank of sergeant. After retiring, he spent the next twenty years working as a corrections officer. As you will see in a moment, Cook is a bully, making me wonder how much his forty years in authoritarian jobs helped to shape him into the hateful man he is today.
What follows is a Facebook Messenger "discussion I had with Cook over the past three days. As you will see, Cook's hostility toward me escalated quickly, so much so that I reported him to Facebook. Some of you have been after me to take threats of violence more seriously, so I heeded your advice and acted accordingly. I have not yet heard back from Facebook.
This first comment is what Cook said on Stockford's personal Facebook page.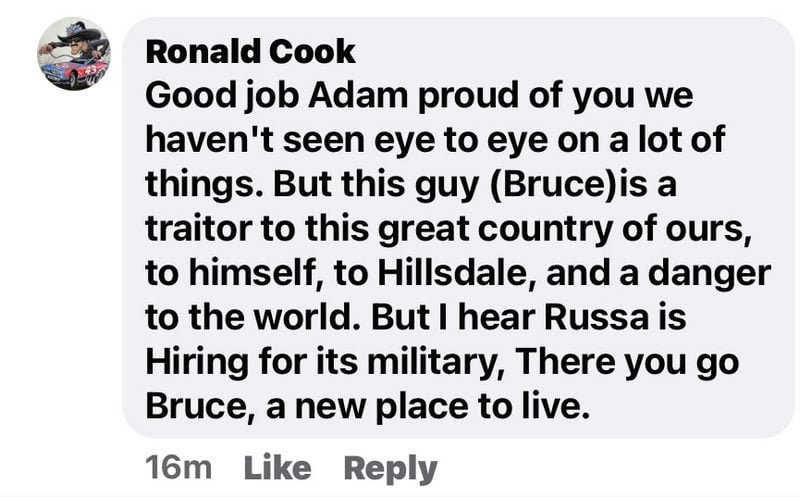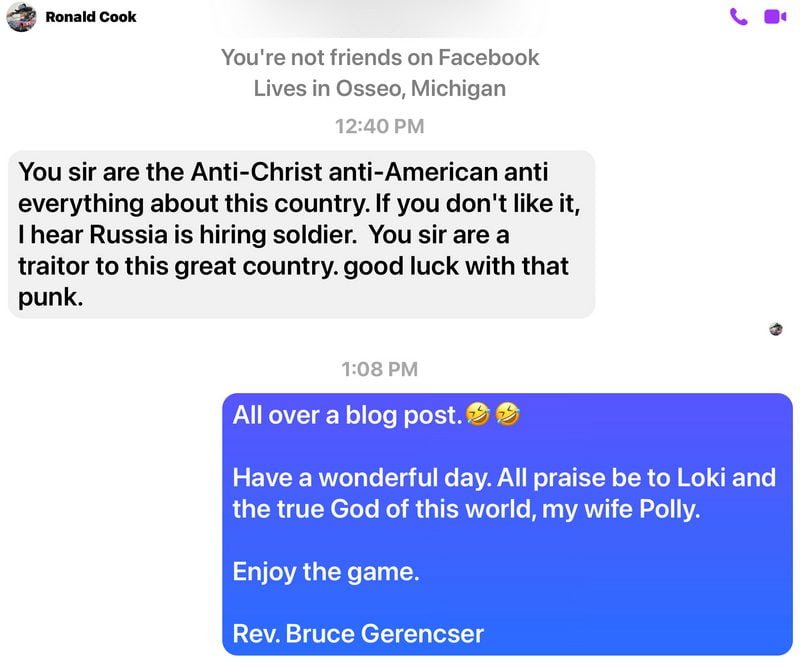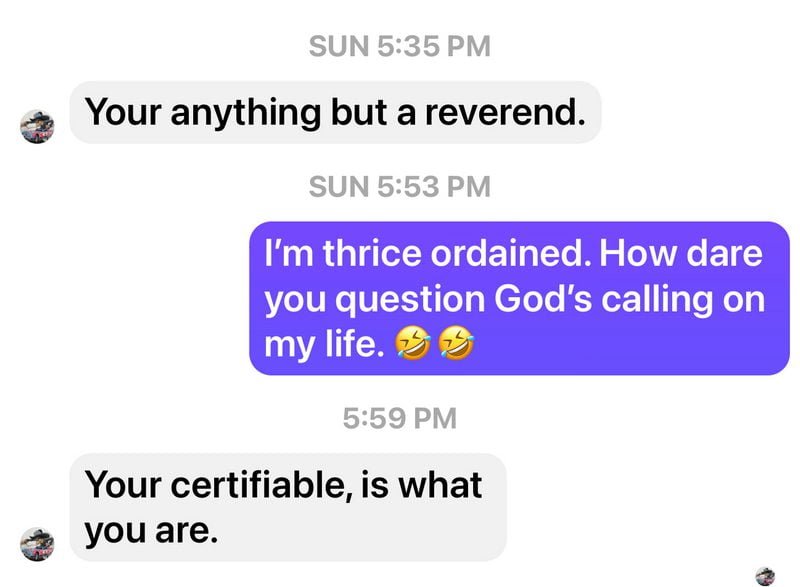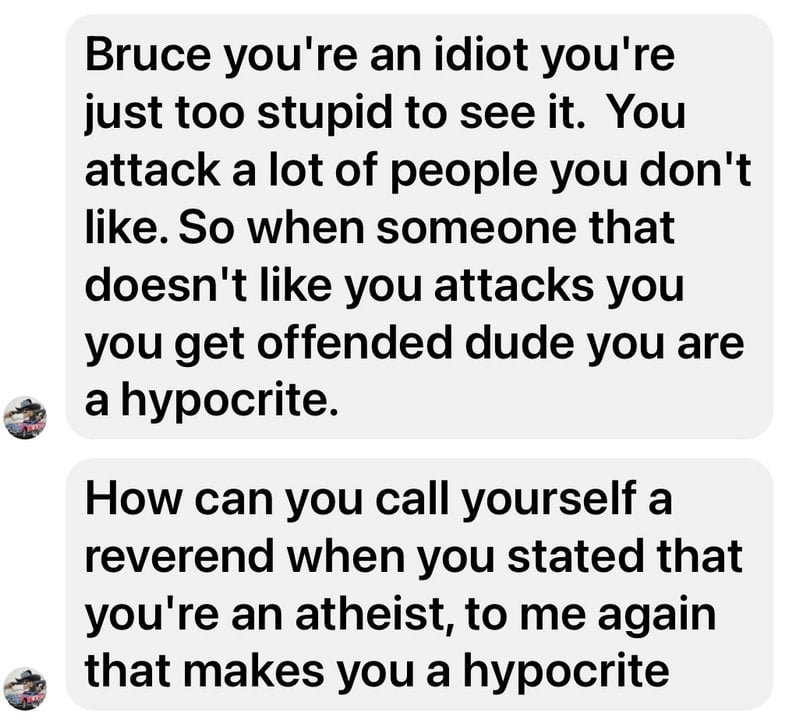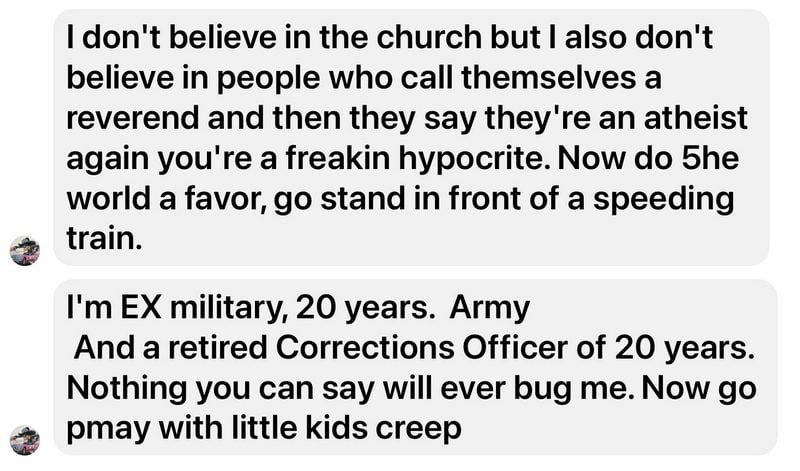 Cook says that I should do the world a favor by standing in front of a speeding train and killing myself. He also says that I am a child molester. I don't understand people like Cook. I didn't insult him or say anything inflammatory, yet Cook went after me like a terrorist in Afghanistan or an inmate who dared to talk back to him. Cook is certainly not the first, nor will he be the last to threaten me with violence. What concerns me is that Cook only lives 30-45 minutes from my home. He definitely has anger issues and violent tendencies, so I don't want to provoke him further.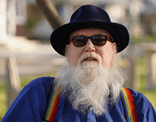 Bruce Gerencser, 65, lives in rural Northwest Ohio with his wife of 44 years. He and his wife have six grown children and thirteen grandchildren. Bruce pastored Evangelical churches for twenty-five years in Ohio, Texas, and Michigan. Bruce left the ministry in 2005, and in 2008 he left Christianity. Bruce is now a humanist and an atheist.
Connect with me on social media:
You can email Bruce via the Contact Form.
Your comments are welcome and appreciated. All first-time comments are moderated. Please read the commenting rules before commenting.