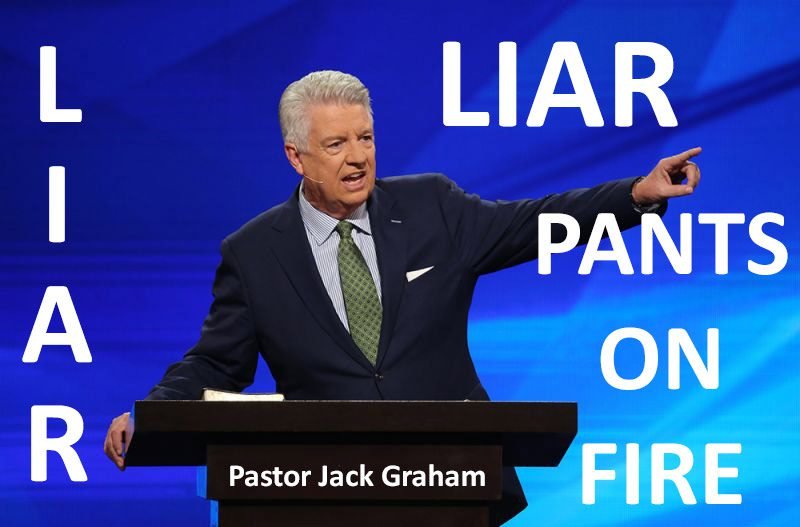 What follows is an excerpt from a sermon by Trump-supporting Fundamentalist Southern Baptist megachurch pastor Jack Graham. Graham deliberately lies about the history and nature of socialism. In particular, he attempts to paint modern Democratic Socialism with the brush of Soviet-style socialism/communism. Evidently, Graham views getting Trump re-elected more important than accurately representing beliefs and systems he opposes. Democrats should expect this tactic to be repeated time and again as we head toward the November 2020 general election. 
Socialism is fundamentally at odds with the Christian worldview and seeks to suppress all peoples in support of the state. No one serious about their Christian faith can be serious about supporting socialism.
Some young people see capitalism, corporate America, as being greedy, without compassion, without concern, and we have to admit that there is a lot of greed in people's lives. But here's the thing, young people under 30 have not seen in their lifetime the devastating effects of Soviet-style repression and oppression through socialism and its big bad brother communism.
Socialism is totally secular and is predicated on atheism. Our faith in Jesus Christ is built on the word of God, the revelation of God, that God exists, that we believe in the resurrection of Christ, and with that faith comes freedom to live an abundant life with liberty, but Karl Marx, the father of scientific socialism, considered religion of all kinds, and specifically Christianity, as the opiate of the masses. You're on drugs if you believe in God.
It would be a catastrophic miscalculation to think that socialist hostility towards religion, and Christianity specifically, has changed in any way since the days of Karl Marx. Socialist countries today are secular in nature, often repressing and oppressing people of faith, all faiths, and particularly are determined to root out Christianity.
Name me one socialist-style country, communist or otherwise, that is open to faith without oppression and suppression of that faith. It is at the very root of this thing called socialism.
In America, socialism has produced a welfare state of sorts, and that will not work for the future of America. It's not working now.
Every healthy person should work, and that includes senior adults in so-called retirement. The goal of your life is not to get to the beach and better your tan or lower your golf score when you quit working. The goal of your life is to honor God, glorify God, by working hard your entire life and serving with him with what he has given you to use for his glory. That's the goal of your work life, and it never stops.
— Jack Graham, sermon at Prestonwood Baptist Church, Plano, Texas, July 7, 2019