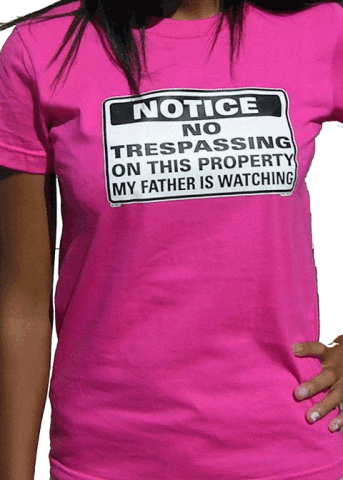 Bethany Baird is a writer for the Lies Young Women Believe website. In a post titled 8 Ways to Fight For Purity, Baird gives sexually aware young women eight ways to sex-proof their lives. If young women follow Baird's advice, they can be certain that they will never get laid until their wedding day. Isn't that good news?  Here's Baird's prescription for a sex-proof life:
Get in the Word.
Pray for strength.
Take up your shield of faith.
Confess when you fail.
Get rid of the bad.
Fill your mind with good.
Find a solid group of girls.
Get accountability.
Girlfriend, are you dating a young man who wants to get in your pants? Read the Bible, pray, and take up the shield of faith. How does this work? Evangelical Suzie is out with Billy Bob and Billy starts getting frisky. Should Suzie call a time out for Bible reading and prayer? In what universe would this EVER happen? As study after study tells us, Evangelical teenagers and young adults engage in sexual intercourse at roughly the same levels as their unsaved counterparts in the "world." Instead of teaching sexually aware young women to be responsible for their sexuality and to plan for sexual intercourse, Baird presents a voodoo-list of spells she hopes will extinguish raging hormones. Spells, by the way, that do not work.
Baird should be honest with her readers. The only sure way to make certain young Christian women never, never do the dirty is to avoid any contact with the opposite sex, the same sex, or their index finger. If young men are the problem, shouldn't young women just stay away from these horn dogs? Why not cut the temptation off at the source? Of course Baird won't suggest this because she knows that young women want what young women want: boyfriends.
Baird, thanks to her fundamentalist indoctrination, lives in denial of basic human biology. Instead, she suggests that young women spiritually cross their legs, blocking access to their vagina.  The minds of young women, honed by evolution, naturally desire to mate. If this wasn't so, our species would have perished long ago. Instead of preaching the failed gospel of purity, people like Baird would better serve their readers if they talked honestly about human sexuality. Of course they can't do this because the Bible says that any and all sexual activity (fornication) before marriage is a sin against God.
I'm all for teenagers understanding everything there is to know about sex. From biology to contraception, teenagers need to know the facts. Far more effective than Baird's eight steps is sexual knowledge. Equipped with this knowledge, young adults can then determine when or if they want to have sex. Telling them to Just Say No (and No including masturbation) is setting up young adults for failure. Baird knows this, but she has to justify the continuation of her ministry, so she continues to guilt young women unto ignoring their sexual desires.
Let me finish this post with several of the comments that  appeared on Baird's 8 Ways to Fight for Purity. I think most readers will find these comments heartbreaking illustrations of what happens when young women buy into Baird's guilt-inducing purity gospel:
(All grammar errors in the original. Each paragraph is a new comment)
I had sex outside of marriage. I feel so ashamed even if I prayed. Please pray for me. I know our God is a good and forgives but the guilt inside me is killin' me and making me feel unworthy of God's love.
I don't know what to do… i masturbute. I know its wrong but I don't feel sorry when I'm done. I don't feel anything. I feel like I can't stop. Pray for me!!!!'
Do you think that God still might call some young women/girls to be like Jephthah's daughter and be dedicated to God to never marry and remain abstinate?
Love it! Sadly for me I have no Goddly girls in the area! I do have some that I have met, who are close with the Duggar family! A year ago I decided to come out of public school, and do an online school, and I am so thankful God put opportunity in my life. After a while, with all the time I had, I found the show 19 kids and Counting! They helped me to change my life (before I started to date because everyone was doing it!) So glad!!!! They helped me to realize that you don't HAVE to do everything that the world does. God loves you, and you need to think about the future. Then I started a CHRISTIAN online school, and boy did that help! Anyway, excuse me for the long backstory. I, one day decided, to get one of my special rings that my Grammie gave me, and have it be my "purity ring!" Every time I look at it, I remind myself that God DOES care what I do and think about!!! The kind of purity I keep for myself is more on the moral side, and less on the physical purity side (because I don't plan to date for a while, I'm 15!) So maybe you could just have your own purity ring, and wear it as a reminder! Mine isn't fancy or anything! Hope it helps someone!
Note
Bethany Baird and her sister Kristen Clark blog at Girl Defined: Getting Back to God's Design