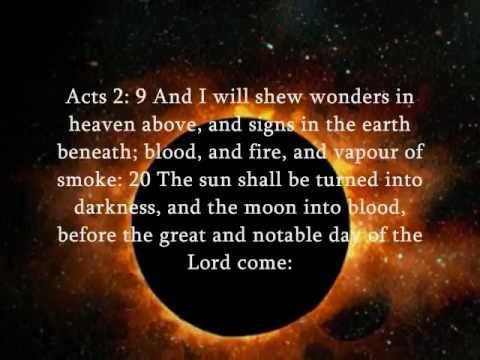 John Hagee, senior pastor of Cornerstone Church in San Antonio, Texas, and national chairman of Christians United for Israel, recently released a movie based on his book Four Blood Moons. Charisma News reports:
Four Blood Moons is a theatrical one-night event exploring a rare lunar phenomenon that over the centuries has accompanied both tragedy and triumph for the Jewish people. From Pastor John Hagee's New York Times best-selling book of the same name (750,000 copies in print from Worthy Publishing), Four Blood Moons is in theaters March 23.

"The heavens are 'God's billboard.' He's been sending signals to earth, and we haven't been picking them up," Hagee says. "Two blood moons, in 2014 and 2015, point to dramatic events in the Middle East and, as a result, changes in the whole world."…

…Four Blood Moons combines Scripture, science, history and big-screen live action spanning centuries, including previous similar lunar occurrences and the earth-shaking changes around them. It also examines our current four-blood-moon cycle—and its possible meaning for Israel, the Middle East and the world.

An array of historians, religious scholars and commentators appear in Four Blood Moons and offer their insight—filmmaker, speaker and author Dinesh D'Souza; radio host and author Dennis Prager; and noted author and historian David Barton to name just a few.

"A blood moon occurs at a lunar eclipse when the earth comes between the sun and the moon," Hagee said. "As the sun shines through our atmosphere, it throws a shadow on the moon, making the moon look red."

Only three times in the past 500 years have four of these blood moons (or tetrads) occurred back to back and on major Jewish holy days. The fourth tetrad began April 15, 2014, on Passover. In October last year, the second blood moon appeared on the Feast of Tabernacles (also known as Sukkot). Blood moons in 2015 land on the same holy days…

…Four Blood Moons examines the biblical passages seemingly connected to these events—in Joel and Acts—where it says the "sun will be darkened" and the moon will appear as blood in advance of God's world-changing action on earth.

Hagee points out that during this four blood moon cycle, all of which touch on Jewish holy days, a solar eclipse also will occur—a combination of events that will never repeat.

Whatever the results, audiences at Four Blood Moons will see a compelling and entertaining exploration of these spiritual, celestial and historical events. And they will leave the theater convinced that something is about to change that could impact us all.
World Net Daily (WND), home to every right-wing conspiracy writer on the planet,  is accusing Hagee of stealing the Four Blood Moons revelation. One Christian is accusing another Christian of stealing God's revelation. Shocking! According to WND,  Mark Biltz, pastor of Church of All Nations in Tacoma, Washington, a Christian ministry taking the Torah to the Nations, is the one God gave the revelation to. On March 24, 2015, WND sent Hagee a Demand Letter. In the letter, WND demanded Hagee publicly retract his statements about being the receiver of the Four Blood Moons revelation and reedit the film giving Biltz proper attribution.
Joseph Farah, head wing nut at World Net Daily, had this to say on Sunday:
…Then in 2013, I learned that San Antonio mega-pastor John Hagee was coming out with a book called "Four Blood Moons." I discussed it with Biltz and learned that the previous year he had entertained Hagee as a speaker at his church, El Shaddai Ministries in Bonney Lake, Washington. Hagee had founded an organization called Christians United for Israel, or CUFI, and Biltz was the Washington state chairman. At that event, Biltz briefed Hagee on the "blood moons phenomenon" and gave him a DVD teaching about it.

When the book came out in 2014, I was eager to read it – as was Biltz. Hagee had consulted with Biltz on the subject after the 2012 event at his church. We were both disappointed that Biltz was nowhere credited with the discovery of the phenomenon, though Hagee did recount his meeting with Biltz and explained, in a roundabout way, that the pastor had inspired the book by asking a question: "Have you ever considered the sun, moon and stars in the study of prophecy?" Hagee never mentioned that Biltz had thoroughly researched the blood moons phenomenon, presented on it over a period of four years on Christian television, spoken at conferences and produced DVD teachings. It had become Biltz's most well-known accomplishment – his identity, if you will, around the world.

I suggested to Biltz that he write a book on the subject himself. After all, he was the expert. He was the discoverer. We also decided to make a documentary movie about the phenomenon. Both the book and the movie are called "Blood Moons." Both came out in early 2014.

That would have been the end of the story had Hagee not decided to produce a movie of his own that debuted nationwide in theaters Monday in which he made the following statement: "The thing that compelled me to write the 'Four Blood Moons' was when I discovered the scientific fact NASA was pointing out that it happened in 1492 and it happened in 1948 and it happened in 1967 and it was going to happen in 2015."…

…Biltz was interviewed for the movie and told the story of his own discovery of the blood moons phenomenon, but it was not included in the film. Instead, to any casual viewer of the movie, it seemed to me and Biltz, Hagee was representing himself as the discoverer.

One of my reporters was already assigned to do a story on the "Four Blood Moons" movie and had set up an interview with Hagee to discuss it. I asked him to change the direction of the questioning to focus on how Hagee got to write about and produce a major movie about the phenomenon. I also specifically asked him to explain Biltz's role in his interest.

Hagee told the story of meeting Mark Biltz at the CFI event in his church in 2012 in a way that was shockingly similar to his explanation in the book – avoiding any mention of Biltz's voluminous research on the subject and the fact that he had discovered it and thoroughly chronicled it over a four-year period prior to their meeting. In fact, Mark Biltz had become known alternately as "the blood moons pastor" and "Blood Moons Biltz."

Pressed for more details on whether he or Biltz discovered the phenomenon, Hagee said he got the idea by studying the Bible and researching NASA's historical charts of blood moon tetrads. There was no further mention of Biltz, and Hagee again used the "discovery" word: "It dawned on me that God is using the heavens as a billboard. And when I got on the Internet and discovered these four blood moons that had happened and would happen, I literally levitated out of my seat."

Biltz and I decided it was time to clear the air with Hagee. It seemed to both of us that he was moving closer and closer to hijacking Biltz's discovery with his immense audience and impressive marketing machine.
According to Charisma News, they have a copy of a letter sent to WND by Hagee spokesman Ari Morgenstern. In the letter, Morgenstern detailed the following errors:
…the errors are: (1) an allegation that Hagee asserted he was the "discoverer" of the four blood moons phenomenon; (2) an allegation that Hagee does not credit Biltz for his relevant efforts; (3) an implication that Hagee took the term "God's billboard" from Biltz; (4) an allegation that Hagee used inaccurate dates in his discussions of previous tetrads (5) an implication that Biltz is not prominently featured in Hagee's Four Blood Moons film; and (6) an allegation that Hagee supports so-called dual-covenant theology.
Based on these errors, Morgenstern is asking WND to correct the errors in the aforementioned articles. Morgenstern stated:
"Under normal circumstances, given their complete inaccuracy, I would expect both pieces to be removed with the publisher's apologies, but as [Joseph] Farah is the driving force behind this narrative, the publisher of the outlet that posted the pieces, and WND has not even bothered to provide readers with the name of the author of the pieces, we've strayed quite far from normal circumstances."

"While these facts clearly call into question WND's objectivity, they pale in comparison to the conflict of interest associated with Farah's apparent financial stake in advancing this false narrative. Not surprisingly, in the piece, WND repeatedly advertises and links to purchase options of Biltz's relevant book and film—which as the WND piece mentions, Farah is, respectively, publisher and producer (relevant screenshots are available upon request)."
As I read this story, I found myself having a vision of dueling prophets, each certain God gave to them the Four Blood Moons revelation. Prophets, walk forty paces, turn and fire. May the best prophet win. Of course, this story has little to do with revelations or prophets and everything to do with PROFIT and PREEMINENCE.
I ask, what would Jesus do?
Just another amusing day in the Evangelical Christian Ghetto. Personally, I am looking forward to the next blood moon, or what we call here in the Midwest a full moon or harvest moon. The next time the moon is large and orange in the sky, I plan to be outside with my camera and tripod hoping to shoot the moon in all its glory. Too bad Hagee, Farah, and Biltz will be too busy arguing over who owns the rights to the show to enjoy it.