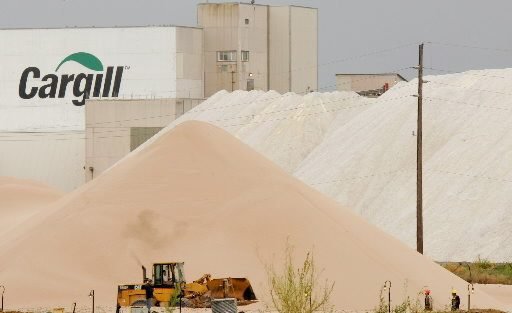 Pretend that I walked into First National Bank of Ney and robbed it, getting away $70 million. Ney's equivalent of Barney Fife, eating at Marty's Restaurant, heard the alarm, put a bullet in his trusty revolver, and ran to the bank. He saw me hurriedly leaving the bank and said, HALT in name of the law. Caught with $70 million, I surrendered to Barney.  Imagine my surprise when the Deputy said, Well, I hate to let you come away from this with nothing. Why Don't you keep $60 million and I'll return the rest to the bank. And, because you are a good citizen I wont even charge you with a crime.
Is there any place in the universe where the aforementioned story would end as I have told it? Yes, in John Kasich and Mike DeWine's Ohio. According to the Morning Journal, the state of Ohio and local governments paid $54 a ton for road salt in 2011-12. In 2013-14, they paid $36 a ton. According to the Council of State Governments Knowledge Center, in 2013-14 Ohio used more than one millions tons of road salt. In 2011-12, the state used 731,547 tons and averaged over 630,000 tons over the previous decade.
Yesterday, (link no longer active) Republican Ohio Attorney General Mike DeWine announced that he had reached a settlement deal with Morton and Cargill over their anti-competitive practices in the road salt market. According to DeWine, Morton and Cargill divided up the state and agreed to non-compete, resulting in Ohio paying above-market rates for salt.  Denying all wrongdoing, both companies agree to pay a total of $11.5 million to the state, which would then be paid out to local governments.  The agreement covers 2008-10.
Remember the numbers I quoted above? Did a little third grade math on my Windows 8.1 calculator app and determined that the state of Ohio and local governments paid about $100 million for salt over  the three year period of 2008-10. Morton and Cargill paid little more than ten cents on the dollar in restitution and avoided any criminal prosecution. Can't wait to hear Mr. Wall Street, John Kasich spin this deal.
Morton and Cargill criminally conspired to manipulate salt sales in Ohio. Like the story at the start of this post, John Kasich and Mike DeWine rewarded them for being good crooks. According to Cargill:
"From the time the suit was filed in 2012, we have emphatically denied the allegations. We have always acted ethically and in line with our guiding principles. The OAG accepts that there is no admission of guilt."
Am I the only one who is tired of Mike Dewine and John Kasich's unwillingness to go to the mat for Ohio taxpayers? Salt prices dropped $18 a ton from the period in question to 2013-14. While some of this could be market fluctuation, I suspect that a lot of the decrease is Morton and Cargill realizing that they have been found out. Why not take an aggressive approach to corporate malfeasance?  Not wanting to risk loss is a horrible excuse. Better to lose and expose Cargill and Morton than allow corporations to continue to pillage the coffers of state and local government.
Note
According to a 2010 State of Ohio Office of Inspector General report, Morton and Cargill's scheme resulted in ODOT paying $47-59 million too much for salt over the previous decade.
In a Defiance Crescent-News article, Mark Kovac, the Statehouse reporter for Dix Communications, said that the Morton and Cargill cost state and local governments $70 million. (behind paywall)