I've been asked to give my take on the Planned Parenthood videos.
When it comes to Planned Parenthood's mission, to provide healthcare to women, I am 100% in their corner. Providing abortions is a small part of Planned Parenthood's services, and defunding Planned Parenthood would have a deleterious effect on the health of poor women. Attempts to defund Planned Parenthood are driven by religious belief and bad science. We live in a secular state, one that supposedly separates church and state and one that values science; yet, when it comes to abortion, the debate is framed by religious claims that result in skewed interpretations of science.
Strident pro-lifers, based on their religious beliefs, say that abortion is murder. I have written about this before in a post titled 25 Questions for Those Who Say Abortion is Murder. The abortion-is-murder view is irrational and is a denial of what science tells about fetal development and life. Just last week, Mike Huckabee, a Baptist preacher and a candidate for President, said he supports personhood for zygotes (see Personhood USA). That's right, Huckabee wants constitutional protection conveyed the moment a man's sperm unites with a woman's egg. This means that Mike Huckabee, along with those who support personhood for fetuses and believe abortion is murder, think that the following should be considered a person protected by the constitution and those aborting them are murderers: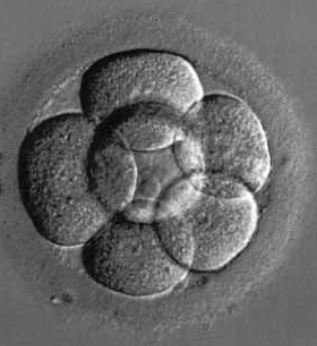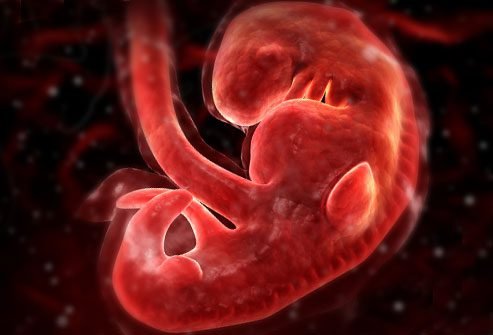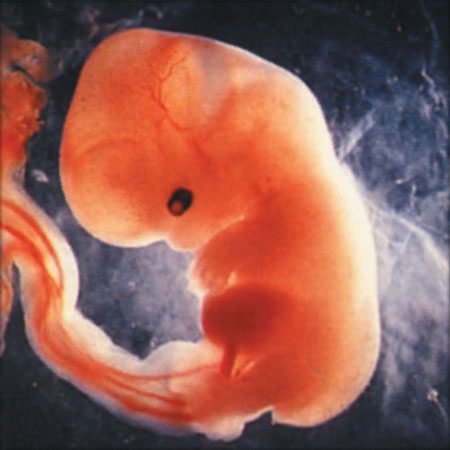 Fact: 63% of abortion take place within eight weeks of pregnancy.
This is what a fetus looks like at 12 weeks: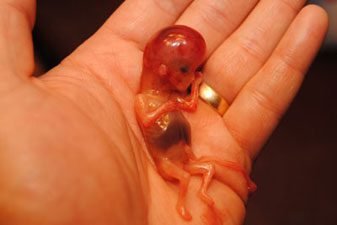 Fact: 89% of abortions take place within 12 weeks (first trimester) of pregnancy.
When I look at the science along with the aforementioned photographs, I see potential life. I don't see a person, one deserving constitutional protection. (Please see Abortion Facts, Lies, and Contractions.) All the religious posturing and moralizing in the world won't change my view on this matter. Why? Because it is rooted in scientific fact and reason.
As the fetus continues to grow it moves from being potential life to actual life. Usually this is around weeks 20-24. Fetuses can and do survive when born prematurely, and it is for this reason I support greater protection for them under the law. The state has a vested interest in protecting human life, not potential life. I do not agree that abortion after viability should be a decision made between a woman and her doctor without any regard to the fetus. Once viability is reached there is a third party — the baby — who should have rights. Not absolute rights, mind you. There are times, due to health concerns or fetal abnormality, that is it medically prudent to terminate a pregnancy after viability. Since the overwhelming majority of abortions occur before viability (98.8%) or post viability as a result of health concerns or fetal abnormality, I see no reason to oppose abortion.
Why is it that pro-life groups rarely use the aforementioned photographs to make their case? Why do they always graphically display fetuses aborted late in a pregnancy? Shock value. I wonder if some who say abortion is murder would think differently if they were presented with a picture of a zygote and not a picture of a full term fetus?
The recent videos concerning Planned Parenthood are disturbing. The group behind the videos are using highly edited footage, releasing them over a long period of time in hopes of maximizing the damage, inflaming passion, and bolstering the campaigns of pro-life candidates for President. (Please see People of the American Way post  The Activists and the Ideology Behind the Latest Attack on Planned Parenthood.)
Despite my opposition to the group behind the videos, I do find the videos troubling. Is Planned Parenthood selling fetus parts? Yes and no. Yes, in the sense that they are selling at cost various fetus parts to researchers, but no in the sense that it isn't a huge revenue stream for Planned Parenthood. What Planned Parenthood is doing is legal, no different from harvesting organs for transplant.
I am sure someone is going to say, but Bruce, look at how nonchalant the Planned Parenthood people were on the videos. I agree, this is troubling, but is their crassness any reason for the government to defund Planned Parenthood or for abortion to be outlawed or criminalized? Of course not. Again, I go back to the science. Like it or not, in most cases, the aborted fetus is a blob of developing cells. Since these developing cells are potential life, not human life, why shouldn't researchers be permitted to use these cells and developing organs to find cures or treatments for diseases that are afflicting and killing humans?
I think the crassness displayed on the videos is troubling, but explainable. Take doctors. Doctors are around sickness and death every day. Imagine a group of doctors sitting around a table talking shop. How do you think the discussion would go? A bit of morbidity, humor, and deflection? This is their way of coping with the work they have been called to do (and yes, I think many of the people who work in abortion clinics have a sense of calling, a deep desire to help women in a time of great need). The same could be said for coroners, morticians, homicide detectives, crime scene investigators, CDC investigators, and crime scene cleaners. As someone who lives with the ugly specter of death lurking in the shadows, I have a gallows sense of humor about death. Some family members and friends are appalled by my humor, yet it is how I cope with the reality that death is stalking me and will ultimately seize me as its prey. People who are around death often use humor to cope and often seem detached from their work, and I think that is exactly what is shown on the Planned Parenthood videos.
What Planned Parenthood has is an optic problem. They allowed themselves to be snookered by ideologically driven religious nut jobs who want to make abortion, along with birth control, illegal. Planned Parenthood needs to do a better job of vetting whom they are talking to. They also need to put some of their workers and executives through sensitivity training. We say that getting an abortion is a monumental decision for a women. If this is true, then our behavior and demeanor should reflect this, not unlike our response to someone who is dying and has decided to stop medical treatment.
I am sure those on either side of this issue will disagree with me and that's why I have been hesitant to write about it. My position on abortion is informed and quite developed, so I don't waste my time arguing about it. I recently had several dust-ups on Facebook with people who think anyone who is pro-choice or supports Planned Parenthood is a sick, vile, evil, murderer. Rather than continue to read such drivel, I unfriended 30 or so people, including family members (and yes, I tried to educate them before I unfriended them).
I find it interesting that the same people who are so ardently pro-life are very same people who are pro-war, pro capital punishment, anti-homosexual, anti-same sex marriage, anti-immigration, and anti virtually anything that has to do with care and compassion post-birth. It seems the only life they care about is the one in the womb. These same people say they are anti-abortion, yet they oppose free birth control and standardized sex education, two things that we know reduce the need for an abortion. There's one word for people who think like this: hypocrite.
102616