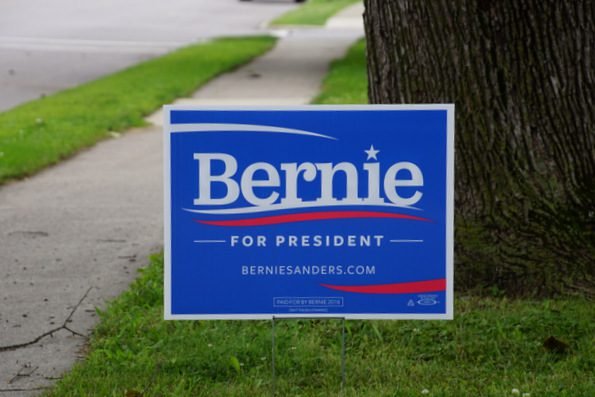 A short while ago, someone pulled into our driveway and got out of their vehicle. I was busy writing when our early visitor detection system, also known as Breigh, the cocker spaniel, went off, alerting me that someone was in our driveway. Sure enough, seconds later someone knocked on our door.
As I looked out the window I saw a bearded young man wearing a ball cap in his late twenties standing on the porch. His vehicle was an old truck. I carefully opened the door, not knowing if there was a confederate-flag-waving redeck or an atheist hater standing on my doorstep. Imagine my surprise when I greeted a man who wanted to know where I got my Bernie Sanders sign.
As of today, I think our home sports the only Bernie Sanders sign in Defiance or Williams County. This man wanted to know if Sanders had a local office. I told him no and said I ordered the sign at Sanders's website.
He said he wanted to get a sign because he was a big Bernie Sanders supporter, as was his girlfriend who sitting in the truck. I laughed and said, now there are two of us, and he replied that he had a number of friends who were Sanders supporters. At this moment, my heart flooded with joy, so much so that I wanted to shout PRAISE JESUS! Okay, just kidding a bit.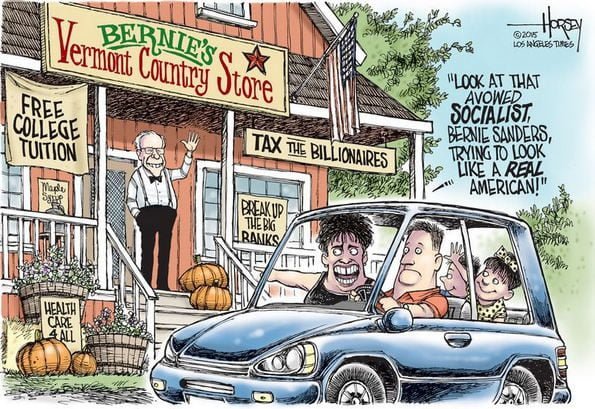 When I look at the Republican debate lineup I want to gag and throw my hands up in despair. The candidates, all 17 of them, are a reminder of everything that is wrong with the United States. The young man on my porch reminded me that all is not lost. While President Obama failed to bring the hope and change I hoped he would, I know we are better off today than we were under the reign of King Bush. A better future awaits us if we can drive a stake in the heart of amoral capitalism and corporate greed. (I am not anti-capitalist as much as I am against capitalism as it is now practiced in the United States.)
There's a restlessness brewing among young adults. Whether it will result in dramatic political change remains to be seen. For today, I am encouraged. If Sanders cannot win the nomination, then I will support whomever the Democratic candidate is. I hope, in the process, that Sanders can materially affect the Democratic party and force it to abandon the teat and bed of corporate America.
102516