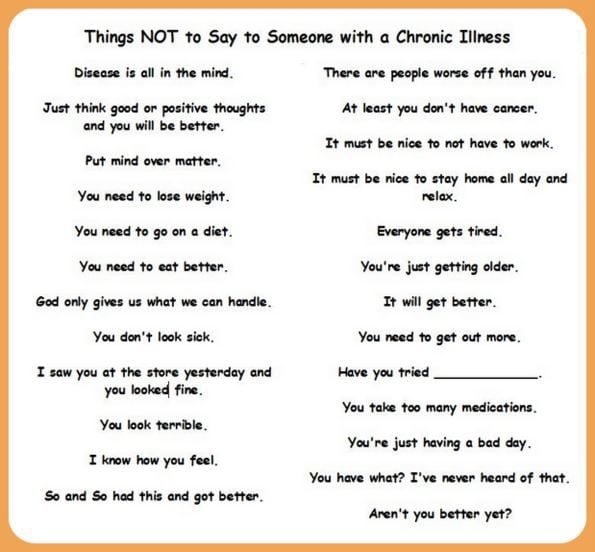 Because I am forthcoming about the health problems I have, well-meaning people often give me unsolicited medical advice. Sometimes, they don't know what to say so have you tried ________________ becomes the secular version of I'll pray for you. Other times, the person refuses to believe that what's wrong with me can't be fixed. Surely modern medicine, alternative practitioners, and witch doctors can fix anything, yes? Or so the thinking goes.
Many people have a simplistic view of health, sickness, and how the body works. They wrongly think that if I just eat right or takes this or that vitamin/supplement that every health problem I have will be cured. Some people think that doctors deliberately keep us sick so they can make money; that there is a grand conspiracy between doctors, hospitals, and pharmaceutical companies to keep people sick so they can profit from their sickness. According to people who think like this, I should see a herbalist, homeopath, reflexologist, acupuncturist, accupressurist, aromatherapist, chiropractor, or irridologist–anyone but a doctor. Armed with anecdotal, subjective stories about miraculous healing, they are certain if I would just get away from Western doctors that all would be well.
I am all for trying anything that is evidence-based and has a proven track record. What I'm not willing to do is waste my time on woo-woo (pseudoscience, quackery). Every week a family member, friend, or reader of this blog sends me an email with a link to a surefire cure for what ails me. They are certain, based on their superficial reading of an article, that if I will just try __________ I will be cured. Again, if there are peer-reviewed, double-blind-studied treatments that hold out the possibility of helping me, then I am all for  them. Sadly, most of the links sent to me are woo-woo.
When you've suffered for a long time and have to deal with unrelenting pain each and every day, it is easy to get upset when someone with good intentions says have you tried _______________. I try to be polite, realizing the person just wants me to be better, but the constant unsolicited medical advice does wear on me.  My health problems are very much a part of the fabric of my life and I think it is important for me to write about them, but I find I am less willing to do so because of the unsolicited medical advice that comes when I do.
I am well read on the subject of Fibromyalgia, auto-immune diseases, and arthritis. When I was first diagnosed with Fibromyalgia 17 years ago, I read every book about Fibromyalgia I could get my hands on. When new studies come out I read them and try to look at the methodology the study used to come to its conclusions. Many studies have come and gone, with most of them offering little hope to people with Fibromyalgia. While doctors and researchers continue to study the various diseases that afflict me, so far there are no cures.
Over the years, I've tried numerous drugs, supplements, and treatments, all to no avail (along with tens of thousands of dollars of tests). At this point in my life, I am satisfied that I have done all I can do. For someone like me, hope can be a cruel thing. Better to embrace life as it is than to constantly hope for that which will never happen. It's unlikely that a new drug or a new treatment for Fibromyalgia will be found in my lifetime (and no, Lyrica is not a cure for Fibromyalgia). Researchers are a long way from definitively understanding what causes Fibromyalgia,  and even further away from coming up with a treatment for it. And even if a cure for Fibromyalgia is found, I would still be left to deal with arthritis, a disease that can be managed but not cured.
I appreciate every one of you who has supported me over the years. Your gentle encouragement and love mean the world to me. While doctors can do no more for me, your support  gives me strength and motivates me to get up in the morning (or early afternoon) and continue to write for this blog.  Thank you for making a real difference in my life.
Bruce
Note
Last night, Polly and I watched the first episode of The Daily Show with Trevor Noah. (It was awesome, BTW.) Comedian Kevin Hart was Noah's guest. Noah asked Hart about his commitment to physical fitness and Hart told him that running was the most important part of his fitness regime. He then went on to say that he sees himself as an evangelist of all sorts for running.  Hart said, everyone can run!  I hollered, no, dumb shit, they can't. I can't run, nor can I walk long distances. I know I will never run again and I have no doubt that I will someday be wheelchair bound. As it is, I can walk or stand on my feet for, at most, an hour. When we go to the grocery, I must hold on to the cart so I can stand upright (it also keeps me from falling).  Fifteen to thirty minutes into our shopping, I will feel warm, stabbing pain in my upper thighs, face, and lower back. A few minutes later, these areas will burn and feel as your foot does  when it  falls asleep. Doctors theorize this has to do with my back and the numerous narrow disk spaces I have, especially in the lower back. So, run? Not a chance. I'm just happy to walk through Meijer without having to bend over the cart or sit down to relieve the pain.
One thing that would help is medical marijuana, but it is not legalized in Ohio.
121615