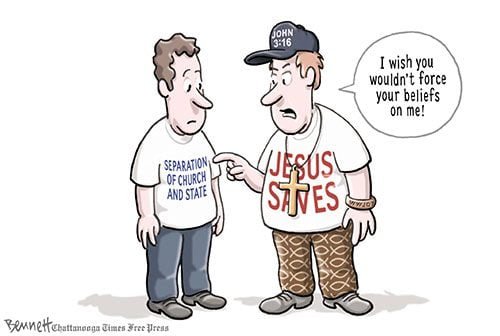 Snark ahead! You've been warned!
Today, I made my monthly pilgrimage to my primary care doctor's office. We discussed how the Cincinnati Bengals and the Cleveland Browns are doing and we talked about how difficult it is to sit on the sidelines as our adult children go through life's difficulties. It was also time for prescription refills, one sent to Meijer, three to Caremark, and three written controlled substance scripts. I also got a flu and pneumonia shot. I mentioned a large lump in my upper abdomen. Hmm, the doctor said, and referred me to a surgeon for a consult. Probably a cyst or a fibroma, and not likely malignant, but I will have to have it checked, especially since I've been treated for skin cancer three times, twice in the last 3 months.  Always something. (I learned MRI's and CT scans do not see masses like this)
After my visit was over, we exited the examination room and headed for the clinic waiting area. As we walked through the door we heard the loud voice of an Evangelical Christian. An obese man, wearing a shirt with a gaudy Halloween pumpkin on it, was going from person to person, often touching them, blessing them in the name of Jesus. JESUS LOVES YOU, he told several people, and he told the receptionist, KEEP DOING A WONDERFUL WORK FOR GOD!!
Really?, I thought to myself. While I'm sure this man was well-intentioned, thinking he was just paying everyone a big compliment, his behavior and words were quite offensive. I wanted to say to him, shut the fuck up…I'm not interested in your Jesus blessing. But, I didn't. You see, I'm polite and don't engage people in unwanted discussion about religion or politics.  I respect people enough to keep my opinions to myself. If I'm asked a question or someone wants to engage me in a discussion, I will gladly do so, but I think it is rude to blather on about religion or politics uninvited.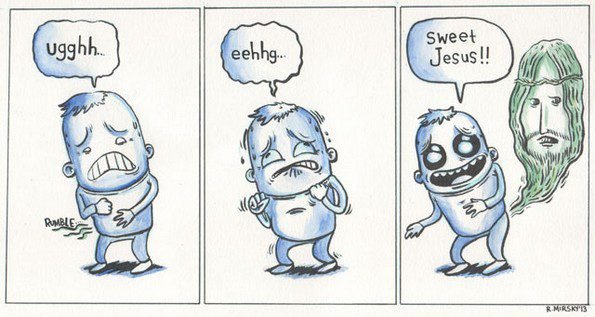 Unfortunately, many Evangelicals think they have the right to go into a room and rip the loudest, foulest fart and everyone is supposed to inhale deeply and love it. They are oblivious, it seems, to the fact that most people do not want to listen to their God talk, nor do they want a Jesus blessing, a prayer, or any of the other things Evangelicals love to force on others. Why do Evangelicals think this kind of behavior is appropriate? Entitlement? Calling from God? Jesus Gas® that must be expelled lest the Evangelical implode?
The receptionist smiled, but as the man turned to walk away she rolled his eyes and frowned. She's probably a Christian, but even she was embarrassed by Mr. Evangelical's God talk and Jesus blessing. Fortunately, he didn't address me directly, nor did he touch me. If he had, since I was having a don't touch me pain day, he likely would have not liked my response. Count me as one person who is tired of Evangelicals who think they have a God-given right to invade the private space of others. When I am at the doctor's office, I intensely feel my mortality. Every checkup is a reminder that things are not well for me and that death is closer than it was the last time I was at the doctor's office. I don't need a  loudmouth Jesus freak saying anything to me. Save it for the church house or for those who are part of the Evangelical tribe.
Imagine for a moment that a Satanist, a Muslim, or an Atheist was loudly and indiscriminately broadcasting their beliefs. Imagine the Satanist going up to an Evangelical, laying their hand on them, and saying, BLESSINGS IN THE NAME OF BEELZEBUB! Imagine the Muslim going up to the receptionist and saying, KEEP DOING A WONDERFUL WORK FOR ALLAH!! Imagine the Atheist going from person to person in the waiting room and, with a loud voice, telling them THERE IS NO GOD!  We all know how Evangelicals would react, right? Why can't they see themselves in the same light and realize that such behavior is patently rude and offensive?
[signoff]