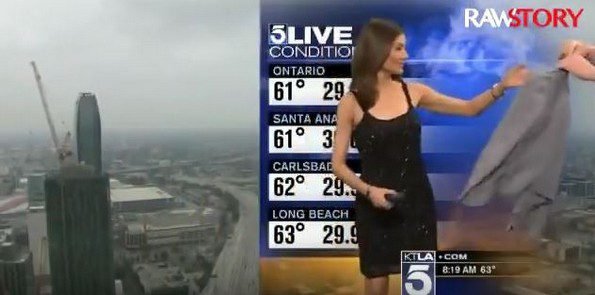 KTLA meteorologist Liberté Chan was recently forced to cover up her "inappropriate" dress after news anchor Chris Burrous received emails complaining about it. At first, I thought, surely this is a news channel somewhere in the Bible Belt. Nope, Los Angeles, California.
KTLA meteorologist Liberté Chan appeared shocked over the weekend when morning news anchor Chris Burrous interrupted her weather report to ask her to cover up her sleeveless dress.

As Chan was delivering a wind report during the a 8 a.m. hour, a hand dangling a gray sweater appeared on the screen.

"What's going on?" Chan asked. "You want me to put this on? Why? Because it's cold?"

"We're getting a lot of emails," Burrous quipped.

"What!" Chan exclaimed, reluctantly accepting the sweater. "Really?"

"There you go," a satisfied Burrous replied.

"I look like a librarian," Chan complained.

"That works," the anchor insisted. "It's a librarian who's gone to a cocktail party. Everyone's got an opinion about your dress this morning."

The incident left Chan stuttering through the remainder of her weather report.

"I'm trying to hold it together in my little sweater," she explained.
News anchor Chris Burrous should have told complainers, tough shit. Instead, he bowed to their demands, embarrassed Chan, and made himself look like a sexist pig.
Since the incident went viral, Ms Chan says she has been on the receiving end of inappropriate comments about her appearance and body size.

"I've gotten emails that say, 'She has fatty arms. She has this. She has that,'" Ms Chan told Time.

"As a meteorologist, you're in a very vulnerable situation. You're showing your entire body. It became much more about my body than my brain. This has turned into a much bigger issue than just a sweater."

Ms Chan said she would not change her choice of clothing in the future. "I'll just be me and being me has not caused me any issues until Saturday morning. It is what it is. I'm not crying over it."

Although Ms Chan has received a number of negative body shaming emails in the aftermath of the incident, she explained there had also been a supportive response from other viewers.

"I've gotten emails saying, 'We fought for equality.' And the older generation is thinking, 'Why is she being told what she should wear or what she shouldn't wear? We've lived through a generation, a time when men told us what we should wear,'. Are we going backwards? It's 2016."
Sadly, Chan said she didn't consider Burrous' action sexist. She even went so far as to "defend" the TV station. Whether her response was due to job security is unknown. Regardless, Burrous' sexist behavior should be roundly condemned by WTLA. It's 2016, not 1910.