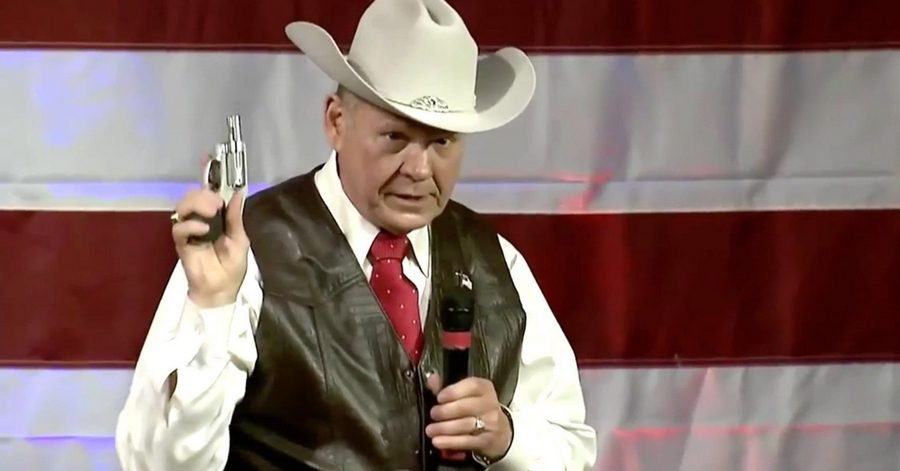 If you are familiar with vampire lore, you know that pure silver and garlic can protect you from vampires. Vampires are real, dammit. I watched all seven seasons of HBO's hit series True Blood, and I am currently watching the final season of From Dusk till Dawn: The Series. After watching these shows, I have absolutely no doubt that vampires are real.
I've lost my mind, right? Anyone with a bit of common sense and reason knows that vampires died out with the dinosaurs. Okay, I am just pulling your leg. Vampires aren't real. I have been reading all the defenses of Roy Moore, along with the emails I receive from Christians saying their pastor couldn't have committed the crimes he is accused of in the Black Collar Crime Series, and I am starting to wonder if Evangelicals think Christian salvation — being born from above — is some sort of talisman that protects Christians from committing sex crimes.
I frequently receive emails from people who object to one of my Black Collar Crime stories. One woman told me her pastor couldn't have committed sex crimes. Why? He's a man of God, and true men of God don't sexually molest girls. I didn't respond to her, knowing that any attempt to talk sense into her Bible-addled mind would be futile.
As you know, Evangelical darling and Alabama senate candidate Roy Moore has been accused of sexually assaulting minor girls back when he was a thirty-year-old district attorney. He has also been accused of having a creepy obsession with female teenagers when he was younger. Moore is now married. His wife Kayla was in her early twenties — fifteen years younger than Moore — when they married. Moore's wife says they met at a Bible study and she considers him to be one of the nicest men she has ever known. He certainly couldn't have done what these women are accusing him of.
Dean Young, a Republican political consultant who calls himself Roy Moore's "number one adviser," resolutely believes that Moore is innocent of sexual misconduct. Why? Young believes that the fact Moore is a Christian inoculates him from doing such things. Young is quoted in the Washington Post as saying:
"Who says you all aren't paying someone to do that? Go pay more people to say stuff. It's a waste of money because people here know Judge Moore and we know he does believe in a Christian God, so that fake stuff doesn't work with us."
Evidently, much like vampires with garlic and silver, asking Jesus to save Evangelicals from their sins immunizes them from committing crimes. Yet, every day in the Fake News are stories about pastors, missionaries, evangelists, TV preachers, parachurch leaders, Sunday school teachers, deacons, worship leaders, church workers, and Christian family values politicians committing crimes — including rape, child abuse, sexual assault, and sexual harassment.  Based on the evidence at hand, it is clear that Christianity does not provide immunity from committing crimes; that Evangelicals can and do behave no differently from the unwashed, uncircumcised Philistines of the world. Character, not Christianity, is what inoculates people from doing the things Moore is accused of. One need not believe in Jesus to treat women with respect. One need not be washed in the blood of the lamb to keep his hands off of children. All Evangelical Christianity does for perverts, predators, rapists, voyeurs, and child molesters is give them a façade to hide behind as they commit their crimes. Knowing that Christians are inherently naïve and quick to forgive and forget, these perverse men of God and followers of Jesus act with impunity, quickly explaining away whispers about their behavior. Much like vampires in the light of day, many Evangelicals cannot or will not see what is right in front of them. Their unwillingness to see things as they are only emboldens abusive Christians, leading to greater depths of depravity. This kind of thinking must cease, with Christians being brutally and critically honest about their culpability in the explosion of Evangelical sex crime stories.
It's time to put a wooden stake through the heart of the belief that Christianity makes people morally superior. It doesn't. The majority of Americans are Christians. This means that the majority of crimes committed in the United States are perpetrated by people who believe Jesus is their savior. I know of no evidence that suggests that atheists or other non-Christians are more likely to commit crimes. (Please read Misinformation and Facts  About Secularism and Religion.) Thus, it is clear that Christianity, in and of itself, does not keep people from doing anything — legal or illegal. We know that purity vows and thunderous preaching against premarital sex doesn't keep Christian teens from having sex. Much like their secular, non-Christian counterparts, Evangelical teens, with hormones raging, lustily engage in sexual conduct which Evangelicals deem "immoral."
Did Roy Moore do what he is accused of? It is likely that he did. Like Bill Cosby before him, Moore is now facing an increasing number of accusations of sexual misconduct. If there were just one accusation, it could be chalked up to he-said, she-said. But now that there are numerous women claiming that Moore acted inappropriately, there is little doubt of his guilt. As is often the case with Christian family values politicians, their talk is cheap. Pay attention to what they do, not what they say. In Moore's case, it's evident that he had a thing for teen girls, and sometimes his behavior went beyond that of an older man hitting on high school girls.
The same goes for Evangelicals who object when I turn the Black Collar Crime spotlight on their pastors and church leaders. In most instances, there are numerous reports of criminal/sexual misconduct. The likelihood of collusion or conspiracy is remote. I know it is hard for people when the sins of their religious heroes are exposed for all to see. Surely, everyone is lying, right? Occam's razor applies here. The shortest, simplest explanations are usually the truth. Evangelical churches (along with Catholic churches) have become havens for bad men to commit despicable acts. Worse yet, it is unlikely that these "fallen" Christians were caught the first time they acted inappropriately. More often than not, these men left behind a trail of victims, fearful people too ashamed to speak out. I hope we are reaching a point in our society where children, teenagers, and women can, without fear of recrimination, stand tall and expose religious predators for who they really are.
About Bruce Gerencser
Bruce Gerencser, 60, lives in rural Northwest Ohio with his wife of 39 years. He and his wife have six grown children and eleven grandchildren. Bruce pastored Evangelical churches for twenty-five years in Ohio, Texas, and Michigan. Bruce left the ministry in 2005, and in 2008 he left Christianity. Bruce is now a humanist and an atheist. For more information about Bruce, please read the About page.
Bruce is a local photography business owner, operating Defiance County Photo out of his home. If you live in Northwest Ohio and would like to hire Bruce, please email him.
Thank you for reading this post. Please share your thoughts in the comment section. If you are a first-time commenter, please read the commenting policy before wowing readers with your words. All first-time comments are moderated. If you would like to contact Bruce directly, please use the contact form to do so.
Donations are always appreciated. Donations on a monthly basis can be made through Patreon. One-time donations can be made through PayPal.