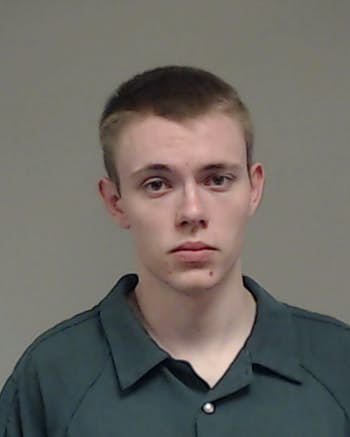 The Black Collar Crime Series relies on public news stories and publicly available information for its content. If any incorrect information is found, please contact Bruce Gerencser. Nothing in this post should be construed as an accusation of guilt. Those accused of crimes are innocent until proven guilty.
Noel Anderson, a Sunday school teacher at The Church of Jesus Christ of Latter-Day Saints in McKinney, Texas, was arrested on aggravated sexual assault charges after he admitted to sexually assaulting four children.
McKinney Police have arrested a 22-year-old who is now facing Aggravated Sexual Assault of a Child charges.

Investigators say Noel Anderson admitted to sexually assaulting four children between the ages of two and six over the past seven years.

Police said Anderson is a member of The Church of Jesus Christ of Latter-Day Saints located at 1020 North Lake Forest Drive in McKinney.

Investigators said Anderson found his victims through church activities and meetings and that he also held church responsibilities, such as being the primary instructor for children ages 7 and 8 back in 2014.

Officers are now asking for the public's assistance in identifying and additional victims that may have come in contact with Anderson. If you believe inappropriate contact was made, contact McKinney Police Detective U. Watson at 972-547-2729.

….
There is a new charge facing a former McKinney Sunday school teacher accused of abusing the children of families he befriended at the church. Noel Anderson, 22, was arrested last week and charged with aggravated sexual assault of a child. Police have since added a second charge of indecency with a child sexual contact. According to investigators, Anderson has admitted to the abuse. Church members say the sense of betrayal is deep.

"He was an outstanding youth in our church," says a concerned parent with knowledge of the case, "the gold standard for what you would want your son to grow up to be."

In spite of the fact that Anderson has allegedly admitted his guilt, this parent says families fear speaking publicly about the case and we agreed to not disclose the church member's identity. An earlier report that cautioned about the lifelong consequences of failing to treat childhood trauma prompted the parent to speak up.

"Sexual abuse is like throwing a grenade in the middle of somebody's psychological life," says Sylvia Gearing, Ph.D., a Plano clinical psychologist. "It stops their development." Early treatment, she say is key. But, first, additional victims have to be identified and encouraged to come forward.

"I have lost all trust and hope," says the church member, "just bewildered. Shocked."

According to McKinney police, a young child made the initial outcry. A parent with knowledge of the case told us that the child saw a picture of Anderson and said "I don't like him." We're told a parent had the courage to ask why, and what followed were heartbreaking words.

"She indicated that Noel had touched her in her privates," relayed the church member.

That child's courage has no doubt saved others. Still, families are wrestling with the pain and betrayal… telling me, they not only knew and loved Noel Anderson, they trusted him and his spiritual leadership.

"A complete lie. These abuses took place before and after his mission," added the church member, referring to police reports that Anderson had been abusing children for years.