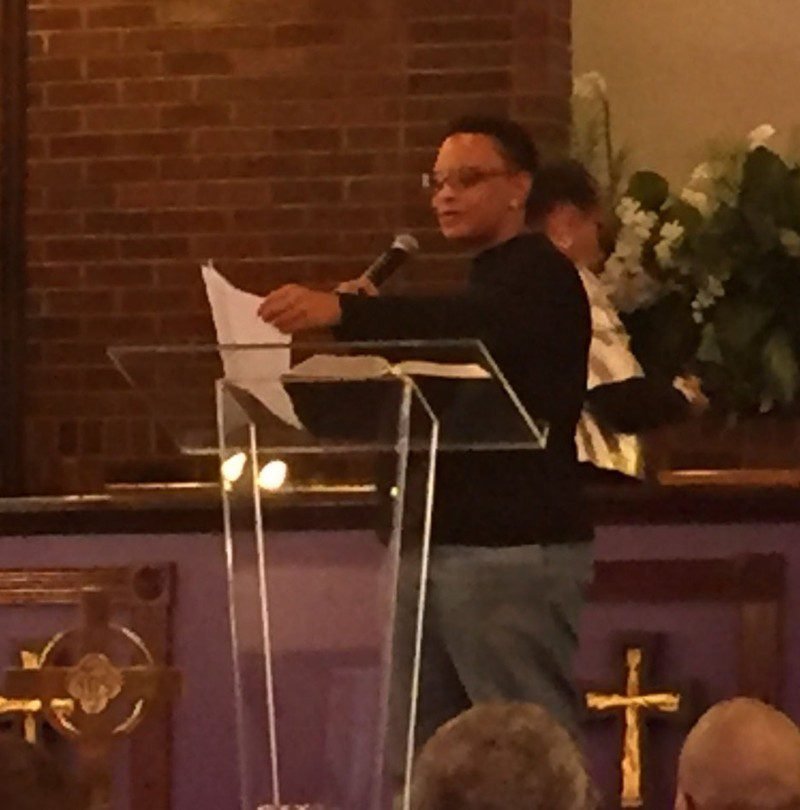 The Black Collar Crime Series relies on public news stories and publicly available information for its content. If any incorrect information is found, please contact Bruce Gerencser. Nothing in this post should be construed as an accusation of guilt. Those accused of crimes are innocent until proven guilty.
Mitzi Bickers, pastor of Emmanuel Baptist Church in Atlanta, Georgia, stands accused of accepting bribes to steer city of Atlanta contracts to several contractors. According to a 2017 Project Q Atlanta article, Bickers is a lesbian. She is also a chaplain for the Clayton County Sheriff's Office.
The Atlanta Journal-Constitution reports:
In handcuffs and leg irons, The Rev. Mitzi Bickers made her first appearance in federal court Thursday to face charges that she took $2 million in bribes to steer city of Atlanta contracts to at least two contractors from 2010 to 2015.

Bickers pleaded not guilty to the 11-count indictment and answered yes or no questions from U.S. Magistrate Court Judge Russell Vineyard.

….

Prosecutors accused the former city of Atlanta human services director of taking money from contractors to help them win city contracts and spending the money on a lavish lifestyle that included: a $775,000 home in Jonesboro; a $46,000 Denali luxury SUV; $45,000 worth of waverunner jet skis; and vacations to Aruba, Disney resorts and on Carnival cruise lines.

….

The 11-count indictment alleges Bickers used her influence at City Hall to steer contracts to Elvin "E.R." Mitchell Jr. and Charles P. Richards Jr., both when she worked for the city and after she left in 2013. Mitchell and Richards have each pleaded guilty and are cooperating with the on-going investigation.
At a 2 p.m. press conference, U.S. Attorney Byung "BJay" Pak urged others who participated in the conspiracy to come forward, accept responsibility and cooperate with the investigation.

"To those employees who may have taken cash, gratuity or other items of value from the individual named in this indictment, now is your time," he said. "There is a very small window of opportunity for you to help yourself in accepting full responsibility for being part of this conspiracy and for cooperating with the government. That is the only way you can assure you can minimize your criminal exposure."

….

In the 23-page indictment, prosecutors with the U.S. Attorney's Office in Atlanta lay out a complicated web of payments made from various companies controlled by Mitchell to companies under Bicker's control. Multiple payments in relatively small amounts were made by Mitchell to Bickers in an attempt to hide the nature of the transactions, according to the indictment.

….

"Bickers conspired to enrich herself and others by soliciting and accepting payments directly and indirectly from Mitchell and Richards and their companies in exchange for her agreement to represent their businesses and to obtain lucrative City of Atlanta contracts for their companies through bribery," the indictment says.

Bickers' purchase of the $775,000 home in Jonesboro on her $57,000 city salary has long been the subject of media reports since the bribery investigation became public in January 2017. The indictment goes into detail about how the home was purchased: Mitchell made $200,000 in cash deposits directly to the seller; from June 20-27, 2011, Mitchell made 12 deposits of $9,500 or more in at least four different bank accounts owned or controlled by Bickers, along with another deposit of $85,000; on June 27-28, Richards made wire transfers of $53,000 and $20,000 into Bickers' controlled accounts.

Bickers spent that money on the house almost immediately, according to the indictment, making wire transfers of $81,000, $104,000 and $114,000 to her closing attorney in a two-day span.

She is also charged with tax fraud in that year.

"In her 2011 tax return, Bickers represented … that her total income for 2011 was $57,986," the indictment says. "Based on the false representations in her return, the IRS issued Bickers a tax refund of $3,924."

The bribery scheme continued in 2014, with Bickers helping Mitchell secure some $5.5 million in snow removal contracts from the city, despite Mitchell's company not owning a snow plow. In return, Mitchell paid her about $1.4 million, according to the indictment.

….