I recently wrote a post about Polly and I celebrating our fortieth wedding anniversary. You can read it here.  I used the following picture: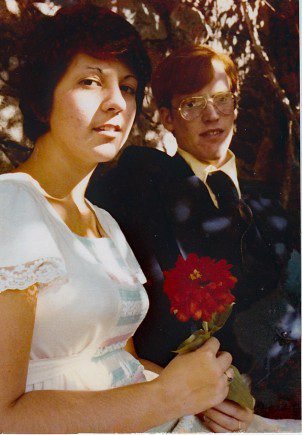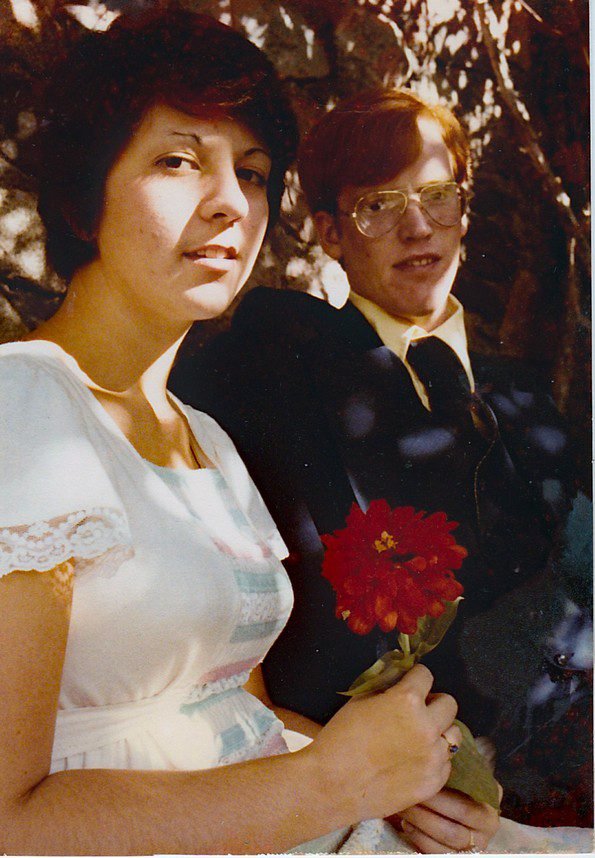 This photograph was shot in May 1978 (two months before our wedding) at Cranbrook House and Gardens in Bloomfield Hills, Michigan by Mike Veitch, a fellow ministerial student at Midwestern Baptist College. There are several striking things about this photo. First, we are breaking Midwestern's no-physical-contact, six-inch rule. (See Thou Shalt Not Touch: The Six Inch Rule.) If I remember correctly, Mike thought it was okay to break the rule when posing for photographs. Midwestern itself waved the rules for Sweetheart banquet photographs. Here's an example: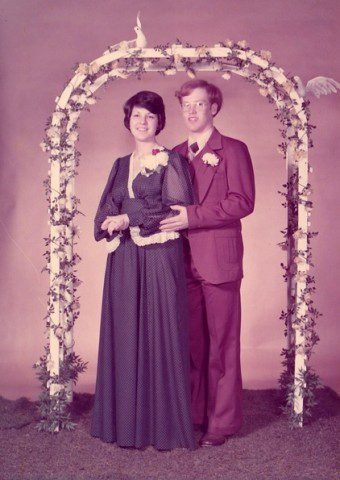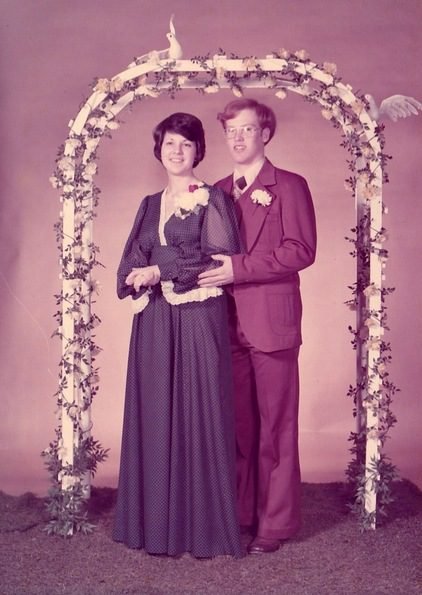 Little did Mike know we had been breaking the six-inch rule for eighteen months. We were at the place physically that if we didn't get married SOON, we weren't going to be virgins when we walked down the aisle. The sexual pressure and tension was palpable, never far below the surface.
Second, I am taken with how young and fit we look. Polly was eighteen and I was twenty. Polly weighed around one hundred sixty pounds. She had two years previously lost a good deal of weight. I weighed one hundred eighty pounds. Age-wise we were adults, but I can't help but see us as naïve children, unprepared for the real world that awaited us come our wedding day.
Third, I am still stricken by Polly's beauty. She was (and is) one good-looking gal. There's not much more that I can say here. She was and remains a beautiful woman.  I definitely got the better end of the deal in our marriage.
Youthfulness is fleeting, and that's okay. Neither Polly nor I try to be any other age that what we are. While we hate the pains and physical debility aging had brought us, we are grateful for the forty years we've had together, and we intend to age honestly and gracefully. You'll never see us in public acting like we are twenty-somethings. We have embraced life as it is. The world values youthfulness and beauty, but what it really needs is aged wisdom and dignity. Last weekend, I attended a dirt track race with my oldest son and his children. Between races we talked about the importance of living each day to its fullest. Don't put off until tomorrow the things you want to do today. Life is precious, and all of us have just one bite of the proverbial apple. My son and I have attended hundreds of dirt track races together. He remarked, man, summer is almost over. Only a couple of more weekends for racing. I replied, Yep. If I live another ten years (and that's being optimistic) you and I have fifteen or so opportunities to attend races together!  Why, years ago, we attended thirty or more races a year. To use a dirt track analogy, I'm powering out of turn four, headed for the final straight away and the end of the race.
This year was the first time since 1983 that we didn't put in a garden. When the children were all at home, we had a huge garden. The Troy-built rear-tine tiller I bought in 1991 still works. This tiller has tilled up ground in Ohio, Texas, and Michigan. All sorts of dirt, from sand in Central Michigan to dense clay in the hills of Southeastern Ohio. Our children have oh-so-fond memories of working the gardens; fond as in thinking they were unpaid migrant workers. Want to go to the races tonight? I would say to my oldest three sons. Yes! they would say. Well, get those weeds hoed/pulled and produce picked and then we'll go. Happy memories, right? Over time, as our children got jobs and started paying rent, we reduced the size of our garden. In the past decade, our garden plot size was around four hundred square feet. Once the last two children moved out, it became increasingly hard for us to keep up with the garden. My inability to get around meant that much of the care fell on Polly. She did what she could, but weeds always seemed to win. It became abundantly clear that the financial, physical, and emotional costs of caring for a garden were such that we would be better off to stop and buy our veggies at the store.
We found it difficult to throw in the towel. Polly wanted to keep up the garden fencing, thinking maybe things would be better next year. I knew that "better" wasn't coming, so I said, no, it's time to admit that we can no longer do this. With a wistful, tearful sense of deep loss, my sons and I pulled the fence posts and removed the fencing. All that's left is our twenty-foot asparagus patch and a bit of dill.
Aging brings loss, but it also brings razor-sharp clarity as to what is important. The Bible is right when it says, Boast not thyself of to morrow; for thou knowest not what a day may bring forth. Solomon summed up life this way in Ecclesiastes: Then I commended mirth, because a man hath no better thing under the sun, than to eat, and to drink, and to be merry: for that shall abide with him of his labour the days of his life, which God giveth him under the sun.
On Sunday, Polly and I spent the evening together celebrating our wedding anniversary. We had a delightful time sitting at Findlay's Riverside Park watching squirrels and humans alike scurry about with nary a thought about tomorrow. We spent most of our time talking about our shared experiences over the past forty-two years. We have spent two-thirds of our lives with each other. Lots of water has coursed under bridge of our shared life. Once a fast-moving river, the water moves slowly now, following the path carved out by years of ebb and flow. So much of life has come and gone, yet there's still life to be lived, be it a moment, a day, a year, or a decade.
I no longer plan for the future, choosing instead to take each day as it comes. I am content to enjoy the love and company of my family, knowing that, compared to many, I am blessed. Luck indeed smiled upon me forty years ago when I said yes, to the question, will you have this woman to be your wedded wife? I am confident that luck will continue to smile upon me until the end.
Let me conclude this post with two photographs from Sunday.