If there is a Christian apologetics argument that irritates the heaven out of me, it is the God of the gaps argument. Can't explain something? God. Have something happen in your life for which there seems to be no rational explanation? God. Any place you have unanswered questions, you will find Evangelicals suggesting "God did it."
Earlier this year, two Patrick Henry High School students, ages fourteen and seventeen, were killed in a tragic automobile accident. The Defiance Crescent-News reported at the time:
Two Henry County brothers were killed Wednesday morning when their vehicle became submerged in a Wood County creek just west of here.

Killed were Xavier Wensink, 17, and his passenger, Aidan Wensink, 14, both of Deshler. They were students at Patrick Henry Local Schools.

According to the Wood County Sheriff's Office, at 11:20 a.m., a call was received concerning a vehicle completely submerged upside down in a creek on Sand Ridge Road, just west of Custar Road. Dispatched to the scene were deputies from the Wood County Sheriff's Office and Weston Fire/EMS.

Grand Rapids Fire Department was dispatched to assist, as well as the Toledo Fire Department's dive team. Rescue personnel discovered that the vehicle, a 2000 Chevrolet Monte Carlo, was occupied by the two teenagers.
I wept when I read of their deaths. So young, so much of life ahead of them, but in an instant the bright lights of their lives were snuffed out. Their deaths, of course, left their family and fellow classmates struggling to make sense of it all. God's name was thrown around. Everyone was reminded of the "fact" that God is in control and he allows (or causes) tragedies to teach us to snuggle up close to him and trust that he is working out everything according to his purpose and plan. How about, don't kill the fucking kids, God! That seems to be the right thing to do. You are the sovereign of the universe. Flex your pinky finger and stop the accident from happening. Nothing is too hard for God, right?
The oldest boy, who would have graduated in 2019, played varsity football. His jersey number was 28. Remember that number. It plays an essential part in the story that follows. Patrick Henry lost its first few games, and then one Friday night they scored 28 points and won the contest. They have in subsequent weeks won three more games, scoring 28 points each time. It's a miracle, right?
The Defiance Crescent-News had a feature write-up about the 28 "miracle." Here's some of what the reporter had to say (behind a paywall):
Since Inselmann took over at his alma mater in 1991, the Patriots had given their frontman victories with 28 points on the scoreboard eight times going into this season. Never before in Inselmann's tenure had PH won more than one game in a season with 28 tallies in a game, with the triumphs coming in: '91, '98, '00, '03, '05, '09, '13 and '14.

Fast-forward to the present day, where a glimpse at this season's results shows four of the Patriots' five triumphs coming with the squad lighting up 28 points on the scoreboards. Beginning with the Delta victory, that stat includes three in a row over the Panthers, Archbold and Swanton, with a huge 28-13 triumph over Bryan last week keeping PH undefeated in the league.

The significance?

Xavier Wensink's jersey number is 28. The meaning?

"I really do believe that our team believes that Xavier is with us, and he is watching," Inselmann insisted. "I don't call that coincidence. I just think that the good Lord's watching over us with Xavier, and the kids believe it."

How the season ends is anybody's guess at the moment, as PH still has to contend with NWOAL rival Wauseon (3-5, 3-2 NWOAL) before hosting what should be an epic season-ending showdown with Henry County hammer Liberty Center (8-0, 5-0 NWOAL, No. 4 D-V).

But regardless of how it all shakes out, the 2018 Patrick Henry Patriots will forever be remembered as the team that didn't quit, bringing together a school, program and community that, more than anything, needed something to believe in.

"As long as we keep getting better every week, believing in each other, becoming closer and closer as a team, only God knows where we're gonna go," concluded Healy.
As you can see, "God" features prominently in this "miracle." Look, I get it. People want to make sense of a senseless accident. In the midst of their grief, there appears a statistical oddity. This must be "God" sending everyone a message that number 28 is tearing up the turf on the heavenly football field. Or this is a sign that the dead boy is alive and well in Heaven, watching over his teammates.
I find it hard to criticize such nonsense. I certainly don't want to cause anyone more heartache, but high school coaches, teachers, and news reporters owe it to the community at large to tell the truth. Suggesting that God is so tuned in to what is happening on earth that he takes time to "fix" the scores of football games is absurd. I wonder if the players on the losing teams had some sort of tragedy or loss in their lives too? Why, then, did God choose to give the W to Patrick Henry, but not them? Such arguments cheapen faith.
But, Bruce, four games with winning 28-point scores! What do you make of that? It's a coincidence. Life is filled with such oddities. When they happen, we should say, hmm, that's interesting. What we shouldn't do is attribute them to the Christian God. Just because something strange and out of the ordinary happens doesn't mean God did it.
Patrick Henry's football season will soon come to a close. The school will move on to its winter sports, but left behind will be family and friends who are still grieving their loss. Perhaps, in the still of night, they will sense God's presence. If that's what gets them through the night, fine by me. I suspect, however, that more than a few people will, as they toss to and fro on their beds, say, WHY? And to this question, Christians offer up religious platitudes and appeals to faith. However, from my seat in the atheist pew, it seems to me that God's silence is deafening. Perhaps the reason this is so is that there is no God, and we humans are left to ourselves to figure out the reasons young lives are ended all too soon.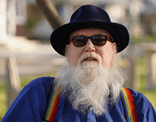 Bruce Gerencser, 65, lives in rural Northwest Ohio with his wife of 44 years. He and his wife have six grown children and thirteen grandchildren. Bruce pastored Evangelical churches for twenty-five years in Ohio, Texas, and Michigan. Bruce left the ministry in 2005, and in 2008 he left Christianity. Bruce is now a humanist and an atheist.
Connect with me on social media:
You can email Bruce via the Contact Form.
Your comments are welcome and appreciated. All first-time comments are moderated. Please read the commenting rules before commenting.