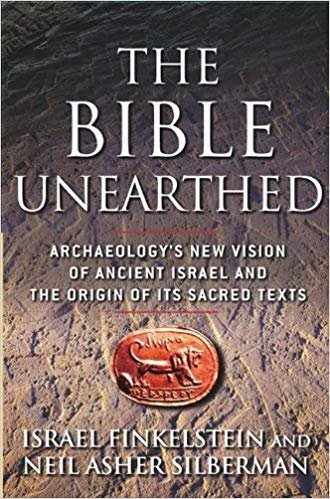 Several commenters have been discussing the historicity of Old Testament events such as the Exodus. You can read their comments here.  A good book on this subject is The Bible Unearthed: Archeology's New Vision of Ancient Israel and the Origin of Its Sacred Texts by Israel Finkelstein and Neil Asher Silberman. 383 pages long, The Bible Unearthed is an excellent primer on current scholarship (as of 2001) as it relates to the historical events recorded in the Old Testament.  Much like Bart Ehrman's books, The Bible Unearthed is written to appeal to non-scholars; people interested in the historicity of the events and people found in the Bible,
Israel Finkelstein is an Israeli archaeologist and academic. He is the Jacob M. Alkow Professor of the Archaeology of Israel in the Bronze and Iron Ages at Tel Aviv University. Finkelstein is widely regarded as a leading scholar in the archaeology of the Levant and a foremost applicant of archaeological data in reconstructing biblical history
Neil Asher Silberman (born June 19, 1950 in Boston, Massachusetts) is an archaeologist and historian with a special interest in history, archaeology, public interpretation and heritage policy. A graduate of Wesleyan University, he studied Near Eastern archaeology at the Hebrew University of Jerusalem. Awarded a 1991 Guggenheim Fellowship, he is a contributing editor to Archaeology.
You can purchase The Bible Unearthed here.
Finkelstein and Silberman also wrote a book titled, David and Solomon: In Search of the Bible's Sacred Kings and the Roots of the Western Tradition. You can purchase the book here. I have not personally read this book.